Navy Boot Camp Book 1971 Company 010 The Anchor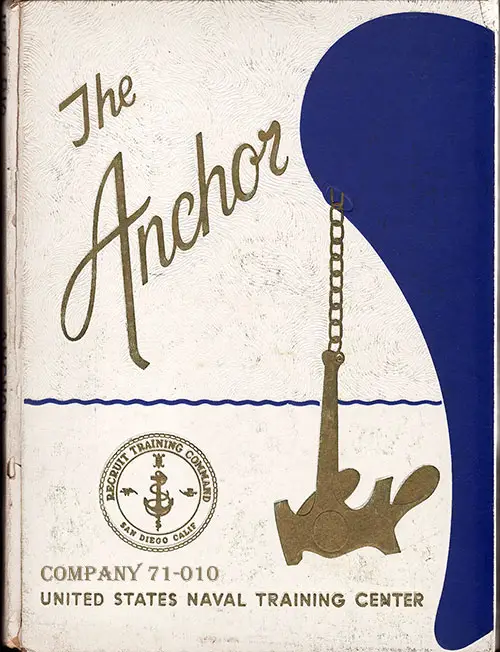 Roster and Photos for Recruit Company 010 for 1971, United States Naval Training Center, San Diego, California. Company Commander: H. B. BROGAN, UTC. 54 Men Graduated. Training Dates Not Reported.
Company 71-010 Leadership
Company Commander: H. B. BROGAN, UTC
Battalion Commander: LT. C. A. MAULTSBY
Company 71-010 Recruit Roster
R. MITCHELL - Recruit Chief Petty Officer
B. M. CLYDE – Yeoman
K. B. WHITNEY - Honorman
Albers, Gregory A. - Golden, Colo.
Bailey, John D. - Bellevue, Nebr.
Banks, Bruce M. - Johnson City, Tenn.
Baumbach, Barry J. - Bettendorf, Iowa
Blaha, Joseph E. - Wagner, S. Dak.
Casteel, Ronald E. - Ottumwa, Iowa
Chapman, Richard J. - Marathon, Iowa
Clapp, Redge A. - Meridian, Idaho
Clark, Terry W. - Sacramento, Calif.
Cloon, Edward E. - Aurora, Colo.
Davenport, Paul R.
Delrosario, Robert A. - Sioux Falls, S. Dak.
Fink, Mark K. - Waterloo, Iowa
Fredrickson, Larry E. - Salem, Ore.
Garneaux, Pierre F.
Gentry, Jacky L. - Cottage Grove, Ore.
Glidden, Robert E. - Togiak, Alaska
Hackman, Hardee H. - Missoula, Mont.
Hanson, Ronald C. - Aurora, Colo.
Harris, Robert J.
Hill, Michael E. - Ransomville, N.Y.
House, Daniel W. - Billings, Mont.
Jones, Clifford B. - Hayward, Calif.
Jones, Michael L. - Sacramento, Calif.
Jung, Keith G. - Minneapolis, Minn.
Kent, Thomas J. - Sandy, Ore.
Lester, Michael P. - East Aurora, N.Y.
Matt, Ronald A. - Algona, Iowa
Montgomery, Louis L.
Mories, Dallas M. - Clearfield, Utah
Morton, Joseph A. - Carson City, Calif.
Myerly, William S. - Spirit Lake, Iowa
Newberry, Thomas E.  - England
Connell, Cary L. - Sunnyvale, Calif.
Rogers, James L. - Folsom, Calif.
Ruble, James A. - Ottumwa, Iowa
Smith, Robert E.
Smith, Stanley K. - Carlton, Nebr.
Stiles, John A. Jr. - Missoula, Mont.
Straughn, Clifford E. - Aurora, Colo.
Too key, Karl B. - Fort Smith, Ark.
Tucker, Lamoyne A. - Florence, Colo.
Veene, Bonny M. - The Dalles, Ore.
VonHausen, Robert R. - Oak Hurst, Calif.
Walsh Joseph P. - San Antonio, Texas
Whiteaker, Allerick L. - Praire du Chien, Wis.
Johnson, Gerard L.
Taylor, Charles A. - Charleston, S. Car.
Williams, Richard E. - Denver, Colo.
Salva. P. C. - San Jose, Calif.
Plys, T. P. - Duluth, Minn.
Navy Boot Camp Recruit Photos - Company 71-010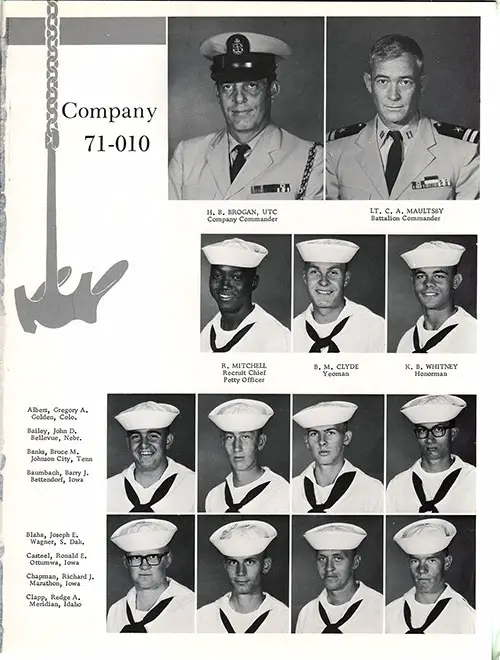 Company 71-010 Recruits, Page 1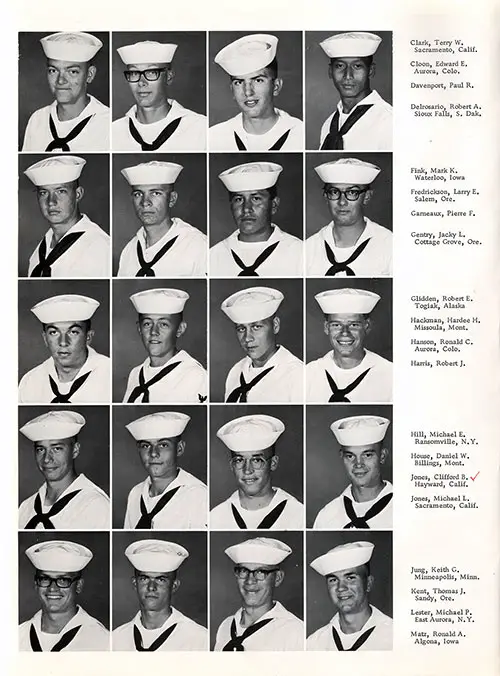 Company 71-010 Recruits, Page 2
Company 71-010 Recruits, Page 3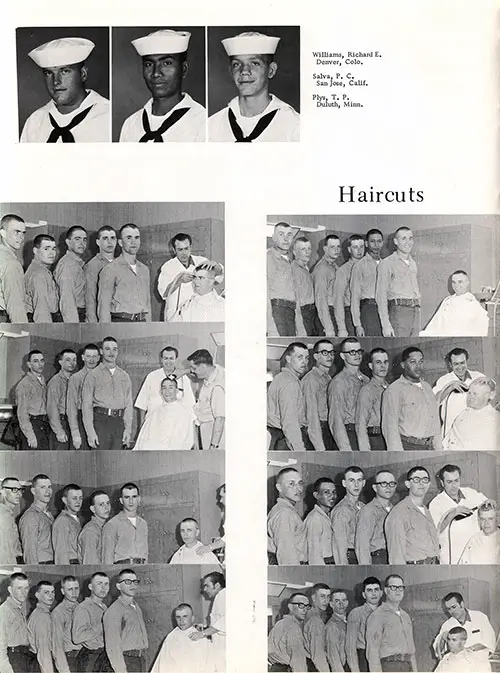 Company 71-010 Recruits, Page 4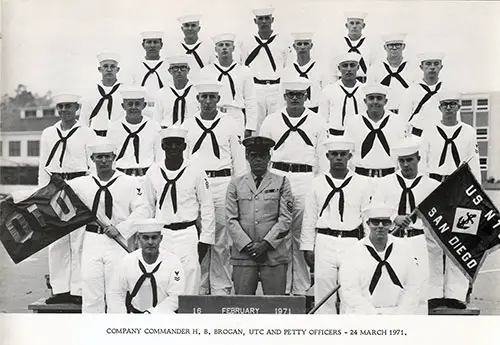 Company 71-010 Commander H. S. Brogan, UTC, and Petty Officers, 21 March 1971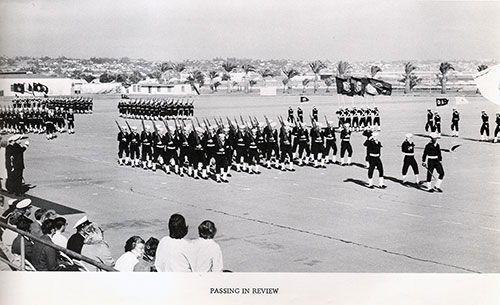 Company 71-010 Recruits Passing in Review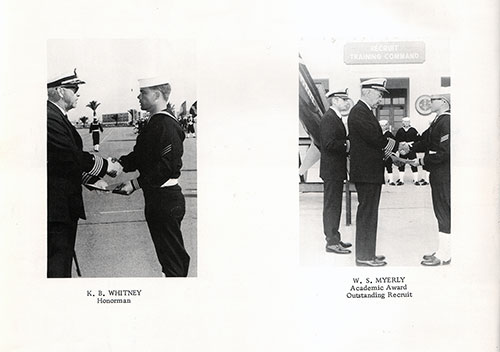 Company 71-010 Honormen
K. B. WHITNEY - Honorman
William S. MYERLY - Academic Award, Outstanding Recruit
"A" School Documents from 71-010 Recruit Clifford B. Jones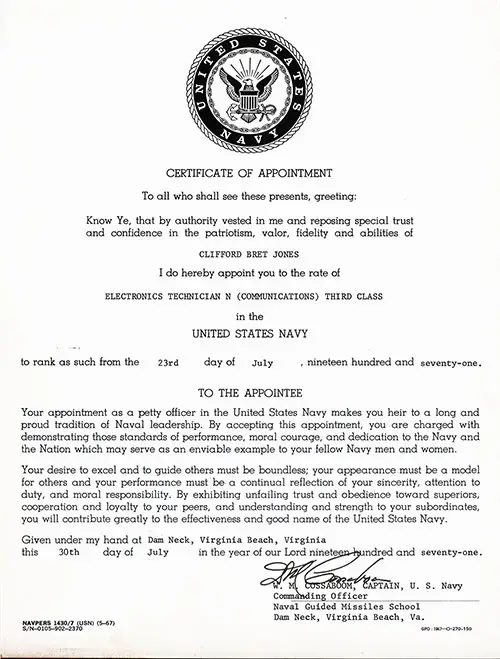 Certificate of Appointment to Electroncs Technician (Communications) Third Class - Clifford Bret Jones, 30 July 1971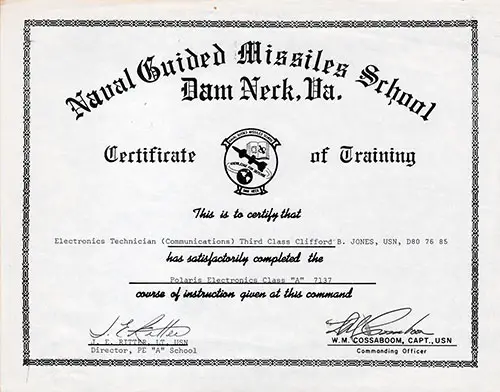 Certificate of Training, Naval Guided Missiles School, Dam Neck, VA, Clifford B. Jones, for Polaris Electronics Class "A" 7137, 1971