Navy Boot Camp Book 1978 Company 914 The Anchor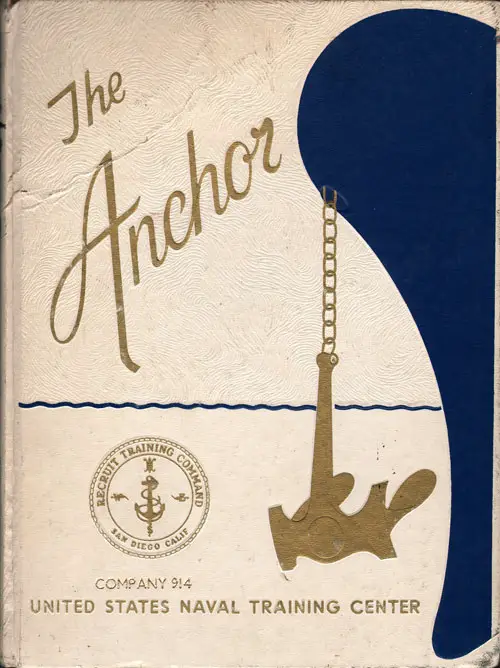 Roster and Photos for Recruit Company 914 for 1978, United States Naval Training Center, San Diego, California. Company Commanders: A W. Paris, EM1 and E. M. Stacks, ABE1. 78 Men Graduated.
Company 78-914 Honors
1st Week Infantry
1st, 2nd, 3rd Weeks Academic
1st, 2nd, 3rd Weeks Barracks
1st, 2nd, 3rd Weeks Athletic
Company 78-914 Leadership
Company Commander: A W. PARIS, EM1
Company Commander: E. M. STACKS, ABE1
Company 78-914 Recruit Roster
Anderson, Michael F.
Guthrie, Okla.
Bacon, John P.
San Francisco, Calif.
Baker, Carey R.
Odessa, Texas
Barnette, Alan K.
Gresham, Ore.
Baruch, James J.
Santa Ana, Calif.
Basabilbaso, Bill A.
Orange, Calif.
Boyett, Guy M.
Arcadia, La.
Brownlee, Ted A .
Pleasanton, Calif.
Butz, John W.
Stockton, Texas
Christen, Frederick J.
Milpitas, Calif.
Collas, Frank R.
Madison, Wis.
Cook, Alan
Moscow, Idaho
Cruz, Lawrence J.
Galveston, Texas
Davids, Robert E.
Slaton, Texas
Dean, Claude A.
Riverton, Ill.
Dixon, Thomas E. Jr.
Melbourne, Fla.
Doyle, Michael T.
Rockford, Ill.
Easley, Charles R.
Houston, Texas
Edwards, Robert R. Jr.
La Crescenta, Calif.
Edwards, Gregory S.
Riverside, Calif.
Falkenberry, Joe K.
Vista, Calif.
Gifford, Danny M.
Salinas, Calif.
Hagen, Timothy K.
Kenosha, Wis.
Hall, Vincent L.
Malibu, Calif.
Hapeman, Michael H.
Seattle, Wash.
Haydel, Jeffery E.
Huntington Beach, Calif.
Henn, Carl D.
Tacoma, Wash.
Hooks, James M.
Denver, Colo.
Hough, David R.
Center Point, Iowa
Howe, Leonard F.
Oakland, Calif.
Jensen, Christopher M.
Scottsdale, Ariz.
Jensen, Darin W.
Salt Lake City, Utah
Johnson, William I.
Baytown, Texas
Johnson, Michael A.
Albuquerque, N.M.
Johnson, Eddie K.
Wayne, Okla.
Kincaid, Craig S.
Mound, Minn.
Lockhart, Thurman J.
New Orleans, La.
Loper, Jessie J.
Mineral Wells, Texas
Lopez, Gregory, J.
San Jose, Calif.
Malkiewicz, Raymond A.
Las Vegas, Nev.
Maloney, Jimmy Y.
San Diego, Calif.
Marchant, Brian C.
Mesa, Ariz.
May, Kenneth H.
Flagstaff, Ariz.
McCoy, Randall D.
Aurora, Colo.
Milar, Jerry L.
San Diego, Calif.
Nicholas, John M.
Bisbee, Ariz.
Olson, Vincent T.
Las Vegas, Nev.
Olson, Jeffrey I.
Madison, Wis.
Phillipp, Robert S.
Del Rey Oaks, Calif.
Pigg, Michael D.
Milan, Mo.
Plowers, Mike E.
Fort Walton, Fla.
Prokop, Carion K.
Chicago, Ill.
Ragen, David P.
Santa Rosa, Calif.
Ritz, Robert E.
Federal Way, Wash.
Rogers, Sankey C. IV
Riverdale, Ga.
Roussis, Christos C.
Des Plaines, Ill.
Rufert, James A.
Delano, Calif.
Sanford, Leck S. II
Los Angeles, Calif.
Schoof, Richard W.
East Peoria, Ill.
Semon, Timothy D.
Saratoga, Calif.
Siebert, Brad A.
La Mirada, Calif.
Silbaugh, Randy D.
Philomath, Ore.
Simonson, Allen N.
Eatonville, Wash.
Skeen, Dan L.
Clinton, Utah
Slyngstad, Courtney L.
San Jose, Calif.
Smith, Terry J.
Kansas City, Mo.
Smith, Jeffrey L.
Pleasanton, Calif.
Stanfill, A udie L.
Smiths, Ala.
Storment, Richard W.
Salinas, Calif.
Thomas, Gerald H. Jr.
Sacramento, Calif.
Thomas, Francis R.
Lafayette, La.
Tomsett, Robert D.
Seattle, Wash.
Wakefield, Ralph J.
Lowell, Maine
Weathersby, Karl L.
Los Angeles, Calif.
West, Michael C.
Troy, Mo.
White, Thomas E.
Warwick, R. I.
Wiltgen, Joel G.
Webster City, Iowa
Flanary, Michael D.
Berkeley, Mo.
Navy Boot Camp Recruit Photos - Company 78-914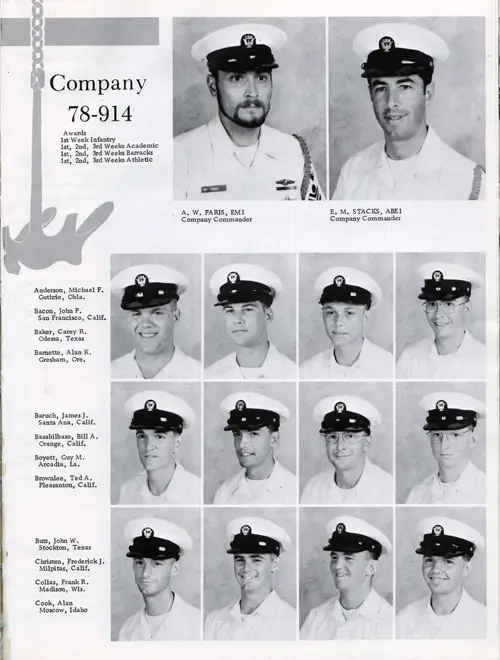 Company 78-914 Recruits, Page 1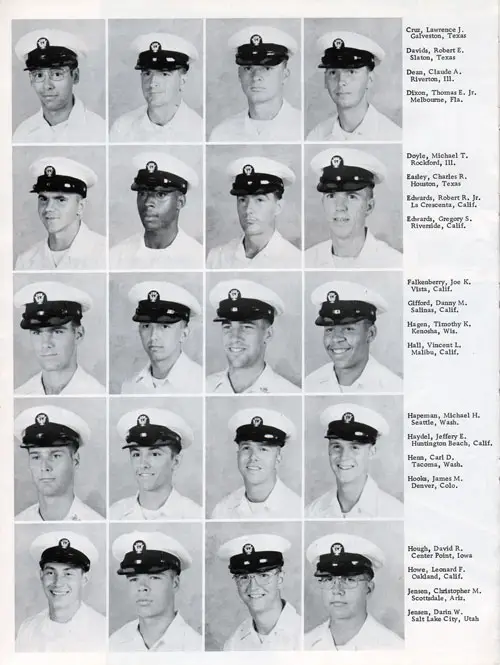 Company 78-914 Recruits, Page 2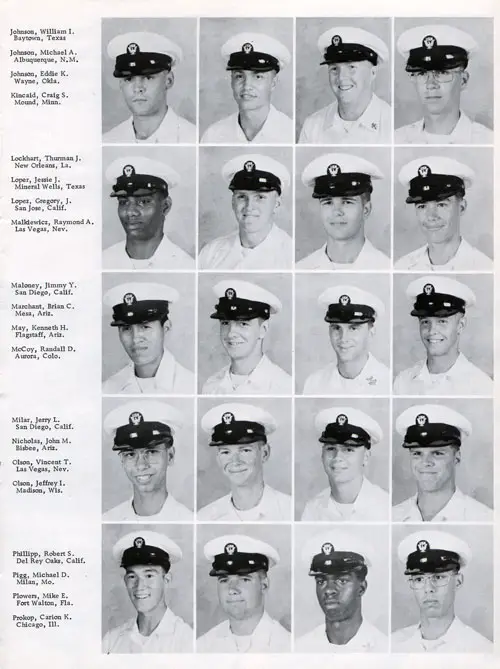 Company 78-914 Recruits, Page 3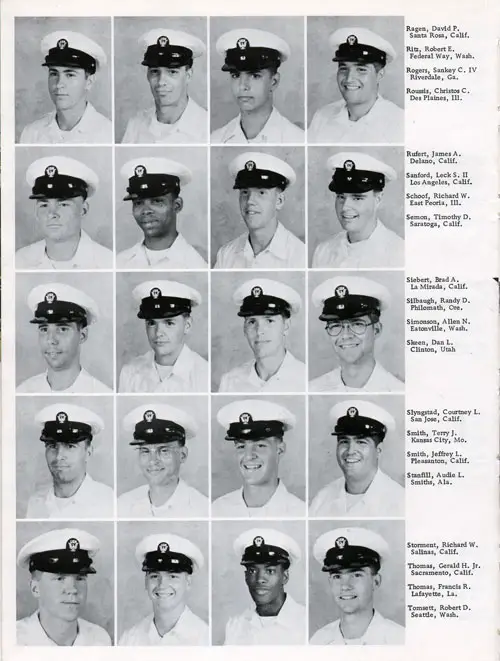 Company 78-914 Recruits, Page 4
Company 78-914 Recruits, Page 5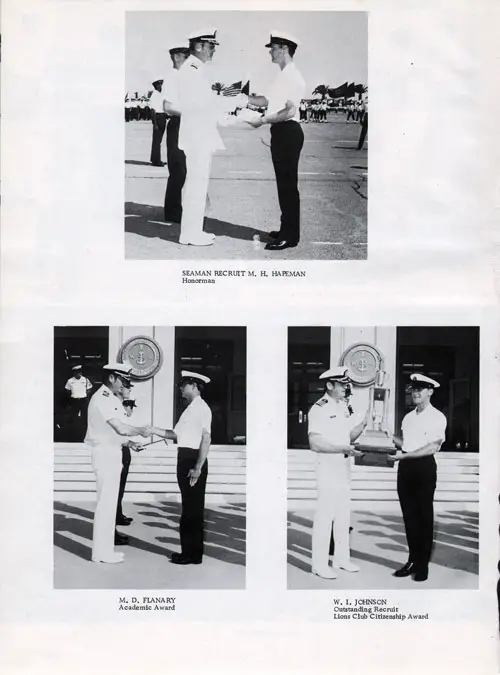 Company 78-914 Recruit Honors
Top Image
SEAMAN RECRUIT M. H. HAPEMAN
Honorman
Bottom Left Image
M. D. FLANARY
Academic Award
Bottom Right Image
W. I. JOHNSON
Outstanding Recruit
Lions Club Citizenship Award