Navy Boot Camp Book 1976 Company 086 The Anchor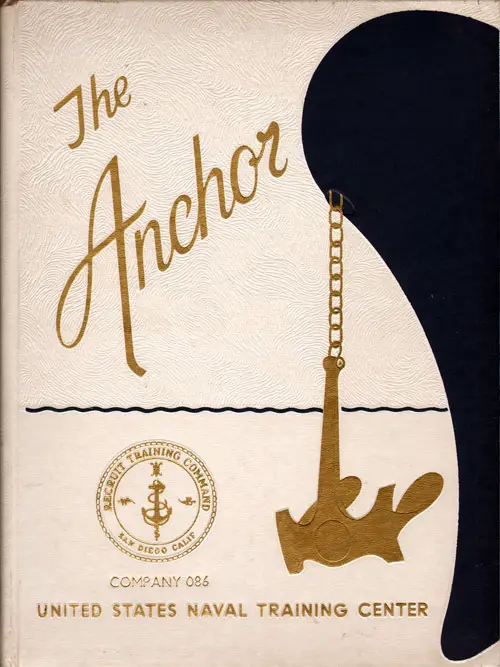 Roster and Photos for Recruit Company 86 for 1976, United States Naval Training Center, San Diego, California. Company Commander: R. Naugle SM1. 59 Men Graduated.
Company 76-086 Honors
1st, 2nd, 3rd, 4th Week Barracks
1st, 2nd, 3rd, 4th Week Infantry
1st, 2nd, 3rd, 4th Week Academic
1st, 2nd, 3rd, 4th Week Athletic
1st, 2nd, Week Overall Efficiency Color Company
Company 76-086 Leadership
Company Commander: R . NAUGLE SM1
Assistant Company Commander: D. R. FINDLY
Company 76-086 Recruit Roster
F. J. ACOSTA
El Paso, Texas
Recruit Chief Petty Officer
E. GARCIA
San Antonio, Texas
RPO1
J. T. KINCHELOE
San Diego, Calif.
Yeoman
Honorman
K. D. GREENE
Hemphill, Texas
Master At Arms
M. J. CAUGHRAN
San Pablo, Calif.
Master At Arms
Bates, Steven M.
Bellevue, Wash.
Boudreaux, John T.
Houston, Texas
Bunch, Charles W.
Reseda, Calif.
Carroll, Brian B.
San Diego, Calif.
Clark, Mark K.
Ong, Nebr.
Cowles, Robert G.
Chicago, Ill.
Daniels, Scott C.
Concord, Calif.
Davis, Clifford E.
Wasco, Calif.
Dea, Timothy P.
Magna, Utah
Doren, Robert C.
Rosamond, Calif.
Evans, James R.
Cerritos, Calif.
Gillson, Kenneth E.
Olympia, Wash.
Hadley, David H.
Portland, Ore .
Hall, Richard
Atlanta, Ga.
Hewitt, Bryan L.
Sandy, Utah
Ivey, Paul H.
Duncan, Okla.
Kettwig, Kurt D.
Vancouer, Wash.
Krieger, Gary F.
Lass, Jerry R.
Seares, Calif.
Leonhart, Darrell R.
Tulsa, Okla.
Linn, James R.
Claremore, Okla.
MacDonald, Scott A.
Glendale, Calif.
Merrill, Russell E.
Fresno, Calif.
Muir, Scott J.
Granada Hills, Calif.
Nasland, William R.
Redding, Calif.
Meads, George D.
Ault, Colo.
Nettles, Donald
Chicago, Ill.
Ourso, Stan J.
Port Allen, La.
Piland, Bryan A.
Spokane, Wash.
Prouty, William T.
Tucson, Ariz.
Ruddock, Clyde A.
San Antonio, Texas
Sangervasi, William G.
Belmont, Calif.
Schlusser, James A.
New Orleans, La.
Shaffer, Robert J.
Lakewood, Calif.
Shelton, John D.
Tucson, Ariz.
Slangle, Alan N.
Placenita, Calif.
Wiser, David W.
Raysville, Utah
Wolland, Michael R.
Garden Grove, Calif.
Zaiko, Steven G.
Murdo, S. Dak.
Smith, Steven T.
Las Vegas, Nev.
Wimberley, Michael L.
Middlesex, N. Car.
Mattesi, Frank
Pittsburg, Pa.
Vignal, Joseph C.
Libby, Mont.
Seals, Chet E.
Long Beach, Calif.
Berninzon, Carlos J.
El Cerrito, Calif.
Fisk, Ralph D.
Bismarck, N. Dak.
Jackson, Richard M.
Kapherr, Albert
Fairview, N. J.
Ashlock, Donald B.
Los Angeles, Calif.
Pitts, James C.
Lynnwood, Wash.
Letterman, Paul J.
Lomita, Calif.
Williams, Gregory H.
San Diego, Calif.
Allen, Terry T.
Grantsville, Utah
Kraintz, John C.
Waupun, Wis.
Navy Boot Camp Recruit Photos - Company 76-086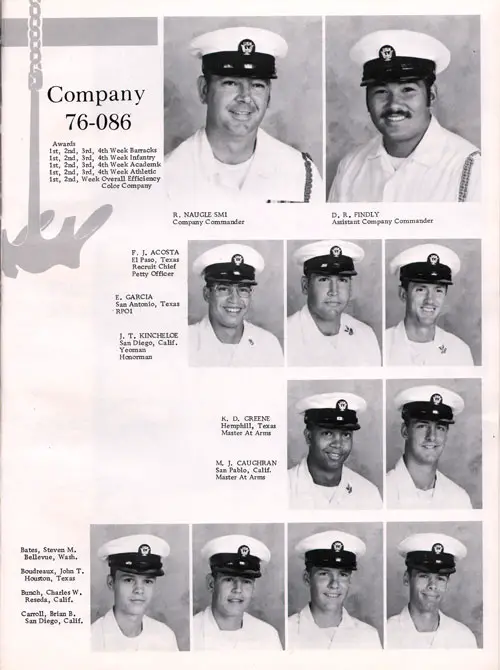 Company 76-086 Recruits, Page 1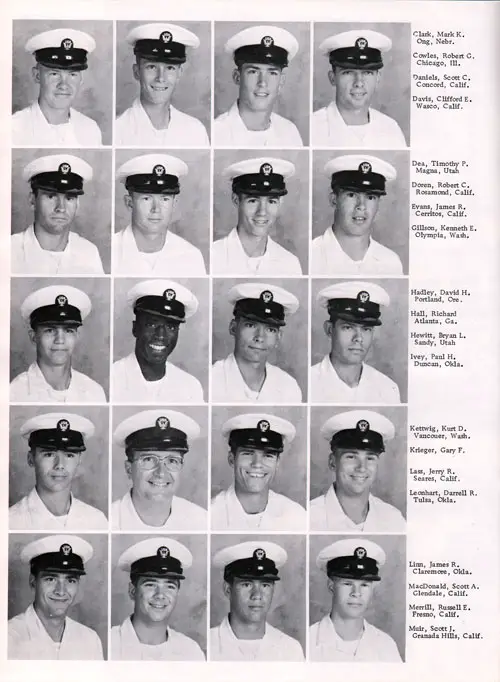 Company 76-086 Recruits, Page 2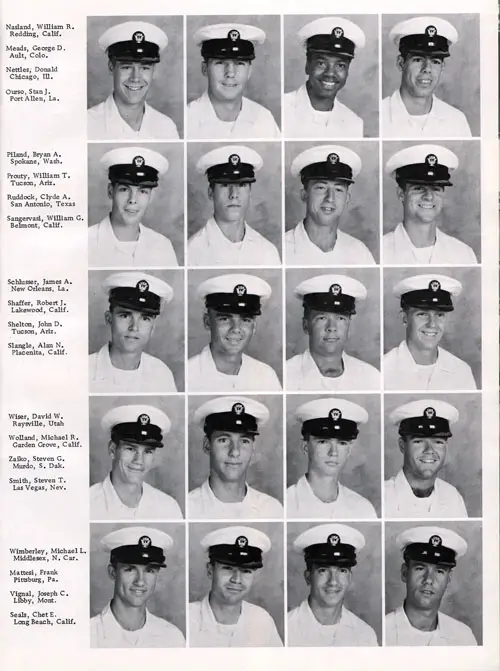 Company 76-086 Recruits, Page 3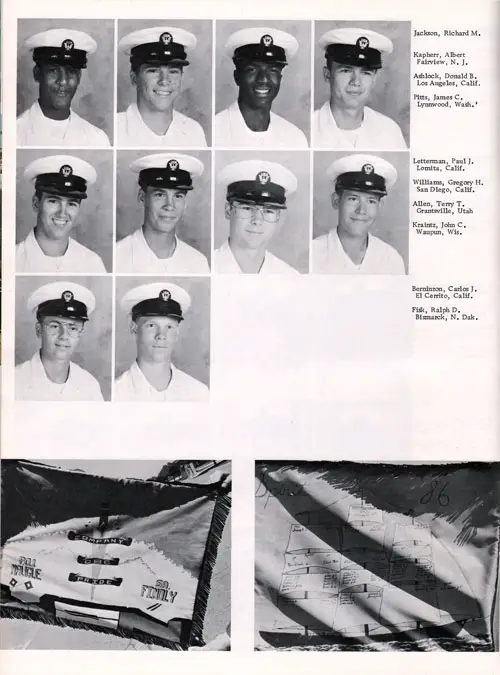 Company 76-086 Recruits, Page 4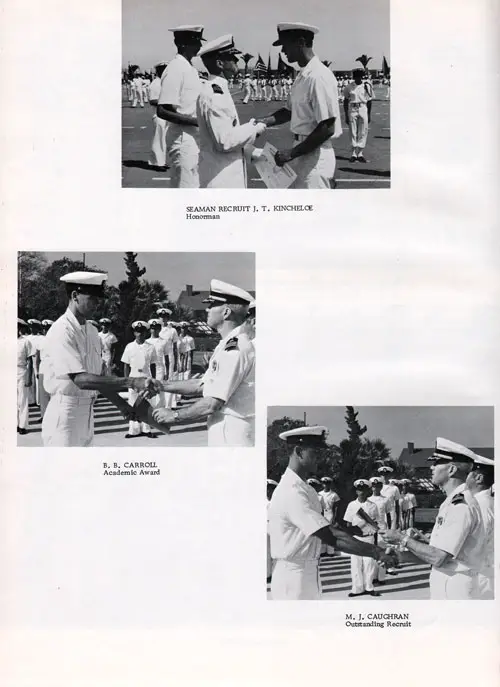 Company 76-086 Recruit Honors
Top Images
SEAMAN RECRUIT J. T. KINCHELOE Honorman
Middle Image
M. J. CAUGHRAN
Outstanding Recruit
Bottom Image
B. B. CARROLL
Academic Award