Navy Boot Camp Book 1959 Company 619 The Anchor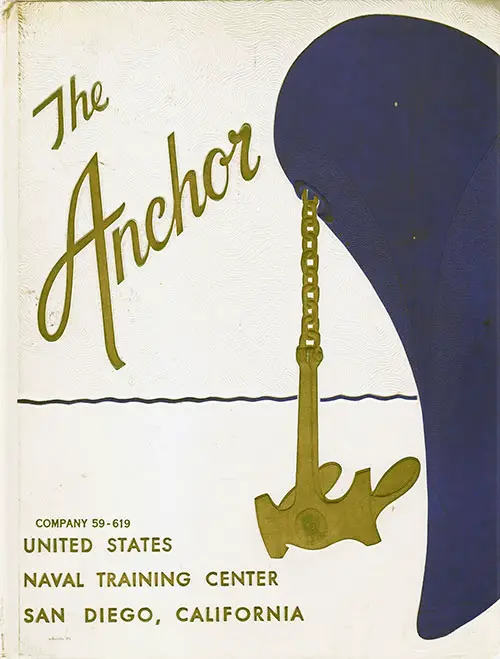 Roster and Photos for Recruit Company 619 for 1959, United States Naval Training Center, San Diego, California. Company Commander: Richard E. McCutcheon, GMC. 65 Men Graduated. Training Dates Not Reported.
Company 59-619 Leadership
Company Commander: Richard E. McCutcheon, GMC
Battalion Commander: L. D. Hamilton. LT JG
Company 59-619 Recruit Roster
Gloyd F. Cloe. Jr. - Recruit Chief Petty Officer
Jess E. Ludrick, Jr. - Honorman
Annen, Tom E.
Armstrong, James O.
Arnold, Donald E.
Bagwell, Stephen E.
Baladad, Frank J.
Bettencourt, John W.
Billingsley, James E.
Boothe, Jonathan L.
Cash, Stephen E.
Casteel, Glenn W.
Casteel, Taft M.
Clark. Warten L.
Clayton, Aubrey J.
Cochran, James T.
Cos, Joseph U
Cox, Raymond C.
Craig, James R.
Cross, Don A.
Ensign, Don W.
Franks, Bobby G,
Freudenrich, Weldon O.
Friend, Robert L.
Fuentes, Oscar E.
Gillett Richard B. Jr.
Goodin, W.E.
Haggard, Raymond R.
Hale, Jessie RHanna, Nlckolas E.
Harp, Ronald J.
Hawk. Lloyd D.
Higley, Clarence R.
Housman, John C.
Hubbard. Phillip C.
James, Frances Jr.
Johnston, Troy A.
Junker, Lothar M.
Kerr, Paul D.
Leuellen, Kenneth J.
Lewis, Anthony A.
Lewis, Frank J. Jr.
Marsh, James R.
McJimsey, Clarence J.
McKay, Donald K.
Nash. Harlan B.
Nichols, Wendell E.
Pittman, David W.
Potter, Melvin J.
Razer, Joe E.
Redding, John W.
Reid, Gerald L
Rushing, Woodrow P.
Sean, Robert D.
Smith, Roben W.
St. Clair, Gerald W.
Stevison, James L.
Taylor, Edgar R.
Taylor, Michael W.
Taylor, Philip E.
Toth, James C.
Vasquez, Eddie J. Jr.
Williamson, S.E.
Williamson, Wesley P.
Wozniak, Anthony J.
Bullock, James B.  (Not Pictured)
Navy Boot Camp Recruit Photos - Company 59-619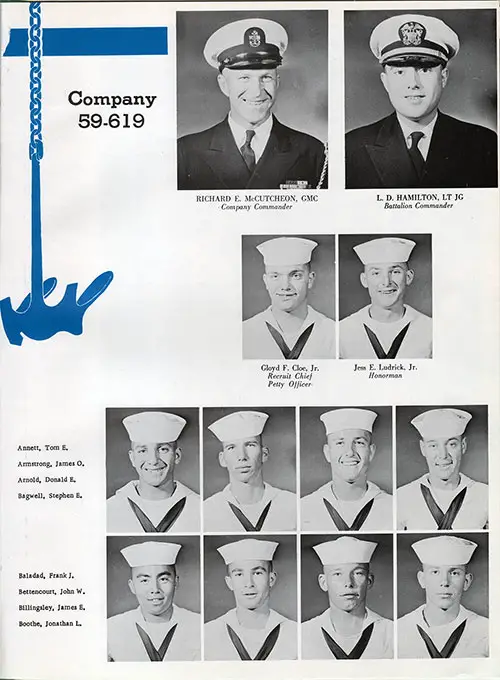 Company 59-619 Recruits, Page 1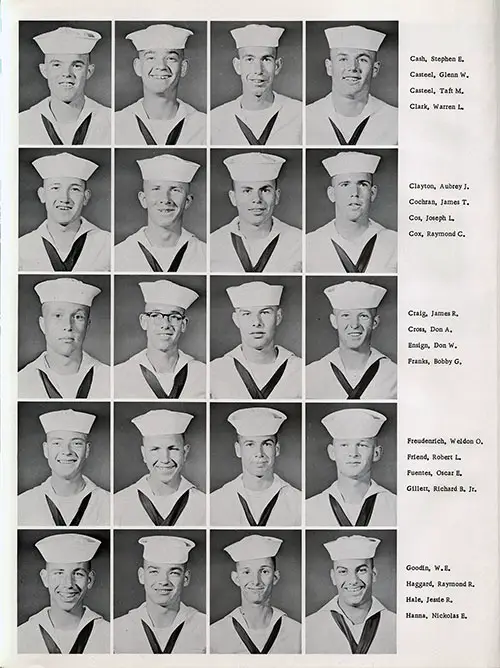 Company 59-619 Recruits, Page 2
Company 59-619 Recruits, Page 3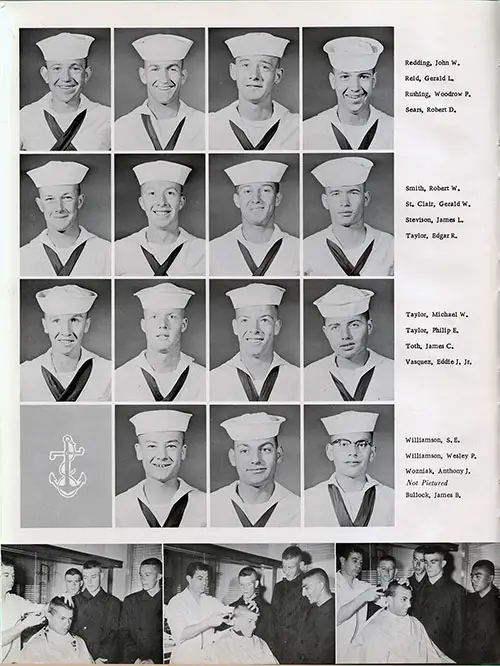 Company 59-619 Recruits, Page 4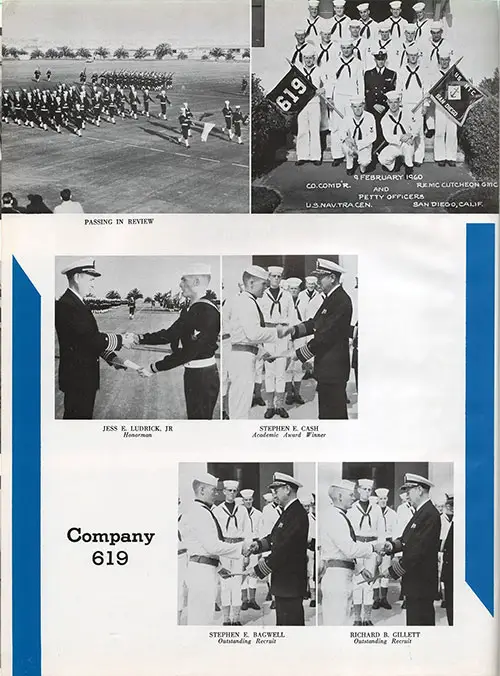 Company 59-619 Recruits, Company Honormen and Passing in Review
9 February 1960
Co. Commander R. E. McCUTCHEON, GMC and Petty Officers
U.S. Naval.TRA.CEN.
San Diego, Calif.
Honorman:JESS E. LUDRICK, JR
Academic Award Winner: STEPHEN E. CASH
Outstanding Recruit: STEPHEN E. BAGWELL
Outstanding Recruit: RICHARD B. GILLETT