Navy Boot Camp Book 1955 Company 410 The Anchor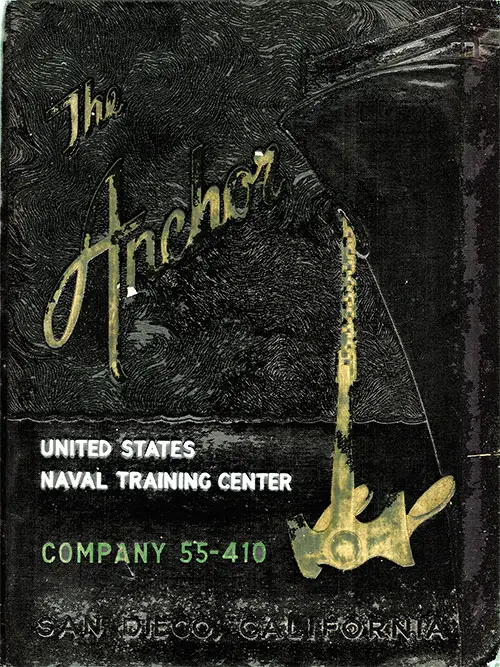 Roster and Photos for Recruit Company 410 for 1955, United States Naval Training Center, San Diego, California. Company Commander: Robert H. Cassada, EN1. 60 Men Graduated. Training Dates Not Reported.
Company 55-410 Leadership
Company Commander: Robert H. Cassada, EN1
Company 55-410 Recruit Roster
Kenneth G. Boley
Apprentice Chief
Petty Officer
Donald Pierson
Honorman
Anderson. James
Arnold. T. L.
Banks, James
Bechtold, James E
Black, L., Jr.
Boyer, Ronald L.
Boyle, Everett E.
Brayton, Bruce H.
Brown, Willie
Butler, William K.
Chase, Robert G.
Childress, C. F. W., Jr.
Coffman, Richard O.
Culverson, Robert L.
Curtis, William F.
Downing, Gary D.
Epperson, H. E.
Esmay, Robert I.
Fotte, Raymond H.
Frost, Ronald L.
Gibbs, Archie L.
Gilbert, Thomas D.
Gray, James J.
Hight, Harvey B.
Hirshfeld, Raymond
Holmes, William T.
Hoover, Ronald
Kearns, Richard P.
Kersh, Robert E.
King, Mack K.
Kirk, Herbert L.
Lewis, Dannie J.
Madsen, Bill A.
Mays, Jerry L.
McClish, Jimmie D.
Molter, Harold L.
Mullins, Bill G.
Ohlsen, Ronald C.
Osenton, Denny L.
Parkerson, Don N.
Pina, Antonio R.
Potter, Ronald E.
Powell, James J.
Redding, Carl A.
Ritthaler, E. L., Jr.
Rogers, James
Samala, Alejandro V.
Schoenmeier, H. P., Jr.
Seay, Frank J.
Shaw, J. R.
Stanley, W. J.
Steinbrook, Henry L.
Strickland, Glen O.
Taylor, W. C.
Thompson, Cecil E.. Jr.
Unger, Marshall W.
Whitley, Lewis T.
Wright, Elmer M.

Navy Boot Camp Recruit Photos - Company 55-410
Company 55-410 Recruits, Page 1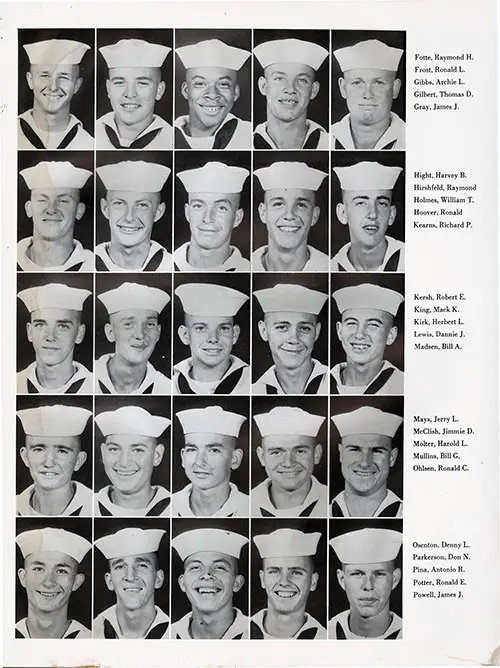 Company 55-410 Recruits, Page 2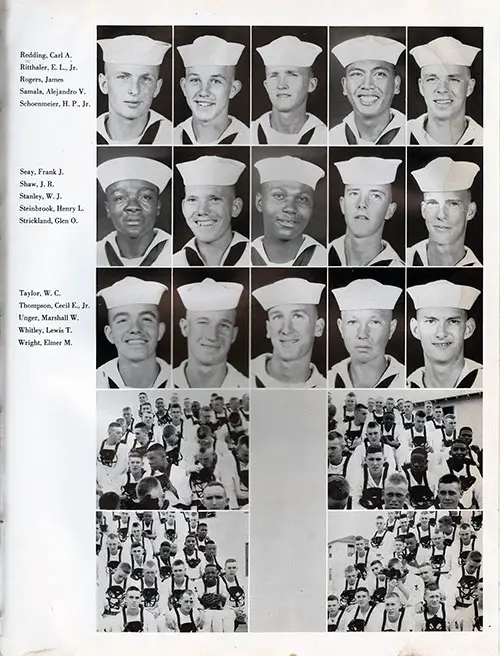 Company 55-410 Recruits, Page 3