Navy Boot Camp Book 1978 Company 097 The Anchor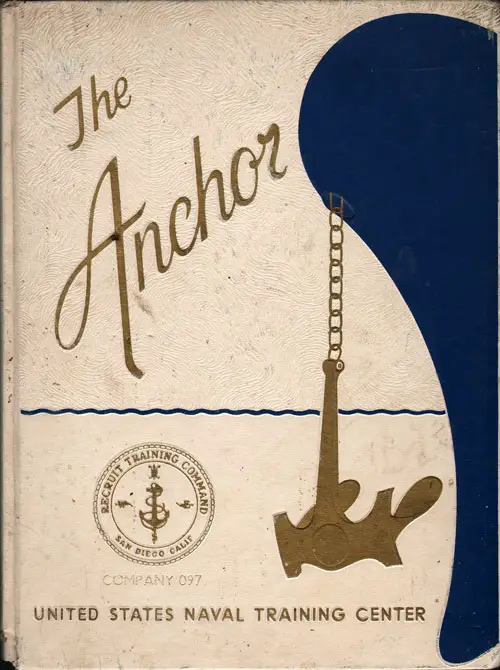 Roster and Photos for Recruit Company 97 for 1978, United States Naval Training Center, San Diego, California. Company Commanders: E. P. Brooks, HTC and J. O. Easter, ENC. 85 Men Graduated.
Company 78-097 Honors
1st Week Infantry
1st and 3rd Week Academic
1st, 2nd and 3rd Week Barracks
1st, 2nd and 3rd Week Athletic
Company 78-097 Leadership
Division Officer
O. G. Baird
Company Commander
E. P. BROOKS, HTC
Company Commander
J. O. EASTER, ENC
Company 78-097 Recruit Roster
Berlanga, Arthur
Salinas, Calif.
Bernard, Jeffrey J.
North Hollywood, Calif.
Boergesson, Robert D.
Southold, N. Y.
Broder, Edward W.
Rockford, Ill.
Bugielski, James J.
Chicago, Ill.
Bustamante, Ralph A.
Douglas, Ariz.
Caldera, Mark A.
Santa Ana, Calif.
Carrillo, Jaime
Chicago, Ill.
Chaney, Walter E.
Vacaville, Calif.
Childress, Stephen K.
Redwood Valley, Calif
Contreras, Desi
New York, N.Y.
Debatt, Kevin J.
West Islip, N. Y.
Donlan, James E.
Southold, N. Y.
Draper, Edwin A.
Redwood City, Calif .
Englehart, Daniel L.
Zanesville, Ohio
Filipiak, Gary
Burbank, Ill.
Fisher, Chris
Brooklyn, N. Y.
FitZgerald, Anthony J.
Pacific Palisades, CA
Flannigan, David L.
La Puente , Calif .
Garcia, Sammy
Wasco, Calif.
Gazarek, Joseph E.
Hinsdale, Ill.
Gentry, Jon L.
Geneseo, Ill
George, Dennis A.
Lancaster, Ohio
Grap, Edward C.
Simi Valley, Calif .
Greene, Frank M.
Oceanside, Calif.
Hanft, Robert A.
Girard, Pa.
Hannigan, James R.
Lindenhurst, N. Y.
Haye, Gerald F.
Twin Falls, Idaho
Hering, Darrin O.
Williamsfield, Ill.
Hernandez, Fred
Los Angeles, Calif.
Heue, Michael W.
Everett, Wash.
Hill, Stephen E.
Seattle, Wash.
Hinchey, Tim M.
Seattle, Wash.
Hinsz, Darren C.
Phoenix, Ariz.
Horton, Geoffrey L.
Colton, Calif .
Hosea, William A.
Ippolito, Victor J.
Downey, Calif.
Jesinger, Joseph W.
Melville, N. Y.
Johnson, Lamont P.
Auburn, Calif .
Johnson, Mark J.
Chenoa, Ill.
Kehl, Brett D.
Southold, N. Y.
Kerr, Michael J.
Corona, Calif.
Kingsley, David R.
East Northport, N. J.
Lang, Robert L.
Lakehurst, N. J.
Laskey, Mark A.
North Hollywood, Calif,
Lee, James W.
Springfield, Mass.
Loken, Gary S.
Huntington, N. Y.
Magdaleno, Marc A.
San Jose, Calif.
Manzella, Donald R.
Chicago, Ill.
May, George R.
Fort Jones, Calif.
Miller, Michael R.,
Piketown, Pa.
Miller, Ricky D.
Huntingdon, Pa.
Mittnacht, Richard
Greenwich, Conn.
Mitura, Arthur W.
Chicago, Ill.
Myers, Donald W.
Tempe, Ariz.
Nettnin, Samuel G.
Chicago, Ill.
Passarelli, David J.
Elmhurst, Ill.
Peters, David J.
Huntington, N. Y.
Ponczko, James S.
Batavia,
Prescott, Thomas
Flushing, N. Y.
Proctor, Michael A.
Sierra Vista, Ariz.
Roellinghoff, , John E.
North Wales, Pa.
Schroder, William D.
San Jose, Calif.
Schwenk, Kenneth C.
Cheektowaga, N. Y.
Smith, Michael J.
Ocononowoc , Wis.
Smith, Thomas J.
Syosset, N. Y.
Smith, Steven W.
Lewisville, Texas
Solis, Mike
La Puente, Calif.
Trudell, Frederick S.
Newark, Calif .
Valverde, Benjamin G.
Salinas, Calif.
Vasquez, Ruben S.
Pacific Grove , Calif .
Villanueva, Joseph
Montery Park, Calif .
Wallach, Keith
Forrest, N. Y.
Walsh, Patick J.
Elkhorn, Wis.
Weis, Richard K.
San Francisco, Calif
West, Robert J.
Pitkin, La.
White, James R.
Santa Rosa, Calif.
Wilson, Gary A.
Carpentersville, ILL.
Wolfe, Donald E.
Gettysburg, Pa.
Wood, Joedy E.
Lancaster, Pa.
Yanez, Rick
Queens, N. Y.
Yurkiewicz, Steven
Queens, N. Y.
Miller, Dwain E.
Chicago, Ill.
Cajudo, E. C.
Philippines
Kahlon, Dalvin D.
Cantua Creek, Calif.
Navy Boot Camp Recruit Photos - Company 78-097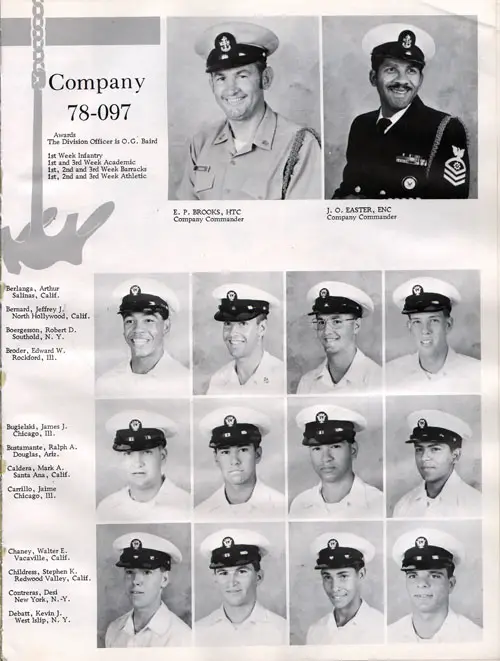 Company 78-097 Recruits, Page 1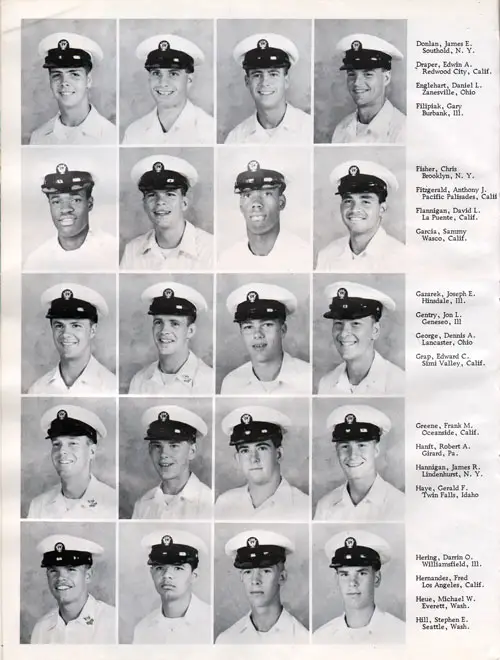 Company 78-097 Recruits, Page 2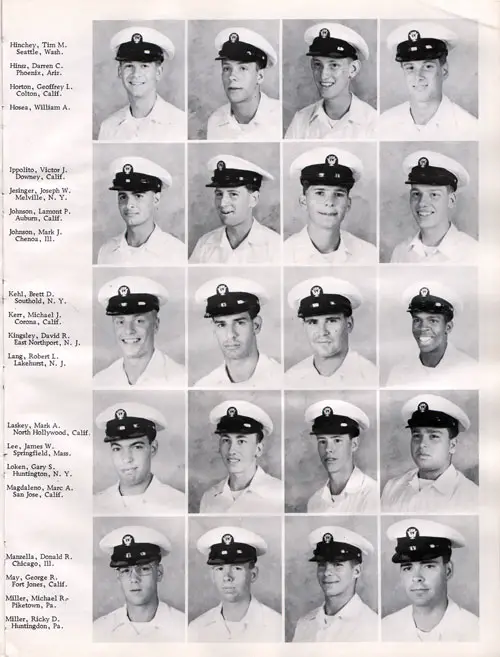 Company 78-097 Recruits, Page 3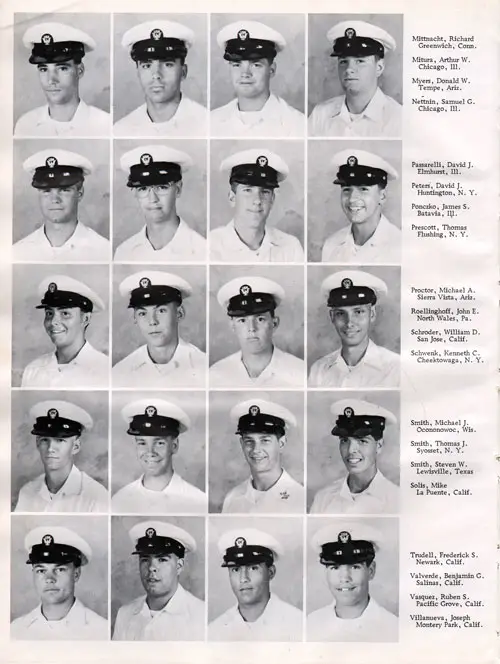 Company 78-097 Recruits, Page 4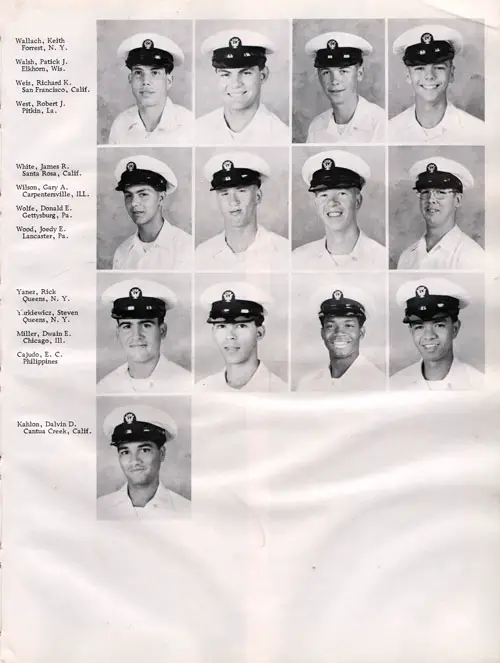 Company 78-097 Recruits, Page 5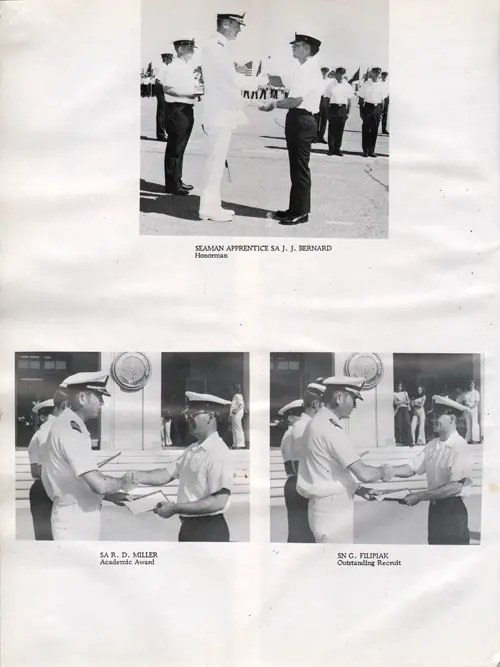 Company 78-097 Recruit Honors
Top Image
SEAMAN APPRENTICE SA J. J. BERNARD Honorman
Bottom Left Image
SA R. D. MILLER
Academic Award
Botom Right Image
SN G. FILIPIAK
Outstanding Recruit