Navy Boot Camp Book 1979 Company 252 The Anchor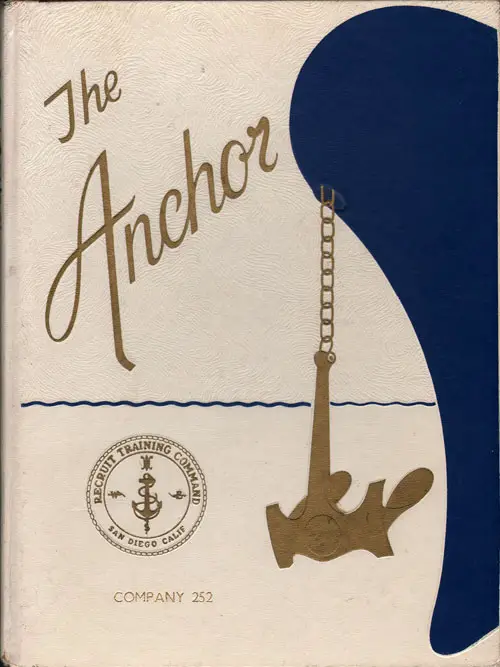 Roster and Photos for Recruit Company 252 for 1979, United States Naval Training Center, San Diego, California. Company Commander: R. D. Clark IC1(SS). 64 Men Graduated.
Company 79-252 Honors
1st, 3rd Week Infantry Efficiency Award
2nd, 3rd Academic Efficiency Award
2nd, 3rd Week Barracks Efficiency Award
1st, 2nd, 3rd Week Athletic Efficiency Award
2nd, 3rd Week Overall Military Efficiency Award
Company 79-252 Leadership
Division #4 Officer
Lt. R.A. Delauder
Company Commander
R. D. CLARK IC1(SS)
Company 79-252 Recruit Roster
R. GRAY
Chicago, Ill.
Recruit Chief Petty Officer
Honorman
E. CURZ
Brooklyn, N.Y.
RPO1
D. ROBERSON
Indianapolis, Ind.
Yeoman
K. SIMMONS
Columbia, S. Car.
Master At Arms
Aragon, Tim J.
Salt Lake City, Utah
Archer, Ricky W.
Denver, Colo.
Balmforth, Philip A.
A nnadalc, Va.
Biggerstaff, Phillip D.
Houston, Texas
Bolton, Daniel J.
Council Bluffs, Iowa
Briones, Pete R.
Fresno, Calif.
Browder, Donald W.
Edmonds, Wash.
Cameron, Dean A.
Edmonds, Wash.
Connors, Andrew
Albuquerque, N.M.
Cooper, William W.
Houston, Texas
Cruz, Victor J.
Phoenix, Ariz.
Davis, Dale L.
Berryville, Ark.
Dixon, Mark L.
Hoquiam, Wash.
Douglas, Bobby A.
Mollala, Ore.
Egan, Irvin J. III
Kansas City, Mo.
Flores, Ricardo
El Paso, Texas
Fortenberry, Brad O.
Tylertown, Miss.
Gates, Freddie L.
Gary, Ind.
Hamilton, David H.
Lighthouse Point, Fla.
Harkless, James L. Jr.
Canby, Ore.
Henderson, Jerry D.
Burleson, Texas
Herdt, Jack J.
Las Vegas, Nev.
Hetfield, Rodney E. S.
Boulder, Colo.
Johnson, Anthony C.
Lakewood, Colo.
Kallister, Randal J.
Periora, Ill.
Kosek, David J.
Spokane, Wash.
Lewis, Thomas J.
Los Angeles, Calif.
Linder, William P.
Butler, Ala.
Lopez, Robert L.
Milpitas, Calif.
Martin, Billy J.
Dallas, Texas
Martinez, Andrew V.
Denver, Colo.
McClure, Kerry S.
Denver, Colo.
McKay, Robert T.
Salisbury, N. Car.
McRoberts, Raymond A.
Murphysboro, Ill.
Miller, Kimberly C.
Denison, Texas
Miller, Thomas A. Jr.
Milton, Wash.
Obar, Stephen M.
Ortiz, Mark A.
Pasadena, Calif.
Phillips, Gregg E.
Hoquiam, Wash.
Phillips, Stephen R.
Pensacola, Fla.
Poole, George
San Diego, Calif.
Reynolds, Mike
San Jose, Calif.
Robinson, Paul S.
Mobile, Ala.
Rushford, Ronald L.
Munising, Mich.
Schantz, Edward F.
Federal Way, Wash.
Smith, Patrick J. Jr.
Kenner, La.
Smith, Patrick W. Jr.
Fort Worth, Texas
Swank, Joseph B.
Alexandria, La.
Sweeney, Billy G.
Mobile, Ala.
Tanis, Mark A.
Munising, Mich.
Travis, Gerry L.
Joliet, Ill.
Trayer, Thomas S.
Boca Raton, Fla.
Vidal, Michael F.
Cape Cod, Mass.
Williams, Alan G.
Portland, Ore.
Wilson, Ricky D.
Phoenix, Ariz.
Yeatman, Julian H. III
Miami, Fla.
Cartagena
El Salvador
Hamilton, K.R.
Eugene, Ore.
Sperry, M.E.
Costa Mesa, Calif.
Chiles
Gardena, Calif.
Muldrew, D.A.
Navy Boot Camp Recruit Photos - Company 79-252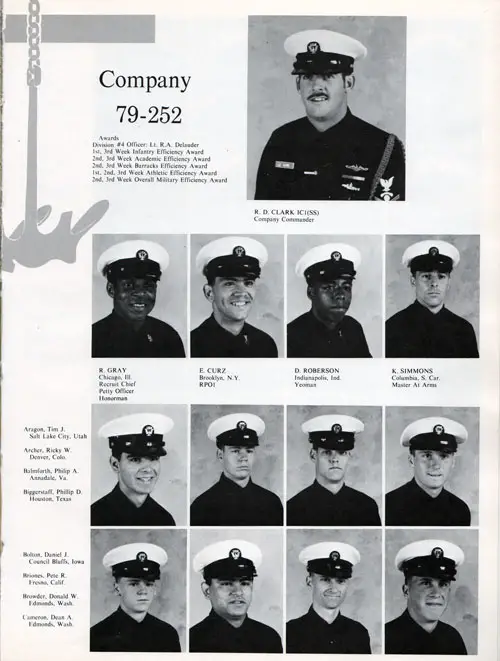 Company 79-252 Recruits, Page 1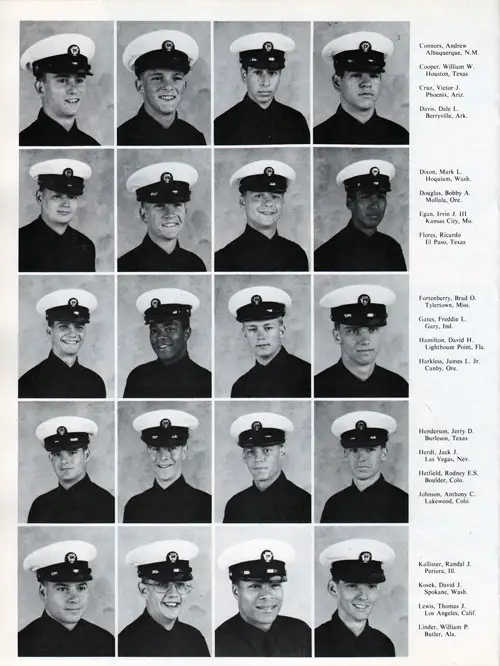 Company 79-252 Recruits, Page 2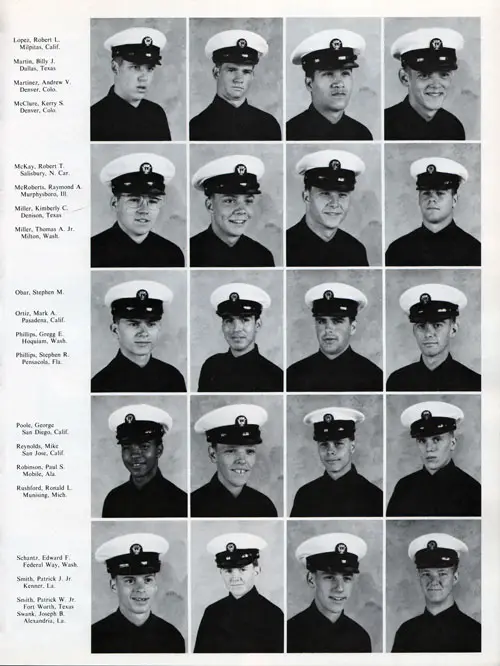 Company 79-252 Recruits, Page 3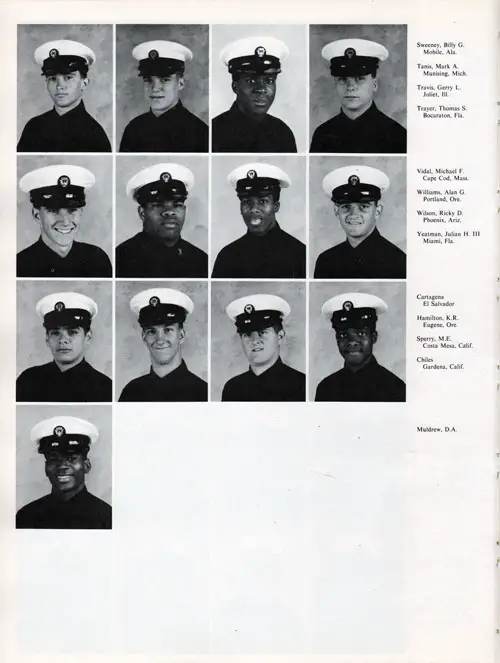 Company 79-252 Recruits, Page 4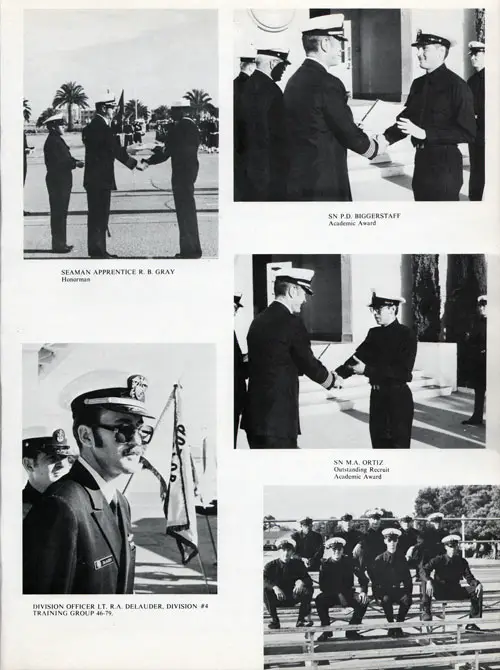 Company 79-252 Recruit Honors
Top Left Image
SEAMAN APPRENT1CE R. B. GRAY
Honorman
Top Right Image
SN P.D. B1GGERSTAFF
Academic Award
Middle Right Image
SN M.A. ORT1Z
Outstanding Recruit
Academic Award
Bottom Left Image
D1V1S1ON OFF1CER LT. R.A. DELAUDER, D1V1SION #4 TRA1N1NG GROUP 46-79