Navy Boot Camp Book 1960 Company 368 The Anchor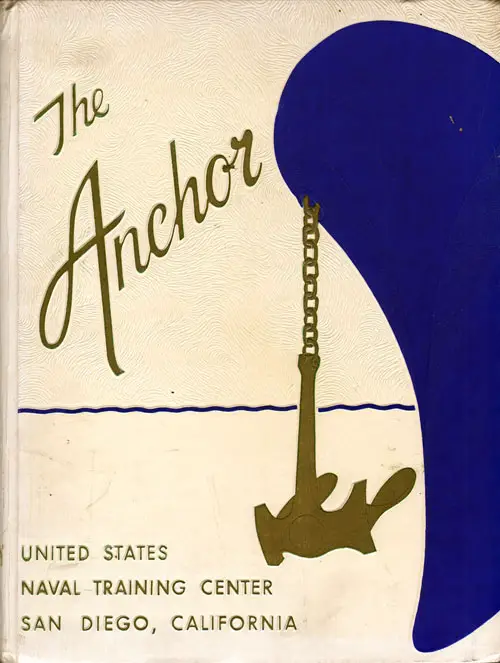 Roster and Photos for Recruit Company 368 for 1960, United States Naval Training Center, San Diego, California. Company Commander: John N. Valencia, DCC. 80 Men Graduated.
Company 60-368 Leadership Command
Company Commander: John N. Valencia, DCC
Battalion Commander: LT JG E. J. Koczak
Company 60-368 Roster of Recruits
E. A. Van Orman
Recruit Chief Petty Officer
David R. Witt
Honorman
Allen, Glendal F.
Amos, James R.
Atencio, Daniel F.
Austin, Kenneth L.
Baker, Gary L.
Beams, Nathan
Beaver, Donald R.
Bell, Jimmie D.
Boyd, Thomas A.
Brookey, Jimmie A.
Burns, Jim Jr.
Cambo, Anthony Jr.
Chadbourn, D. E.
Chandler, R. L.
Chavis, Richard J.
Connerley, R. D.
DeManche, R. D.
Diggs, Delwyn D.
Douglas, James S.
Dugan, Dale W.
DuPree, Carl L.
Edmiston, Elton D.
Espinoza, R. C.
Evans, Merrill P.
Fleming, Joe K. Jr.
Forse, Aubrey D.
Fowler, F. F.
Frazee, Wylie M.
Freitas, R. S.
Gregory, A. H.
Griggs, Wesley G.
Harper, G. F. III
Harr, Daniel L.
Haugen, Gary R.
Hogge, Jerry E.
Homer, James M.
Howard, Edward C.
Howard, Kenneth W.
James, Mose A.
Keating, Harlin D.
King, Armer Jr.
Kralicek, R. L. Jr.
Lugo, Fernando
MacRae, James R.
Markel, A. F.
Martin, R. J. III
Mason, Gerald
Miller, John R.
Mondragon, F. Jr.
Munford, Larry J.
Parker, Billie R.
Pontrella, G. A.
Pressler, David A.
Reed, Russell L.
Rhynes, Joseph E.
Rhynes, N. D.
Rolling, Ralph J.
Royall, Buddy R.
Sanders, Leo H. Jr.
Sanders, Frank M.
Schreiber, Jack L.
Smith, Charles F.
Smith, Tommy D.
Springer, Joe E.
Standridge, L. E.
Steiner, C. 0.
Stevens, F. J. Jr.
Thompson, D. A.
Trammell, Jack W.
Turner, Charles C.
Tyson, William P.
Ulibarri, E.
Vance, Victor A.
Walker, Ralph W.
Wilson, Bobby G.
Yoder, Kenneth L.
Young, Whitney C.
Zuke, William F.

Navy Boot Camp Recruit Photos - Company 60-368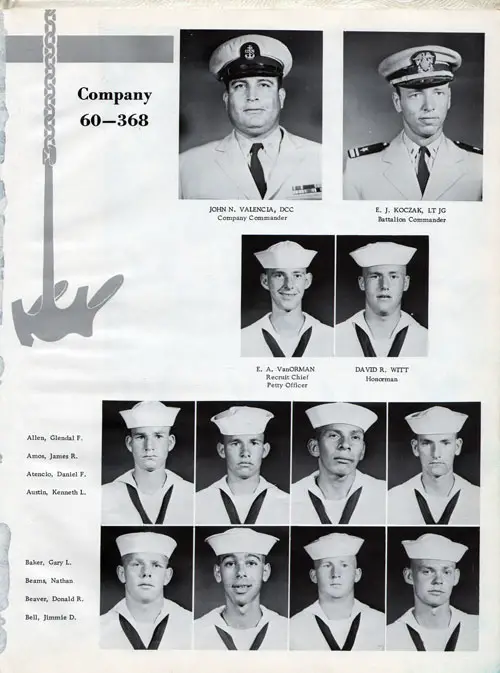 Company 60-368 Recruits, Page 1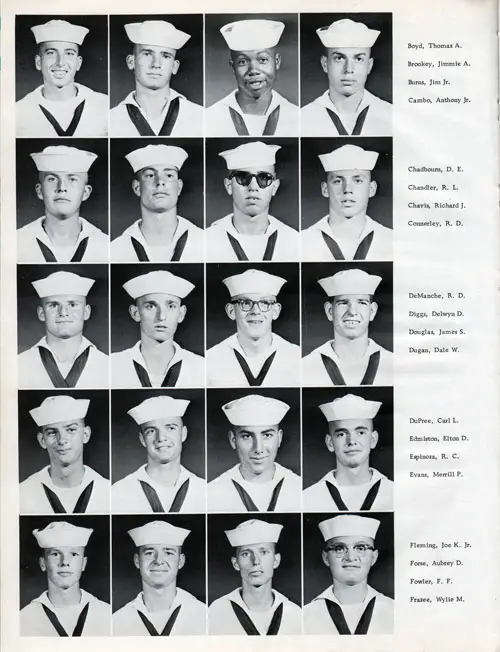 Company 60-368 Recruits, Page 2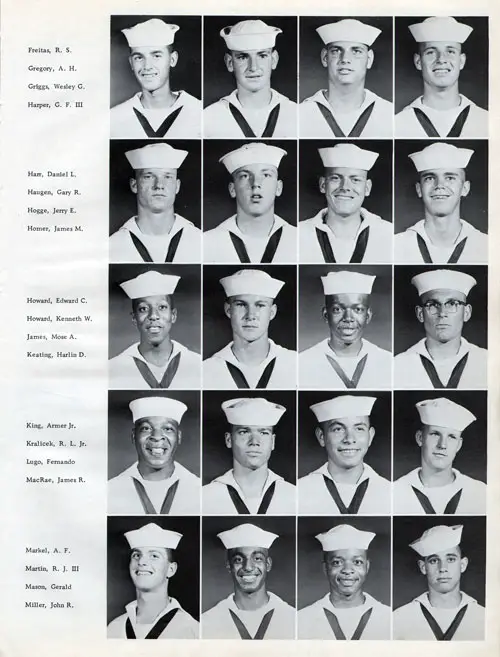 Company 60-368 Recruits, Page 3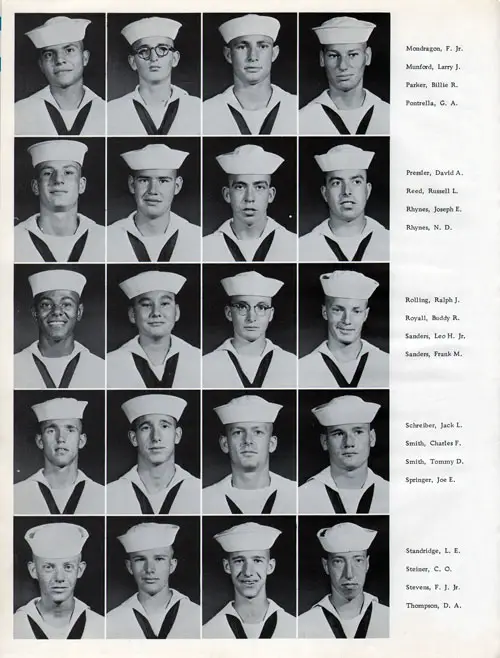 Company 60-368 Recruits, Page 4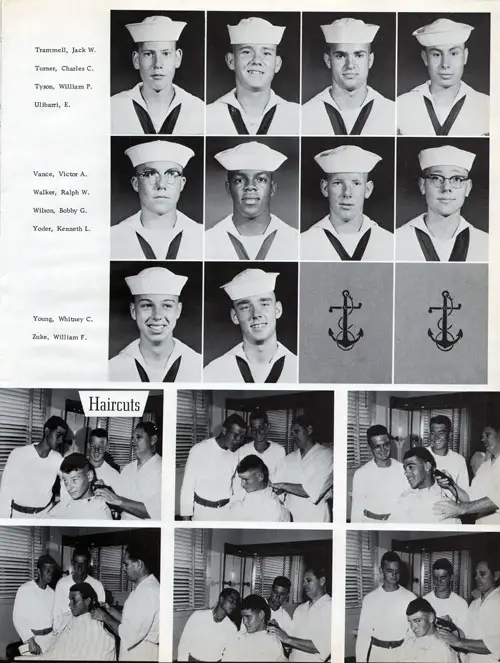 Company 60-368 Recruits, Page 5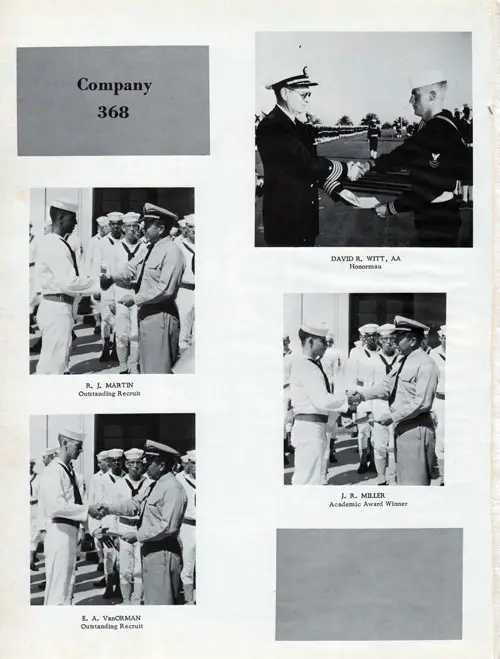 Company 60-368 Honor Recruits
DAVID R. WITT, AA
Honorman

R. J. MARTIN
Outstanding Recruit

J. R. MILLER Academic Award Winner

E. A. VanORMAN
Outstanding Recruit