Navy Boot Camp Book 1976 Company 294 The Anchor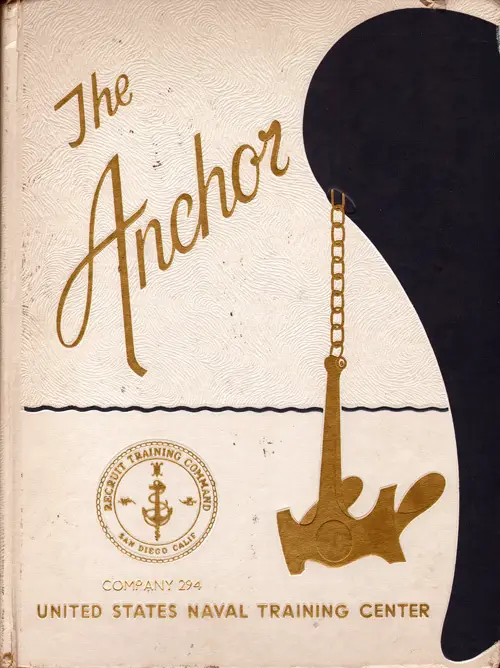 Roster and Photos for Recruit Company 294 for 1976, United States Naval Training Center, San Diego, California. Company Commander: SW1 D. McMakin. 62 Men Graduated.
Company 76-294 Honors
Battalion Efficiency
3rd; 4th; 5th Week
Regimental Efficiency
5th Week
Company 76-294 Leadership
Company Commander
SW1 D. McMAKIN
Company 76-294 Recruit Roster
C. HARRISON
Recruit Chief Petty Officer
D. D. PLAMBECK
RPO1
H. L. ELLIOTT
Yeoman
T. L. WILD
Master At Arms
Patrick R. Adamson, Jr.
Eagle Creek, Ore.
Bruce D. Amann
Gateway, Ark.
Donald A. Andersen
Racine, Wisc.
Michael Bacik
Kerrville, Texas
Robert C. Baeza
El Paso, Texas
Robert H. Bajorek
Edewater, Colo.
Alan V. Berg
Walnut Creek, Calif.
Stephen R. Boesoorfer
Clinton, Ill.
James C. Carsner, Jr.
Astoria, Ore.
Leanord, O. Chapman
Auquilla, Miss.
Marlon M. Coleman
Pueblo, Colo.
Robert M. Eroh
La Crescenta, Calif.
Robert J. Fisher
Harrisburg, Ore.
David L. Fontaine
Agington, Penn.
Dino M. Ford
Chicago, Ill.
Kenneth J. Grimes
San Bernardino, Calif.
Brigido F. Guevara
C. Hamilton Mathew
Millbrae, Calif.
Carl M. Harp
River Falls, Wis.
Eric R. Hill
Bessemer, Ala.
William G. Hotzel
Butte, Mont.
Ralph K. Houser, Jr.
Los Angeles, Calif.
Lee A. Hughes
Alto, Texas
Don H. Jackson
Dumas, Ark.
Wayne S. Johnson
Fullerton, Calfi.
Mitchell J. Kell
Uniontown, Pa.
Richard L. Kirkpatrick
Los Angles, Calif.
Randy V. Manard
Dallas, Texas
Chad H. Marvel
Portland, Ore.
James S. Mutchler
San Antonio, Texas
Leo D. Mason
Springfield, Mass.
Broderick L. Mathews
Gary, Ind.
Russell D. McCaul
Harrisburg, Ore.
Jeffery D. McCormick
El Paso, Texas
Allen D. Olney
El Paso, Texas
Daniel A. Payne
Burbank, Calif.
Joseph A. Pentridge
Stanton, Calif.
Mark K. Pfeiler
Topeka, Kans.
Richard K. Phelps
Lumberton, Texas
Dennis R. Sampson
American Falls, Idaho
Scott, R. Saulsberry
Maywood, Calif.
David P. Scherer
Aravada, Colo.
Frank R. Schleip
Bofolow, N. Y.
Michael R. Schmidt
Northbrook, Ill.
Allen L. Scudder
Pearl City, Ill.
Eugene B. Sedy
Redmond, Wash.
Phillip A. Shepard
Denver, Colo.
Tommy L. Sims
Federal Way Wash.
Robert A. Smith
Fullerton, Calif.
Edward K. Smith
Anderson, Calif.
Reed A. Stambaugh
Toledo, Ohio
David A. Steeves
Martinez, Calif.
Elvia L. Sullinger
Los Angeles, Calif.
Glen C. Thale
Olympia, Wash.
Jeffrey D. Wilson
Cupertino, Calif.
Michael L. Winn
California City, Calif.
David S. Wolski
Colorado Springs, Colo.
Alan D. Wright
Wichita, Kans.
Navy Boot Camp Recruit Photos - Company 76-294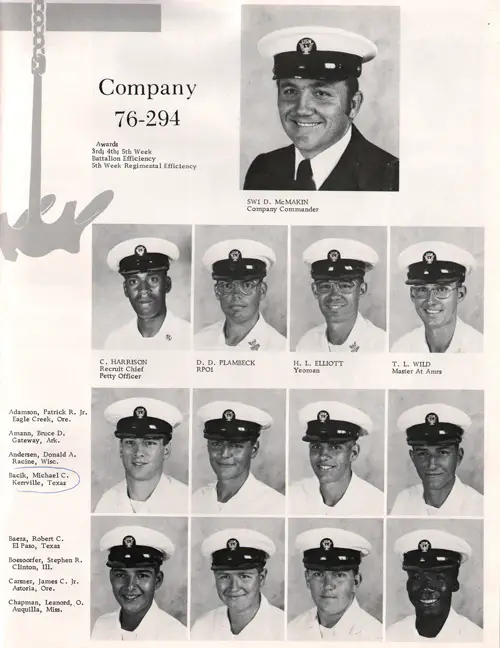 Company 76-294 Recruits, Page 1
Company 76-294 Recruits, Page 2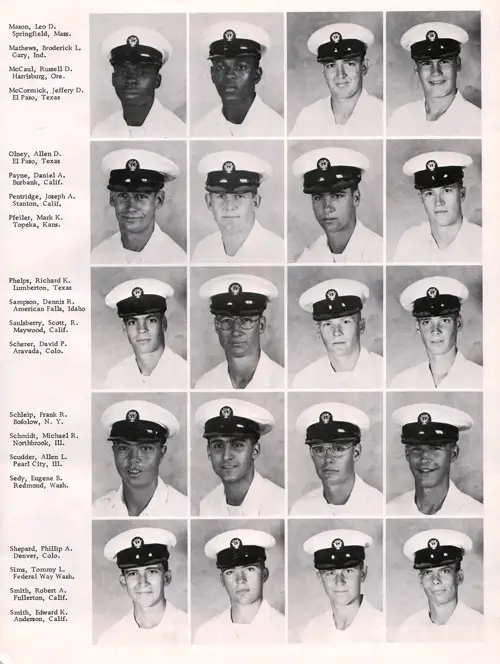 Company 76-294 Recruits, Page 3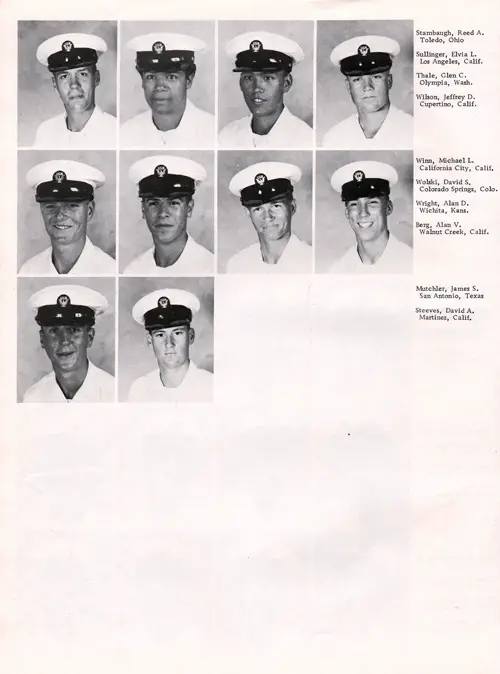 Company 76-294 Recruits, Page 4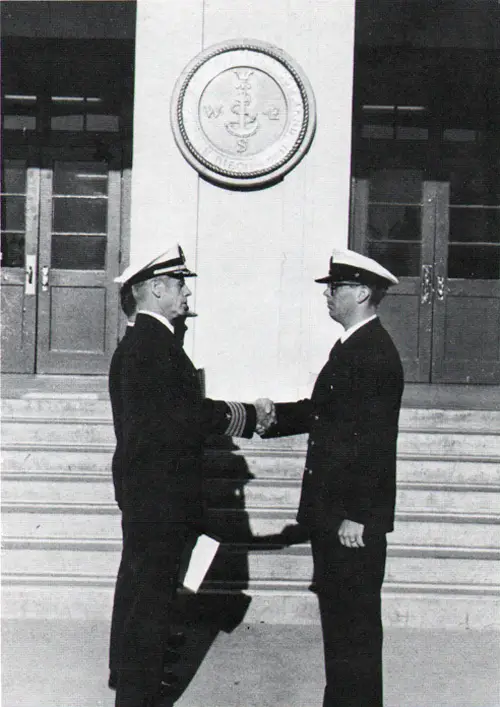 Company 76-294 Academic Award - D. D. Plambeck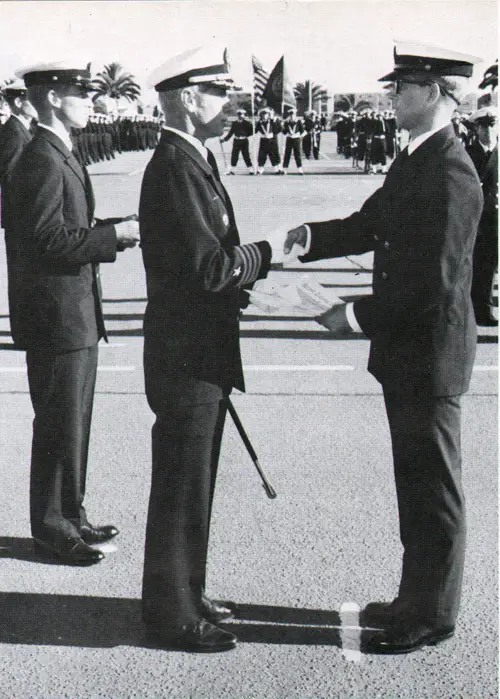 Company 76-294 Honorman - Seaman E. B. Sedy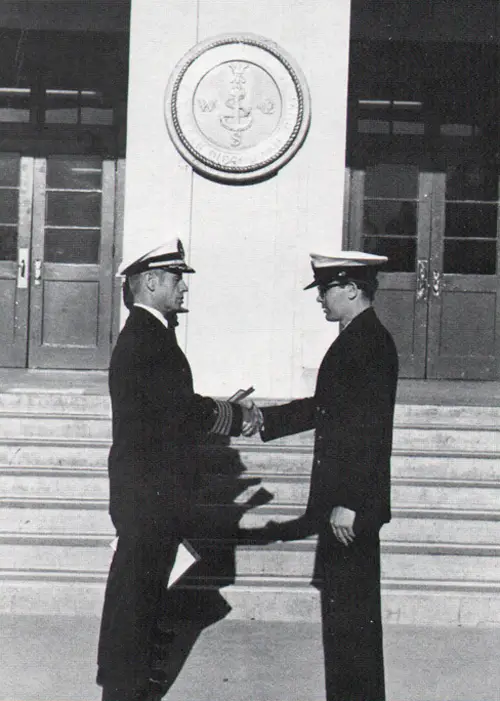 Company 76-294 Outstanding Recruit - H. L. Elliott
Company 76-294 Passing In Review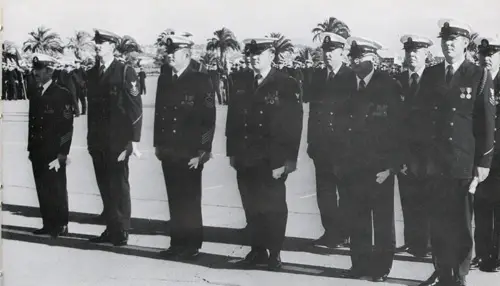 Company Commanders Training group 44-75 graduation 1-16-76
First Row Left to Right: Co. 296-TDC L. Swartzell, Co. 292-1C1 R. Richmond, Co. 291-SMC C. Cooke, Co. 294-SW1 D. McMakin, Co. 298-0S1 B. Callens, Co. 297-MM2 B. Jones.
Yearbook Contributed to the GG Archives by Dennis C. Collins of Grand Junction, CO