Navy Boot Camp Book 1961 Company 303 The Anchor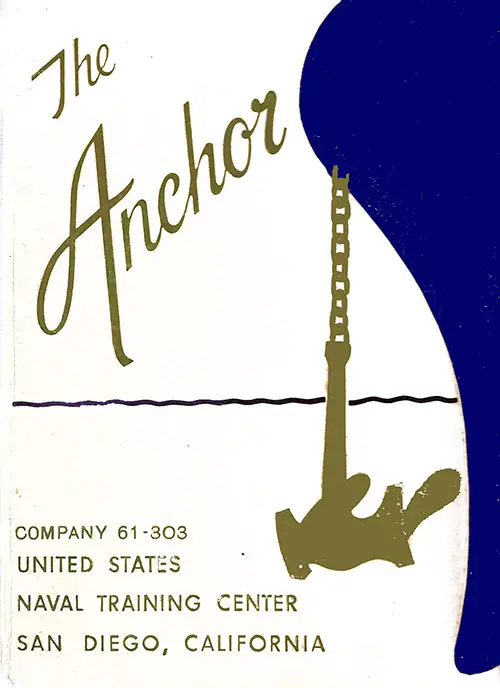 Front Cover, The Anchor 1961 Company 303, Navy Boot Camp Yearbook. GGA Image ID # 1ad1e766c0
Roster and Photos for Recruit Company 303 for 1961, United States Naval Training Center, San Diego, California. Company Commander: Louis J. Reeves, QMC. 65 Men Graduated 24 August 1961.
Company 61-303 Organization and Schedule
Commenced Training: Not Stated
Completed Training: 24 August 1961
Company 61-303 Leadership
Battalion Commander: LTJG E. F. Temme
Company Commander: Louis J. Reeves, QMC
Company 61-303 Recruit Roster
George K. Kawelo, Jr., Recruit Chief Petty Officer
Leslie J. Williams, Honorman
Asper, Gerald D.
Bacolini, Fred J.
Berger, Jimmy L.
Blackwell, John A.
Bullock, Mark R.
Burkett, Thomas R.
Carter, James D.
William R. Carter
Caspari, Thomas L.
Chang, Vernon K.
Chapman, Stanley C.
Clark Robert M.
Davis, William F.
Deal, James M.
DuBois, Ted B.
Friestrom, Richard W.
Gerughty, Dennis M.
Giles, Malcolm R.
Hall Leander J.
Howell, James L.
James, Donald G.
Jones, George J.
Jones, Willie, Jr.
Kascal, Charles N.
Kavan, Richard T.
Kirkpatrick, Jerry M.
Kupa, John K.
LeBars, Donald Y.
Lynch, Douglas H.
Miller, R. D.
Moore, Stephen F.
Morris, Gary W.
Morse, John R.
Mosshammer, James J.
Muse, Ronald G.
Musial, Jan A.
Padilla, John R.
Peters, Palmer K.
Plaza, Edward J.
Poling, Perry E.
Richburg, Rodney C.
Robertson, William L.
Rodriquez, Edward R.
Rudd, George D.
Russell, L. P.
Sagale, Faipea F.
Sangster, George W.
Sawaya, David J.
Scoggins, James M.
Simpson, Billy P.
Smith, Harry B.
Steele, Robert E.
Stephenson, Charles H.
Steward, Robert E.
Terramorse, Louis E.
Treise, David W.
Tudor, David K.
VanDusen Richard J.
Young, Carl D.
NOT PICTURED
Humphrey, Frank G.
Woodward, George, Jr.
Brown, William A., Jr.
Godfrey, Steven F.
Navy Boot Camp Recruit Photos - Company 61-303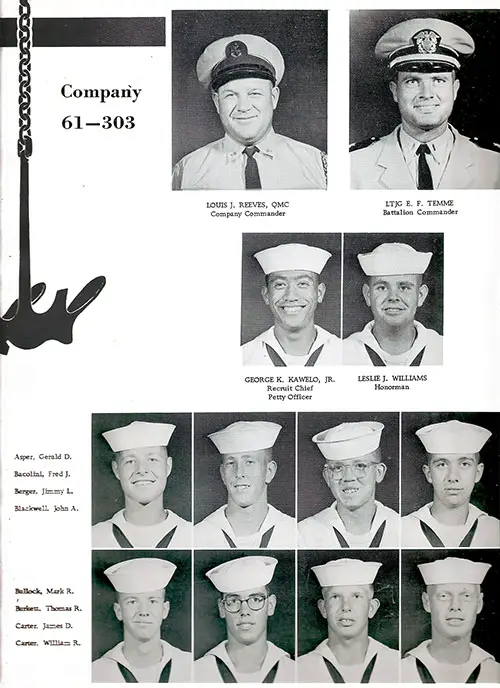 Company 61-303 San Diego NTC Recruits, Page 1. GGA Image ID # 1ad25ebb4d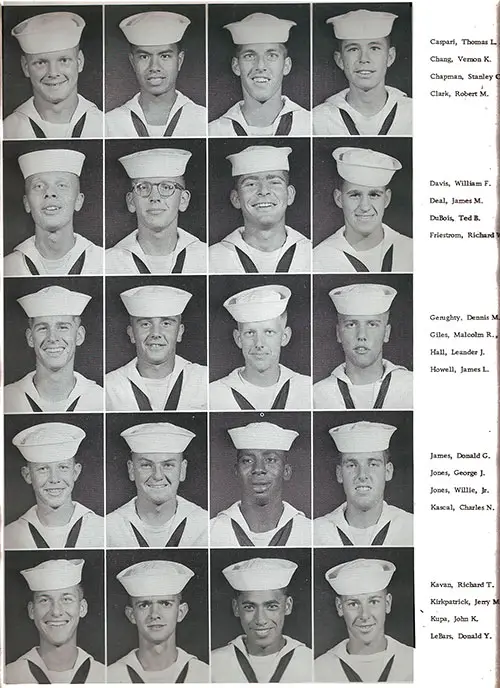 Company 61-303 San Diego NTC Recruits, Page 2. GGA Image ID # 1ad2666d86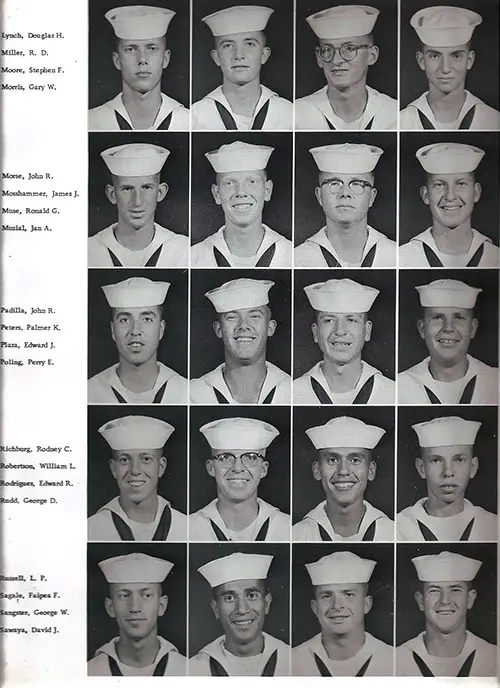 Company 61-303 San Diego NTC Recruits, Page 3. GGA Image ID # 1ad283a4c3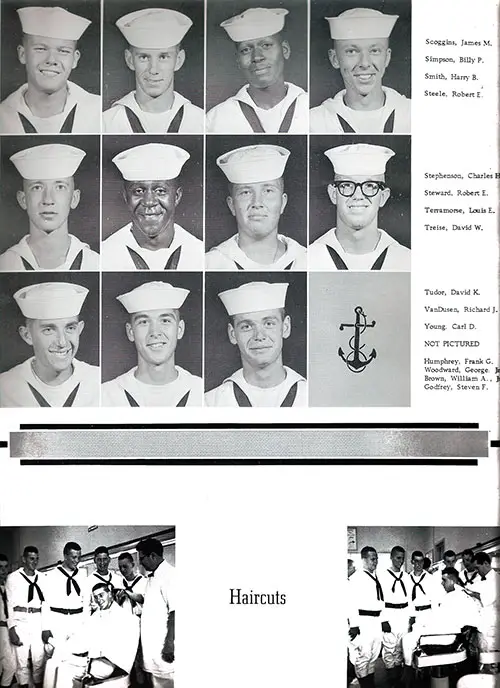 Company 61-303 San Diego NTC Recruits, Page 4. GGA Image ID # 1ad2d29dc4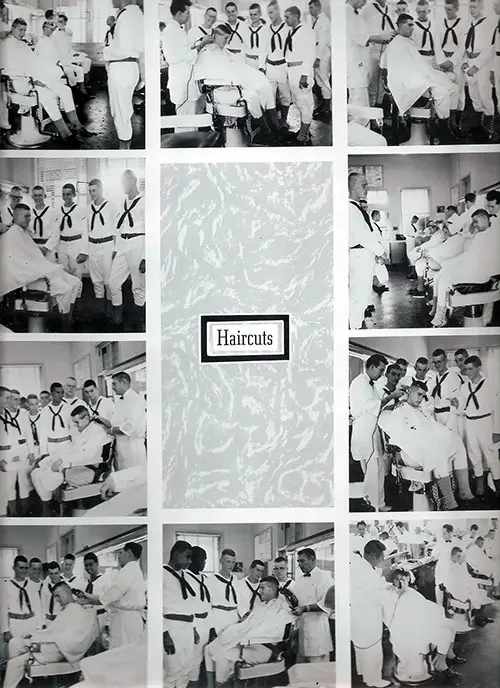 Company 61-303 San Diego NTC Recruits, Page 5. GGA Image ID # 1ad3543b86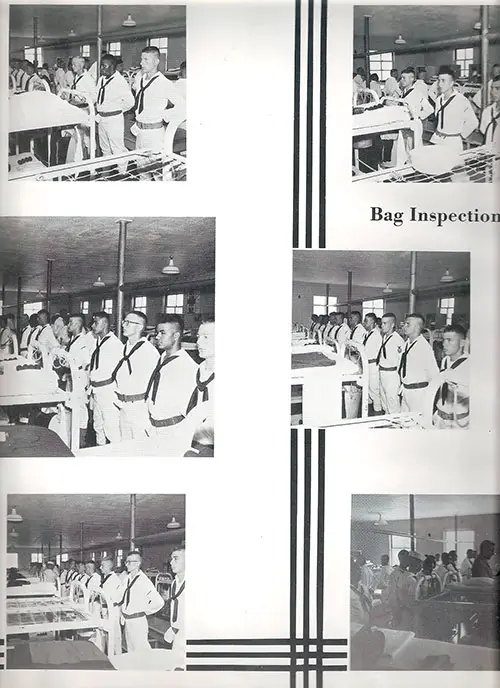 Company 65-472 San Diego NTC Recruits, Page 6. GGA Image ID # 1ad3f9e3b3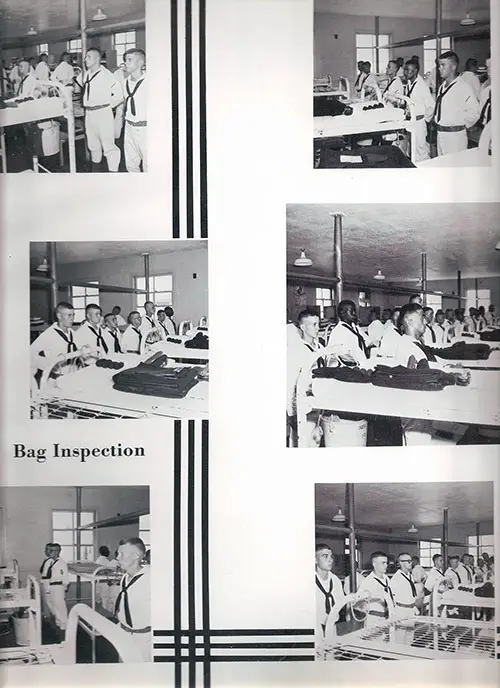 Company 65-472 San Diego NTC Recruits, Page 7. GGA Image ID # 1ad42ee2ad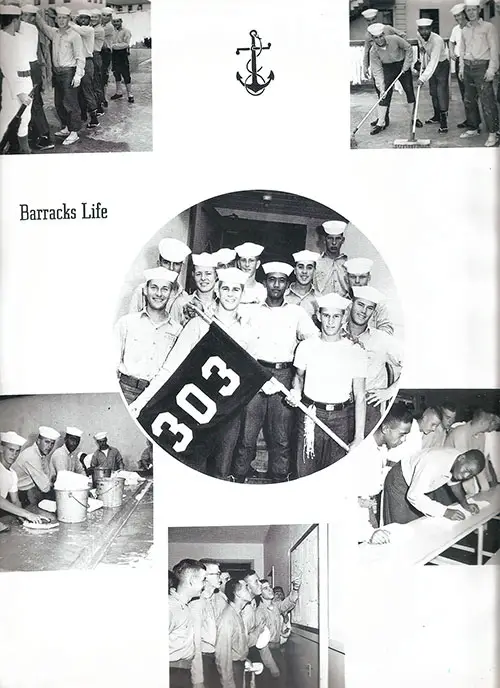 Company 65-472 San Diego NTC Recruits, Page 8. GGA Image ID # 1ad4485917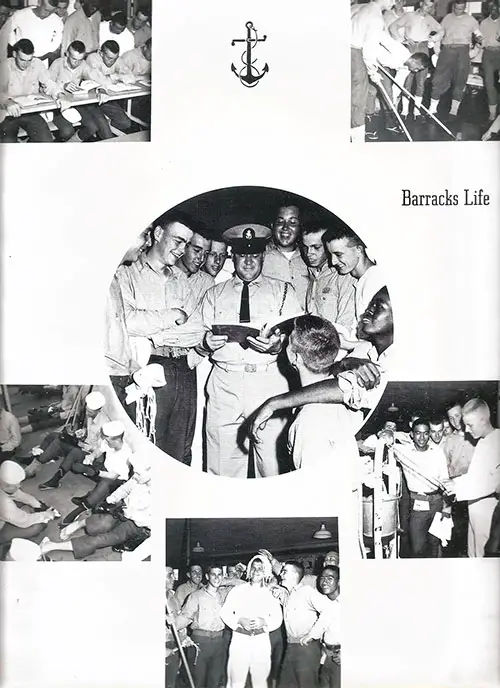 Company 65-472 San Diego NTC Recruits, Page 9. GGA Image ID # 1ad47bd5b0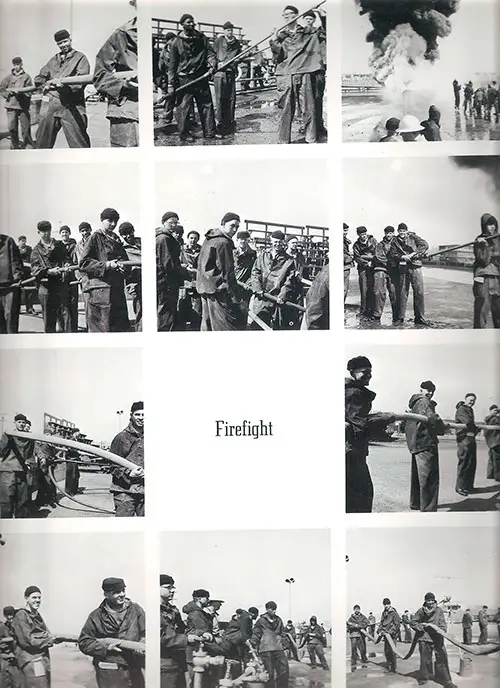 Company 65-472 San Diego NTC Recruits, Page 10. GGA Image ID # 1ad48cb3b8
Company 65-472 San Diego NTC Recruits, Page 11. GGA Image ID # 1ad4fc2044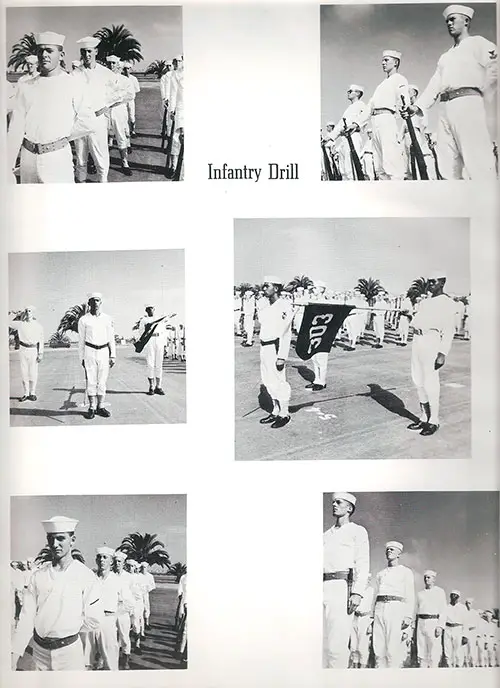 Company 65-472 San Diego NTC Recruits, Page 12. GGA Image ID # 1ad52fe524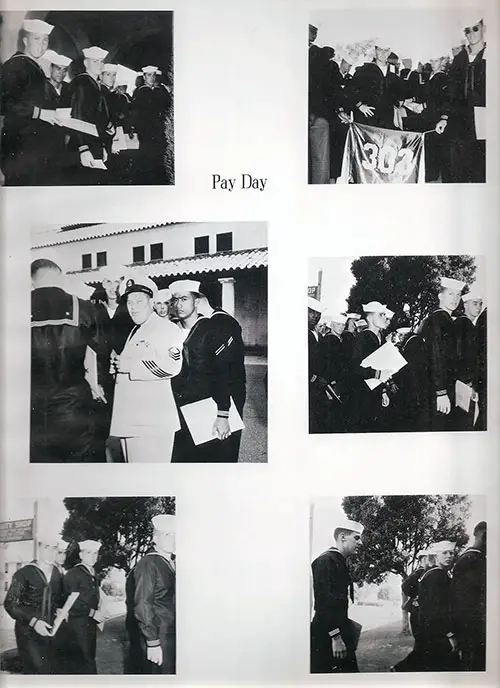 Company 65-472 San Diego NTC Recruits, Page 13. GGA Image ID # 1ad533a41a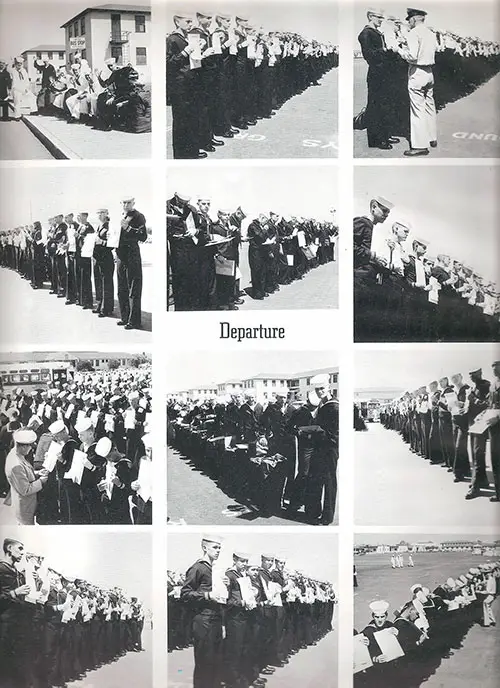 Company 65-472 San Diego NTC Recruits, Page 14. GGA Image ID # 1ad574dbb0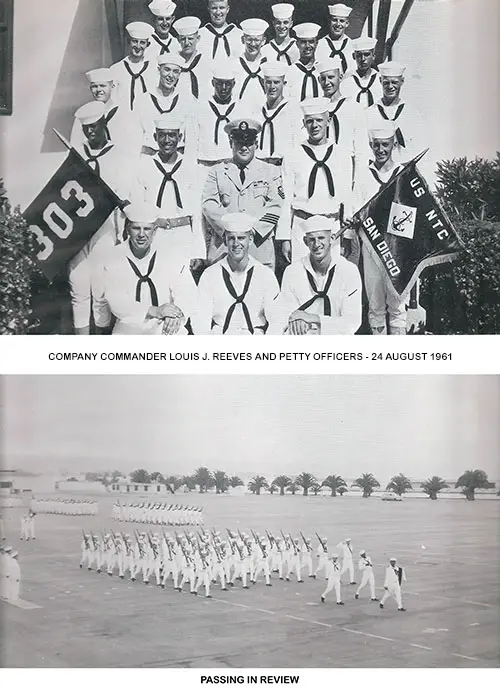 Company 65-472 San Diego NTC Recruits, Page 15. GGA Image ID # 1ad58f72e4
Company Commander Louis J. Reeves and Petty Officers -- 24 August 1961
Passing in Review
Company 65-472 San Diego NTC Recruits, Page 16. GGA Image ID # 1ad5df83ad
Clockwise from Top:
Leslie J. Williams, SA, Honorman
John R. Morse, Academic Award Winner
S. C. Chapman, Outstanding Recruit
Frank G. Humphrey, Outstanding Recruit (Not Pictured)
NTC Book Images Contributed by Allan R. Dahmer & Dan Murphy 2022