Navy Boot Camp Book 1976 Company 947 The Anchor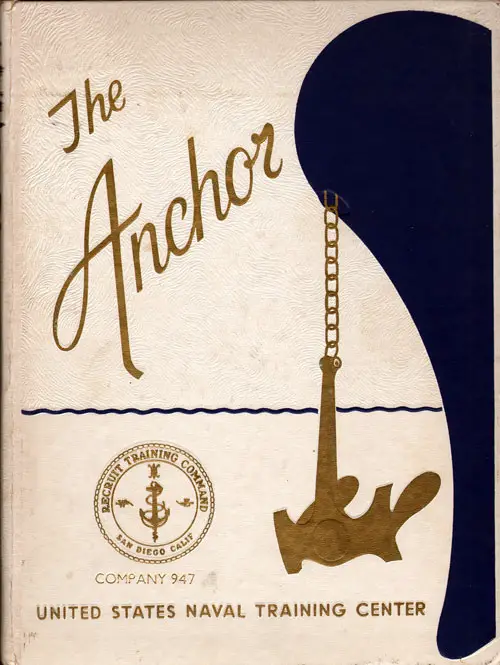 Roster and Photos for Recruit Company 947 for 1976, United States Naval Training Center, San Diego, California. Company Commander: B. S. Jones, MM1. 78 Men Graduated.
Company 76-947 Honors
2nd, 3rd, 4th week Barracks
2nd, 4th week Academic
2nd, 3rd, 4th week Athletic
2nd, 3rd, 4th week Overall Efficiency
Company 76-947 Leadership
Company Commander: B. S. JONES, MM1
Company Commander Assistant: CARPENDER

Company 76-947 Recruit Roster
J. M. MONROE
Golden, Colo.
Recruit Chief Petty Officer
Honorman
K. E. ATKINS
Des Moines, Iowa
RPO1
S. M. RICHMAN
New York City, N. Y.
Yeoman
J. G. SCHERRER
Prairee Village, Kans.
Master At Arms
Adams, Ronnie E.
Andrews, Lloyd N.
Great Falls, Mont.
Barrows, Daniel J.
Albequerque, N. M.
Blake, Andre A.
Reseda, Calif.
Blood, Melvin J.
Charolette, N. Car.
Brault, Richard H.
Anchorage, Alaska
Carroll, Reginald,
St. Louis, Mo.
Castaneda, Armando Jr.
San Diego, Calif.
Chestnut, Mark N.
Coronado, Calif.
Cook, Edwin D.
Houston, Texas
Crippen, Franklin Jr.
Corpus Cristi, Texas
Crocker, James E.
Tuskaloosa, Ala.
Dalling, Stevan B.
Salt Lake City, Utah
Edwards, Thomas V.
Union City, Calif.
Ferguson, Keith L.
Sweethome, Ore.
Fischer, Roland E.
Hayward, Calif.
Fleuter, William D.
Windlake, Wis.
Gage, Guy O.
Marysville, Calif.
Gangel, Timothy
Canon City, Colo.
Glaccum, John F.
Ontario, Calif.
Gomez, Guy F.
Pacifica, Calif.
Groves, Stephen E.
El Cajon, Calif.
Haldeman, Daryl R.
Granite City, Ill.
Hanson, Bradley A.
Albany, Ore.
Hauk, Stephen M.
Dallas, Texas
Hill, David R.
Reno, Nev.
Hollins, James B.
Fort Worth, Texas
Huisentruit, Kennet L.
Troy, Mont.
Ibarra, Mark R.
Jacobson, Donald M.
Albany, Ore.
Kauffman, Timothy P.
Beaverton, Ore.
Kelson, Kevin W.
Orem, Utah
Killingsworth, Clarence
Ferndale, Calif.
King, Samuel F. II
Colorado Springs, Colo.
Kirkhart, Patrick M.
Orange, Calif.
Koperniak, Joseph A.
Boston, Mass.
Lavelle, Patrick J.
Hawthorne, Calif.
Lawton, Daniel G.
Tacoma, Wash.
Little, Timothy D.
Elberton, Ga.
Martens, Daniel L.
Seabrook, Texas
McCorkle, Timothy L.
McKinney, Boyd A.
Mesa, Ariz.
Molloy, Michael E.
Napa, Calif.
Moore, Thomas L.
Tampa, Fla.
Ness, David E.
Hayward, Calif.
Patnode, Stuart M.
Woodburn, Ore.
Patterson, Robert A.
Golden, Calif.
Pirtle, Leonard S.
Houston, Texas
Poremski, Robert C.
Vallejo, Calif.
Rogers, Mark T.
Indian Harbour Beach, Fla.
Rold, Darwyn S.
Oakhurst, Calif.
Russell, William G.
Simi Valley, Calif.
Rustan, Scott D.
Bozeman, Mont.
Saxon, Louis A.
Michigan City, Ind.
Shipley, Daniel J.
Tempe, Ariz.
Sievers, Jackie R.
Haile, Idaho
Silva, Randall J.
Fremont, Calif.
Simpson, Alan W.
Doniphan, Mo.
Snyder, Richard M.
Kensington, Calif.
Spykes, Stephen L.
Dallas, Texas
Steers, Jonathan M.
Sparks, Nev.
Suttle, Robert E.
Wilkesboro, N. Car.
Trogdon, Scott E.
Bakersfield, Calif.
Tucker, Robert B.
Phoenix, Ariz.
Vann, Daniel S.
Corpus Cristi, Texas
White, Bradley S.
Seattle, Wash.
Williford, Alfred L.
Corvallis, Ore.
Williams, Craig J.
Kirkland, Wash.
Wilson, Micheal R.
Lincoln, Calif.
Winchester, David D.
Chicago, Ill.
Young, John R.
Tuckahoe, N. J.
Zadow, Michael L.
Cucamonga, Calif.
Rivera, B. R.
Culver City, CA
Raquidan, T. D.
Philippines
Navy Boot Camp Recruit Photos - Company 76-947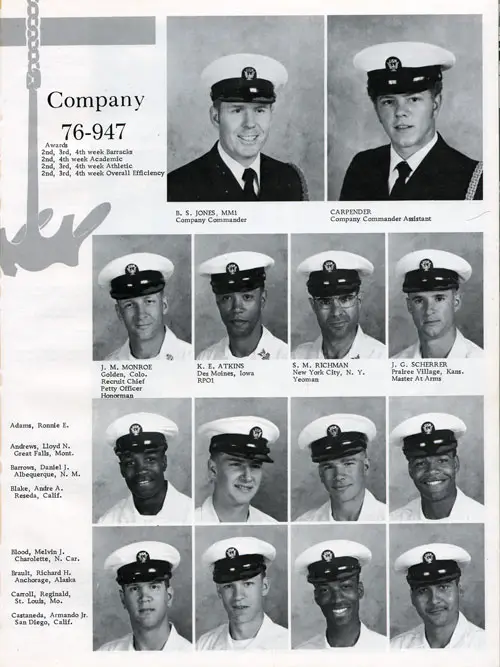 Company 76-947 Recruits, Page 1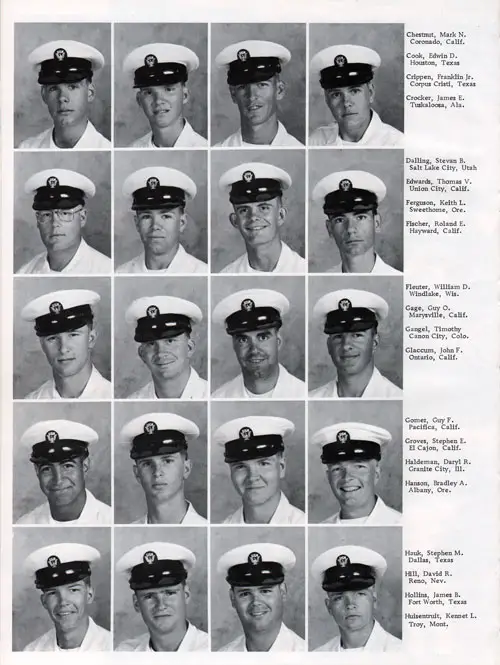 Company 76-947 Recruits, Page 2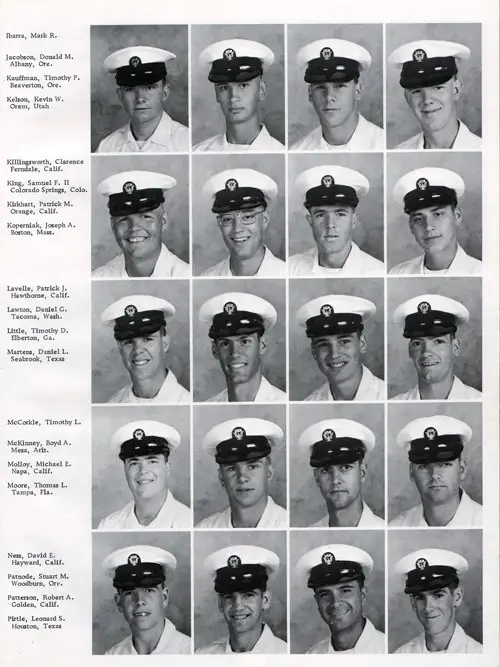 Company 76-947 Recruits, Page 3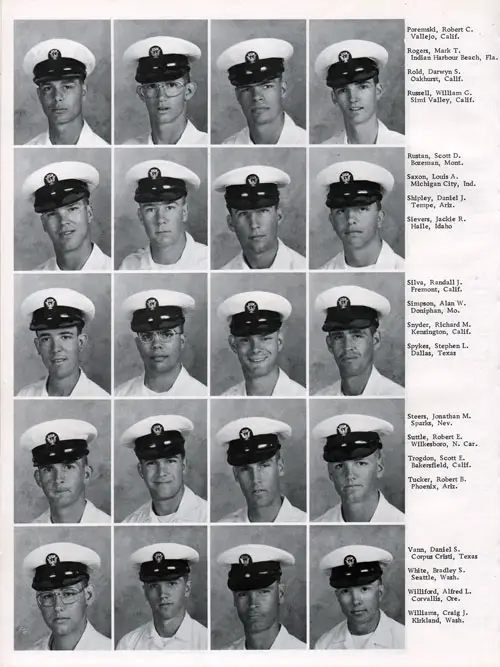 Company 76-947 Recruits, Page 4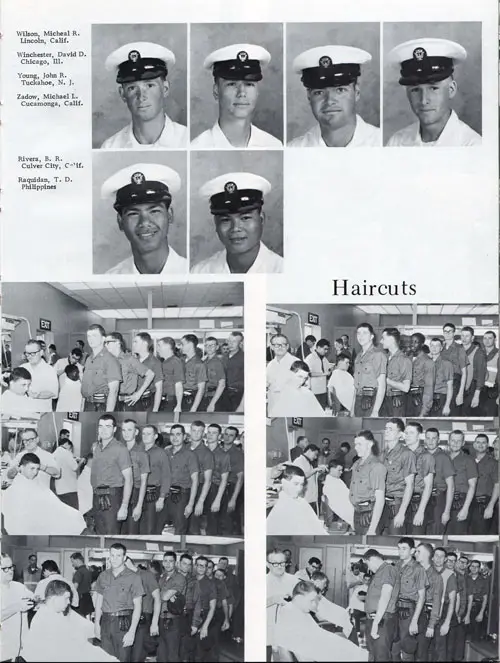 Company 76-947 Recruits, Page 5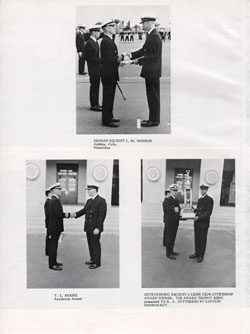 Company 76-947 Recruit Honors
Top Image
Seaman Recruit J. M. Monroe
Golden, Colo.
Honorman
Bottom Left Image
T. L. Moore
Academic Award
Bottom Right Image
Outstanding Recruit & Lions Club Citizenship Award Winner. the Award Trophy Being Presented to R. A. Patterson by Captain Mohrhardt.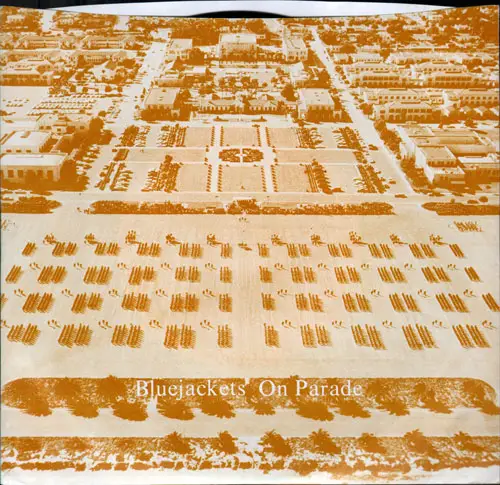 Company 76-947 Bluejackets On Parade - Record Album Jacket - Front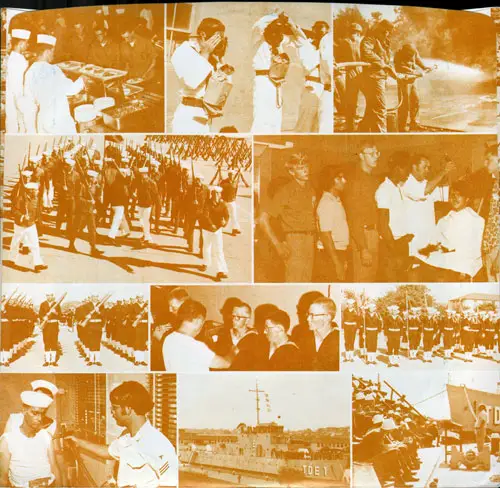 Company 76-947 Bluejackets On Parade - Record Album Jacket - Back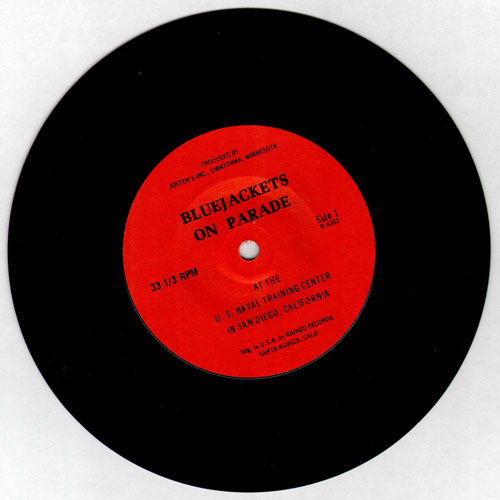 Company 76-947 Bluejackets On Parade - Record