Navy Boot Camp Book 1973 Company 279 The Anchor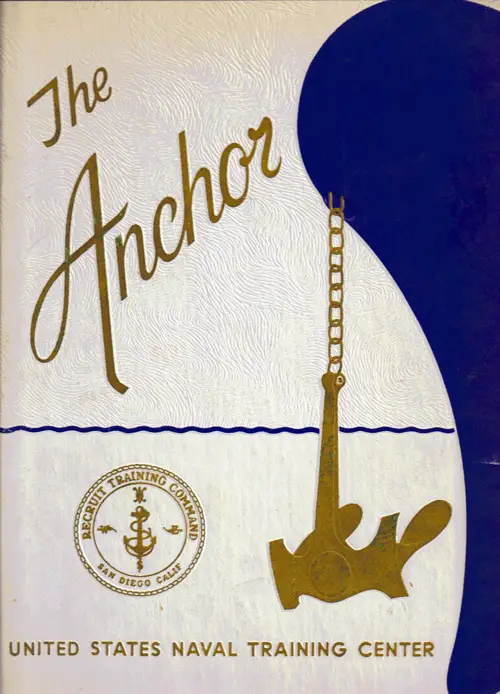 Roster and Photos for Recruit Company 279 for 1973, United States Naval Training Center, San Diego, California. Company Commander: J. F. Contreras, ENC. 61 Men Graduated 16 November 1973.
Company 73-279 Honors
Weekly Brigade Award
Weekly Academic Award
Company 73-279 Organization and Schedule
Training Group 38*
Training Commenced: 9 September 1973
Training Concluded: 16 November 1973
*final 12 week training for 'war time'.  Training group 39 began 'peacetime' training that was 9 weeks.
Company 73-279 Leadership
Company Commander: J. F. CONTRERAS, ENC
Company 73-279 Recruit Roster
Recruit Chief Petty Officer Honorman: P. J. ROLOW
RPO1: Carter C. WEST
Yeoman: P. A. KNOUF (Francis C. Zanger Note 1)
Master At Arms: R. L. JONES
Harry D. Aquino
Hawaii
Steven A. Arias
Los Angeles, California
Dennis M. Baker
Chula Vista, California
Timothy J. Battaglia
San Rafael, California
David D. Bohall
Broken Bow, Oklahoma
Theodore D. Born
Fairbanks, Alaska
James W. Broberg
Chicago, Illinois
Michael B. Canner
St. Helens, Oregon
Johnny Chenoweth
Winlock, Washington
Gary V. Cline
Huntington, West Virginia
George D. Fowler
Kansas City, Kansas
Michael J. Grant,
Gayville, South Dakota
Kenneth M. Hagar
Boise, Idaho
Enrique Herrera
Brownsville, Texas
Albert A. Hughes
Oklahoma City, Oklahoma
Douglas S. Hummel
Clearfield, Pennsylvania
Michael A. Jacobs
Aurora, Colorado
Burt A. Jones
Copan, Oklahoma
Donald C. Lammert
Salt Lake City, Utah
Dennis L. Larrison
Hampton, Illinois
Eric J. Massey
Wales
David W McCullough
Anderson, California
Gary A. Moore
Bruce L. Morehouse
Juneau, Alaska
Glen A. Oakes
Boise, Idaho
Ruben P. Ortega
Fountain, Colorado
Ramon Ortiz
San Bernardino, Calif
Michael R Papenberg
San Jose, California
Kim T. Peters
Sidney, Nebraska
Lawrence J. Quain
Walla Walla, Washington
Phillip A. Rangel
Emporia, Kans.
Michael W. Rattler
Longview, Texas
Charles A. Riggs
Glendale, Arizona
Malcolm C. Riley
Denver, Colorado
George M. Rogers
Tucson, Arizona
Timothy R. Rund
Sweet Home, Oregon
William A. Schung
Edmonds, Washington
Douglas L. Sego
Colorado Springs, Colorado
Victor C. Strack
Cabool, Missouri
Edward D. Tatro
Beliot, Wisconsin
Joseph D. Terrill
Vincentown, New Jersey
Allen S. Tucker
La Grande, Oregon
Gordon J. Watson
Missoula, Mont.
Bruce R. Williams
Ukiah, California
John A. Williams
Pierson, Michigan
Jesse Wilson, Jr.
San Antonio, Texas
John R. Woods
Watsonville, California
Thomas A. Wright
Sacramento, California
W. G. Kinsey
Morris, Oklahoma
John M. Wright
Poyallup, Washington
Garry L. Wuebker
Coldwater, Ohio
Richard D. Zahm
Greeley, Nebraska
Francis C. Zanger
Edwardsville, Illinois
W. R. Weathersby
Franklin, Louisiana
D. A. Munyon
Huron, South Dakota
D. S. Ringer
Garden Grove, California
E. T. Hackett
San Antonio, Texas
Notes About Company 73-279
Training start Sept 9, 1973 Graduation Nov 16, 1973
Training Group 38*
*final 12 week training for 'war time'.  Training group 39 began 'peacetime' training which was 9 weeks.
Due to scheduling changes, our group graduated one week ahead (officially 11 week training).
On a side note.  Group 38 was a historical group. 
One week after we arrived, President Ford (after taking office in the wake of President Nixon quitting office)  announces a clemency program for draft dodgers.  At the same time, they returned the military training status to that of "peace time training" which reduced the amount and time for basic training (boot camp).  We were the last of the 12 week training recruits for the Viet Nam war effort.
Less than one year later, on my birthday April 30, 1975, the U.S. is forced out of Vietnam signaling the end of the war for the U.S. military.
Images and Notes submitted by: Carter West, CTR2 1973-1977
Note 1: According to Fr. Francis C. Zanger (U.S. Navy Chaplain Corps, ret.) This information is incorrect.
"Having just discovered your delightful website, I noticed a small error: on the page "Archives Home » Military » Navy Archives » USNTC » San Diego » Company 73-279", the name of the 'Recruit Yeoman' is mistaken. I know, because I was appointed to that high honor when Engineman Chief John Contreras, our Company Commander, learned that I'd completed a year of college, and thought that maybe I could type. [The man you've listed, I think, was sent to the Recruit Battalion level... so maybe he had two years of college.]

It was a great job (read: a great scam)-- anytime the Recruit Training Company had something really unpleasant planned, I arranged to have lots of official Yeoman paperwork to do. I managed to miss out on the gas chamber, on marching or swimming in bad weather, and on a bunch of PT... I won't say life was easy, since I was still in Boot Camp, but it could have been a whole lot worse if I'd actually had to do my job as a recruit!

An historical tidbit: we were the first Recruit Company at San Diego to be issued the "Zoom Suits", the thankfully short-lived dress and undress uniforms (named for the CNO, Adm. Zumwalt) that were as impractical as they were untraditional: the dress blues were essentially an officer's or CPO's uniform, including the combination hat, that could not be fit into sailors' lockers aboard ship, let alone aboard submarines. The whites consisted of black shoes, white trousers, and a white shirt, with that miserable combination cover-- any sailor needing extra cash could moonlight as a Good Humor man!

Happily, within a couple of years we were authorized to buy Navy "crackerjacks", and did.  I still have my 'undress blue' shirt from 1973-- a black, heavy-flannel "CPO" shirt (still part of the uniform, but they've been thin polyester for almost 30 years now!), and I still wear it... it can't be worn out."
Submitted: Wednesday 15 August 2012
1,135th
Recruit Brigade Review
RECRUIT TRAINING COMMAND
NAVAL TRAINING CENTER
SAN DIEGO, CALIFORNIA
CAPTAIN A. G. FRANCH, USN
COMMANDER
NAVAL TRAINING CENTER
CAPTAIN H. R. BIVIN, USN
COMMANDING OFFICER
RECRUIT TRAINING COMMAND
Review Procedure
1430 FRIDAY, 16 NOVEMBER 1973
REVIEWING OFFICER
CAPTAIN DANIEL C. GOOD, MC, USN
ASSISTANT FLEET MEDICAL OFFICER
COMMANDER IN CHIEF, U. S. PACIFIC FLEET
GUEST OF HONOR
DR. CARL H. JEPSEN
PRESIDENT, BIG BROTHERS OF SAN DIEGO COUNTY
DRILL DIVISION OFFICER CWO D. M. CHASTAIN
MASTERS OF CEREMONY LT B. W. DOMURAT
MCPO T. N. WORNING
BRIGADE DRILL INSTRUCTORS P01 R. D. VEAL
P01 H. McLEMORE
DRUM MAJOR CA W. H. FRIEND, CO. 938
RCPO 50 STATE FLAG TEAM SN D. E. PATTON, CO. 940
CHOIR DIRECTOR SN B. L. SHERRY, CO. 940
I. ATTENTION ON THE BUGLE.
II. ADJUTANT'S CALL.
III. NAVAL TRAINING CENTER BAND TROOPS THE BRIGADE.
IV. DRUM AND BUGLE CORPS TROOPS THE BRIGADE.
V. INVOCATION.
VI. "NAVY HYMN" - "AMERICA THE BEAUTIFUL"
BLUEJACKET CHOIR
VII. NATIONAL ANTHEM.
VIII. MANUAL OF ARMS.
IX. SIXTEEN COUNT MANUAL.
X. OFFICERS CENTER.
"ANCHORS AWEIGH"
XI. PRESENTATION OF THE BRIGADE.
XII. PRESENTATION OF AWARDS.
1. HONOR COMPANIES OF THE WEEK.
2. HONORMAN AWARDS.
3. AMERICAN SPIRIT HONOR MEDAL.
XIII. BRIGADE PASSES IN REVIEW.
Brigade Staff
Commander Company 939 FN M. D. FRICK
Adjutant Company 939 SR A. E. EVERHART
Bugler Company 939 SN J. P. CANADY

Brigade, Regimental, Academic and Academic Efficiency Awards
Training Group 38
Battalion Commander : CWO J. D. McCALEB
Battalion Adjutant : SCPO J. D. FOSTER
Brigade, Academic and Academic Efficiency Awards, Company 277
Company Commander : P01 G. R. HOF
Recruit Chief Petty Officer : AR P. A. PEELER
Regimental Award, Company 280
Company Commander : P01 J. W. MARTIN
Recruit Chief Petty Officer : SR R. C. HOOPER, JR.
Training Group 38
Graduating
Companies
Company Commanders
Company Honormen
275
P01 C. L. PHILLIPS
SR E. 0. MONTOYA
276
P01 F. L. LEWIS
HA T. R. SCHOENBECK
277
P01 G. R. HOF
P. A. PEELER
278
P01 R. L. MURRAY
SR J. J. BOURASSA
279
CPO J. F. CONTRERAS
SN P. J. ROLOW
280
P01 J. W. MARTIN
SR R. C. HOOPER, JR.
281
CPO R. A. LONG
SR D. K. TRAYLOR
938
CPO W. C. REAY
SN M. J. POWELL
American Spirit Honor Medal Winner
Hospitalman Apprentice Timothy R. SCHOENBECK, Training Group 38, Company 276, Valparaiso, Indiana

Welcome Aboard
The Recruit Training Command takes pleasure in welcoming you to its weekly Recruit Brigade Review. At these reviews, the Brigade is officered entirely by recruits. Their ability to direct the drills and maneuvers included in the parade procedure is a tribute to American youth.
To assist us in presenting the parade, the following is requested:
As a matter of courtesy, please remain seated until the band and 50 State Flag Team have passed in review.
Please do not pass in front of the podium. (Reviewing stand)
While the taking of pictures is permitted, please do not move onto the parade field for that purpose.
During the playing of our National Anthem, Foreign Anthems, passing of the Colors, and military honors, all persons please rise to their feet. Men with hats should uncover and place their hats over their hearts.
Applause is welcomed and considered appropriate at the following times:

After introduction of Company Commanders.
After Sound Off.
After Bluejacket Choir marches off.
After 16 Count Manual.
After officer's center.
After reviewing officer's speech.
For each Honor Company after awards are complete, and the Company Commander has been introduced.
After each Honorman is introduced.
After American Spirit Honor Medal has been presented.
After a company is introduced while passing in review.
During the course of the ceremony, the following presentations will be made: The American Spirit Honor Medal, shown below, will be awarded to the outstanding recruit of the graduating training group, Honorman Certificates to the Honorman of each graduating Company, the Brigade and Academic Awards to the Honor companies of the week.
We hope that you share our pride in the young men participating in the Recruit Brigade Review today. On the parade field are 8 companies of approximately 75 men each. At present, there are 6, 000 recruits undergoing training at the Naval Training Center.
Navy Boot Camp Recruit Photos - Company 73-279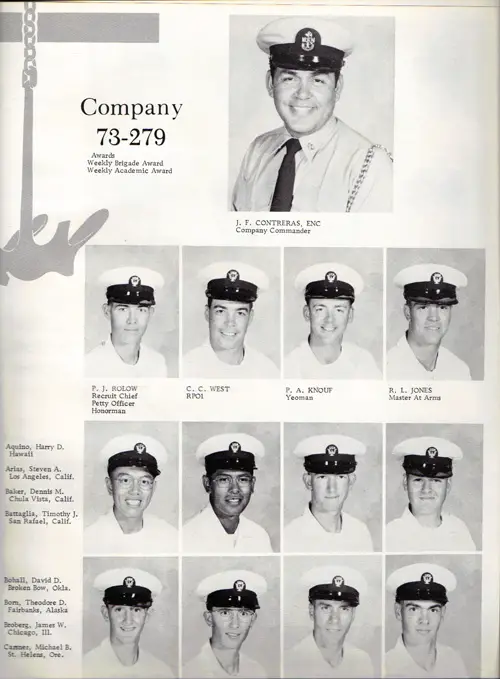 Company 73-279 Recruits, Page 1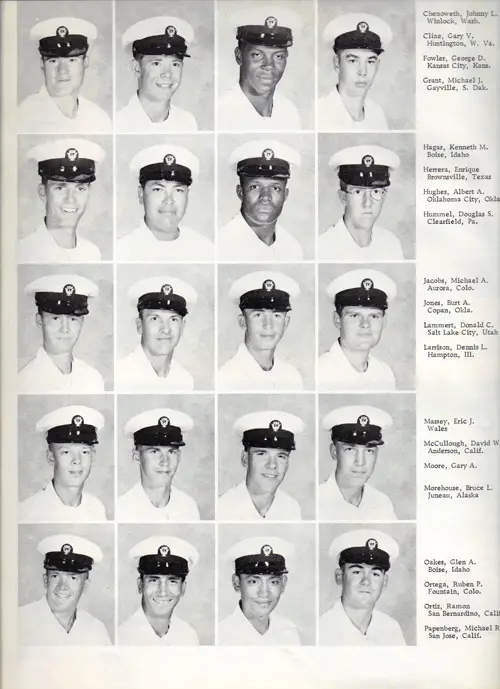 Company 73-279 Recruits, Page 2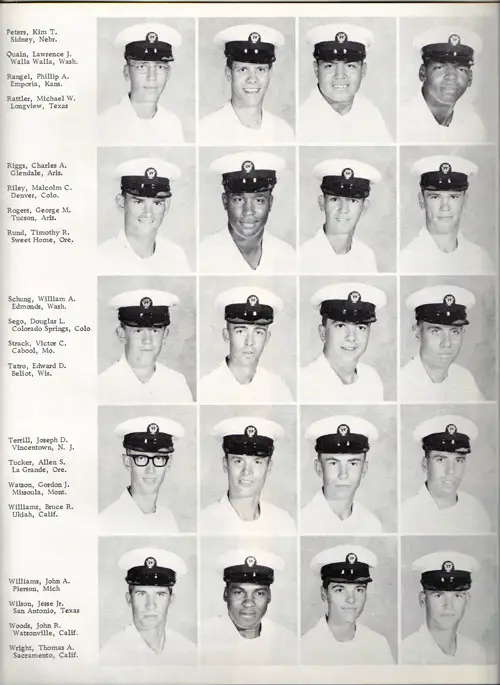 Company 73-279 Recruits, Page 3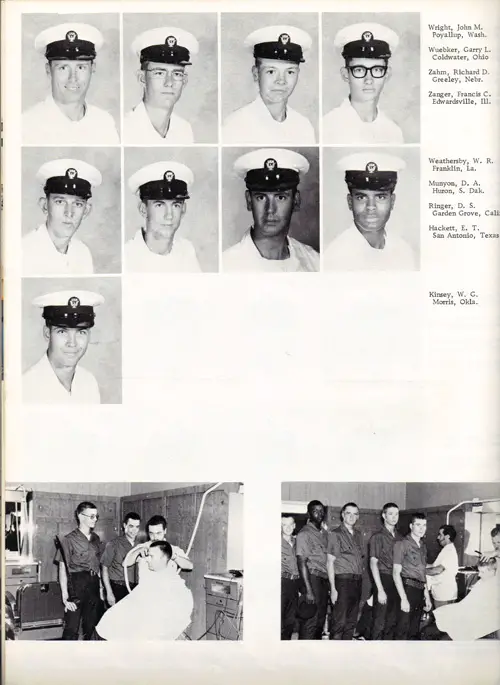 Company 73-279 Recruits, Page 4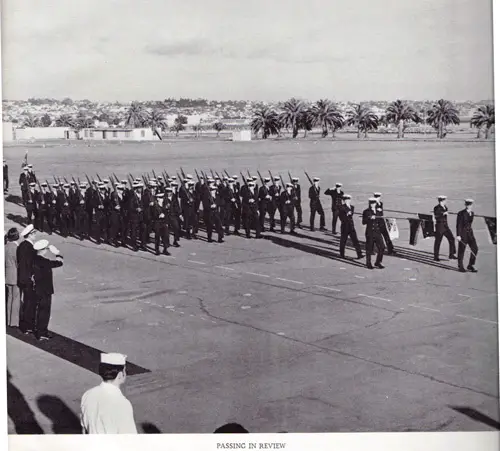 Company 73-279 Recruits Passing in Review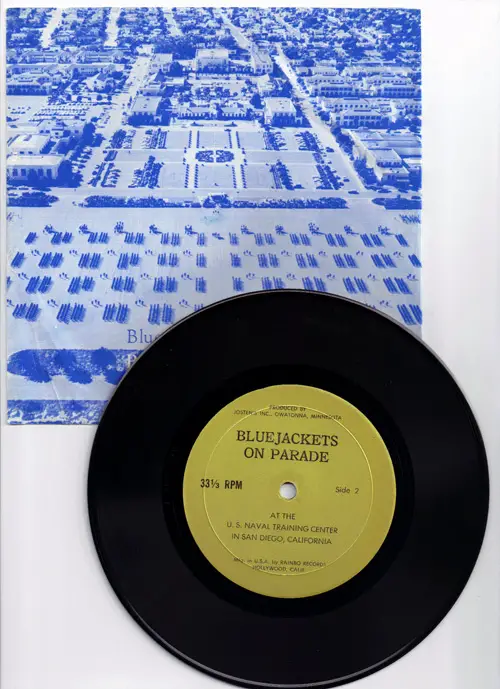 Company 73-279 Bluejacket on Parade Recording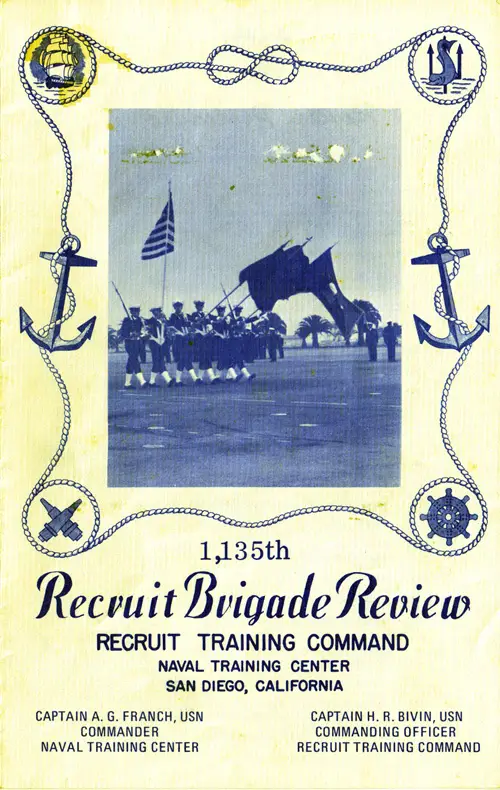 Company 73-279 Graduation Ceremony Program, Page 1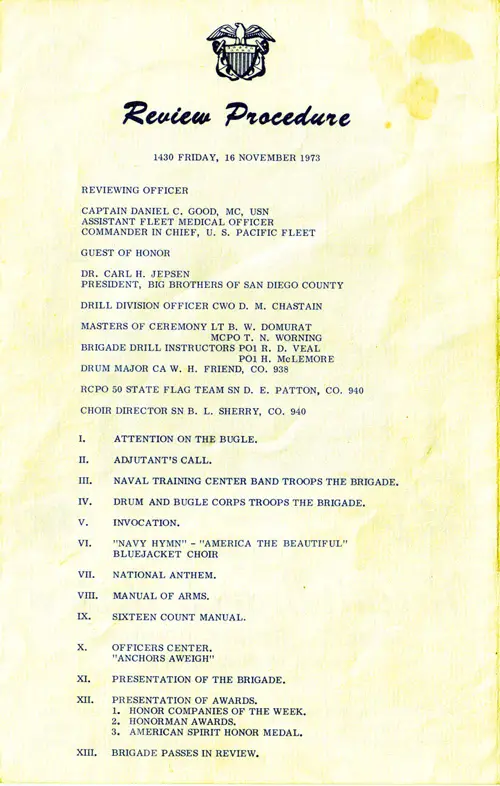 Company 73-279 Graduation Ceremony Program, Page 2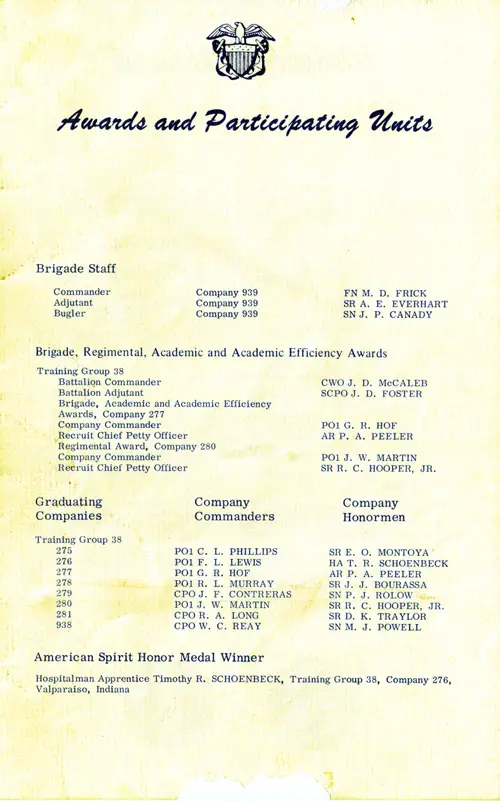 Company 73-279 Graduation Ceremony Program, Page 3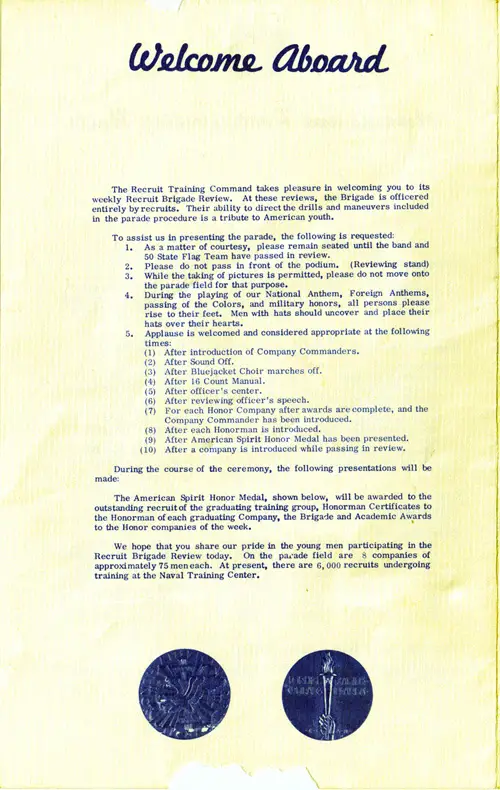 Company 73-279 Graduation Ceremony Program, Page 4
Yearbook Images for Company 73-279 Courtesy of Mr. Carter West, CTR2 1973-1977.