Navy Boot Camp Book 1972 Company 318 The Anchor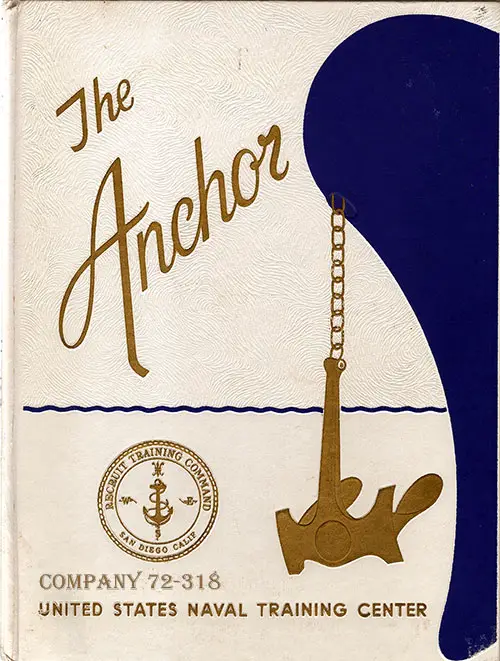 Roster and Photos for Recruit Company 318 for 1972, United States Naval Training Center, San Diego, California. Company Commander: W. H. Dotson, BMC. 84 Men Graduated on 27 September 1972. Training Dates Not Reported.
Company 72-318 Leadership
Company Commander: W. H. Dotson, BMC
Company 72-318 Recruit Roster
J. S. Salzer - Recruit Chief Petty Officer
A. P. Castelum - RPO1
J. C. Armstrong – Yeoman
R. H. Smith - Master at Arms
Addington, Michael T.
Aguilar, Ricardo A. - Albuquerque, N. M.
Amacher, Larry L. - Sun Prairie, Wis.
Andrews, Ronald M. - Huntsville, Ala.
Arbuckle, Robert A. - Humboldt, Kans.
Armenia, Jimmy L. - Aztec, N.M.
Arslan, Steven C. - Los Angeles, Calif.
Atkins Bobby W. – Houston, Texas
Ayala, Juan Jr. - Uvalde, Texas
Bacon, Lloyd A. - San Bernardino, Calif.
Baker, Jeffrey - Artesia, Calif.
Barber, George L. - Arkansaw, Wis.
Bigneii, Edwin F.  - Arkansaw, Wis.
Bracy, Lynn R. - Marshalltown, Iowa
Byers, Gary R. - Kansas City, Mo.
Guillory, Raphille J. - Jennings, La.
Hall, Kenneth R.  -Carroll, Nebr.
Montevirgen, James M. - Philippines
Pagozalski, Phillip P.  - Indialantic, Fla.
Reidenbach, Dan A. - San Antonio, Texas
Reyes, Jose – La Joya, Texas
Richards, Robert H. - Phoenix, Ariz.
Riley, Benjamin P. - Ft. Worth, Texas
Robertson, Ronnie L. - Henderson, Texas
Ross, David L. - Des Moines, Iowa
Ruiz. Louis - Woodland, Calif.
Saber, Guy F. - Phoenix, Ariz.
Sanders, Truman D. - Springfield, Mo.
Saxton, William C. - Los Angeles, Calif.
Schurman, Douglas P. - Great Falls, Mont.
Schweigert, David K. - Grand Forks, N. Dak.
Scott, Clarence S. - Eugene, Ore.
Seaman, Michael W. - Redding, Calif.
Servantez, Jule F. - Mason City, Iowa
Shelton, David R.  - Independence, Mo.
Shiells, Scott R. - Bellevue, Nebr.
Simpson, David M. - Brevard, N. Car.
Smith, David S. Jr. - Modesto, Calif.
Smith, Randal L. - Dallas, Texas
Smith, Robert P. - Austin, Texas
Sotelo, Joe D. - Pleasanton, Texas
Spence, Herbert D. - Mora, Minn.
Stevens, Mark E. - Campbell, Calif.
Street, Jeremy W. - Carmel, Calif.
Sundahl, Carl B. - Folsom, Calif.
Swafford, Ronald D. - Mtn. View, Mo.
Swarthout, Walter F. - Kingston, N.Y.
Symmank, Danial L. - Schofield, Wis.
Tentis, Steven J. - White Bear Lake, Minn.
Terry, Ronald E. - Hawaii
Theis, Timothy J. - Minneapolis, Minn.
Thorson, Ronald A. - Bloomington, Minn.
Toler, David K. - Bellingham, Wash.
Tucker, Joseph A. - Lewistown, Mont.
Turner, Larry A. - Seattle, Wash.
Turner, Danny L. - Lodi, Calif.
Uhrig, Terrence R. - Roy, Utah
Ullum, Patrick D. - Newton, Kans.
Vela, Oliver Jr. - San Antonio, Texas
Victor, Nathan A. - Hawaii
Villegaschica, Julio E. - Ecuador
Vonhitriz, Stephen R. - San Jose, Calif.
Waggoner, Robin J.  - California
Ward, David L. - Ft. Worth, Texas
Watkins, Richard L. - Seattle, Wash.
White, Luther J.  - Santa Cruz, Calif.
White, Nuwellen - Hawaii
Wilder, Dale B. - Scottsdale, Ariz.
Williams, Nickle R. - Cave Jct., Ore.
Williams, Lou G. - Springs, Colo.
Williams, Earnest R. J. - Wichita Falls, Texas
Williamson, Pat E. - Hayward, Calif.
Wilson, Scott K. - Ogden, Utah
Wilson, Tommy M. - New Orleans, La.
Wissen, Cary D. - Merced, Calif.
Wood, Kenneth E. - Ogden, Utah
Woodard, Rick R. - Eureka, Calif.
Woodruff, Richard L. - Ardmore, Okla.
Southwell, K. L.
Stohl, W. F.
Navy Boot Camp Recruit Photos - Company 72-318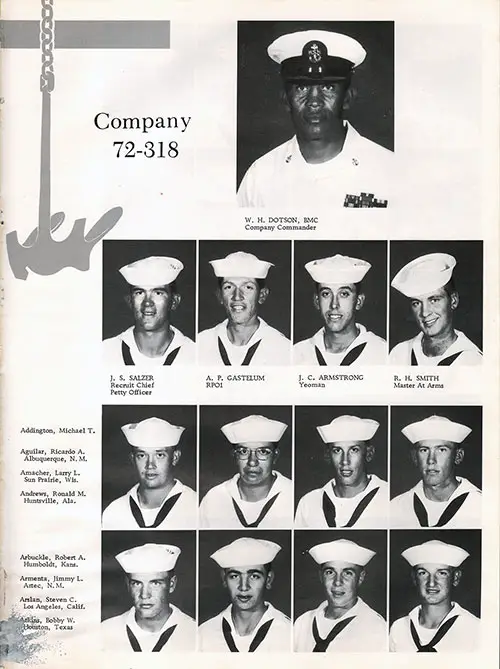 Company 72-318 Recruits, Page 1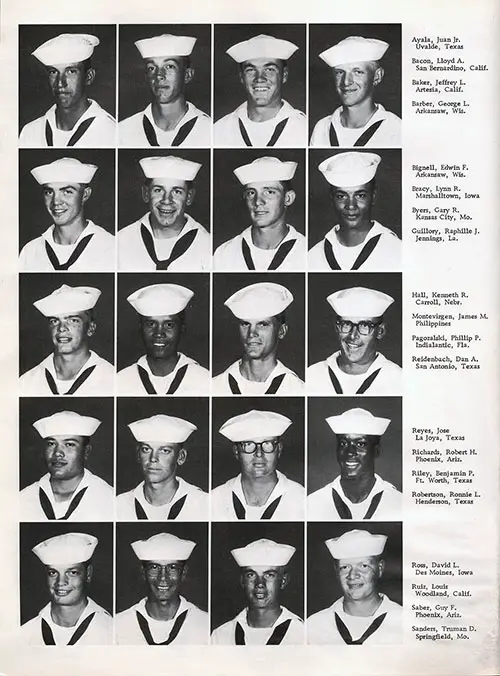 Company 72-318 Recruits, Page 2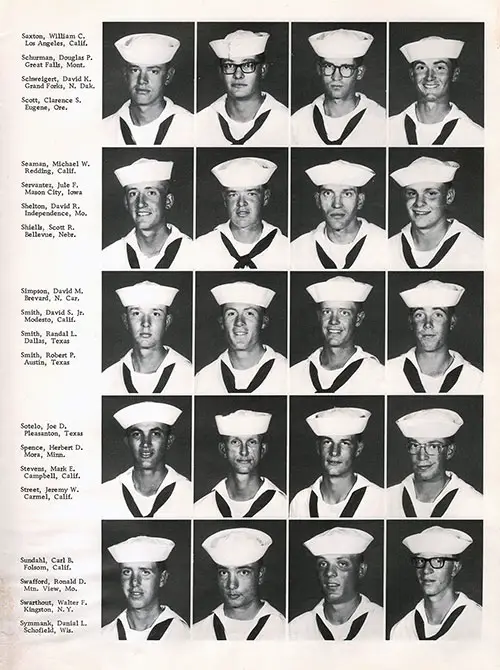 Company 72-318 Recruits, Page 3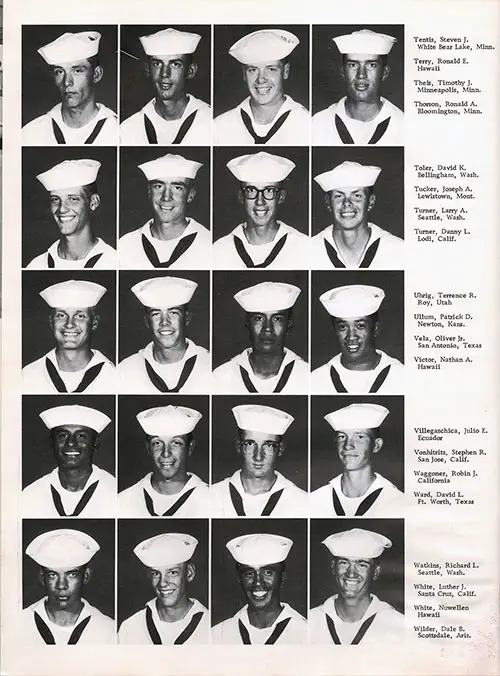 Company 72-318 Recruits, Page 4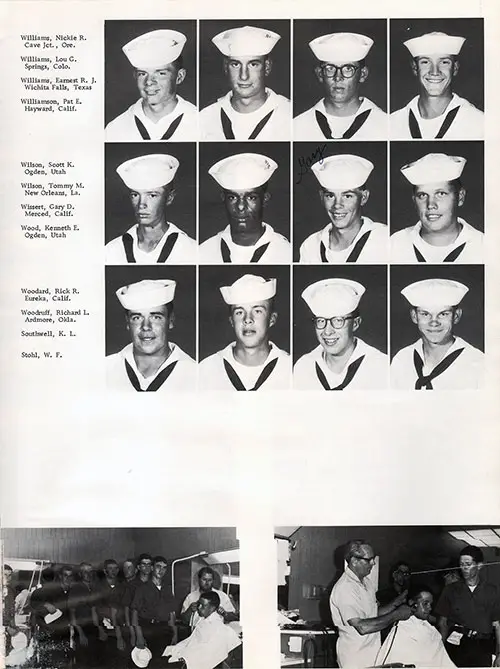 Company 72-318 Recruits, Page 5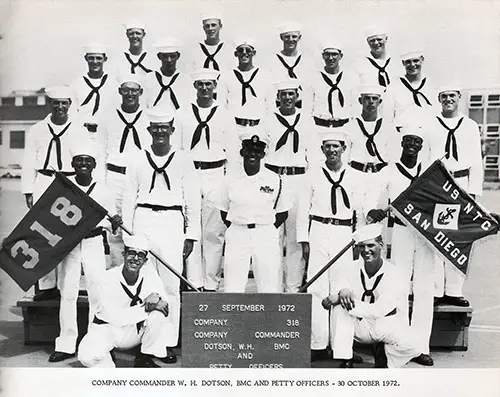 Company 72-318 Commander W. H. Dotson, BCC and Petty Officers, 30 October 1972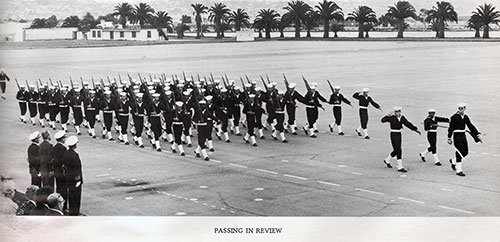 Company 72-318 Recruits Passing in Review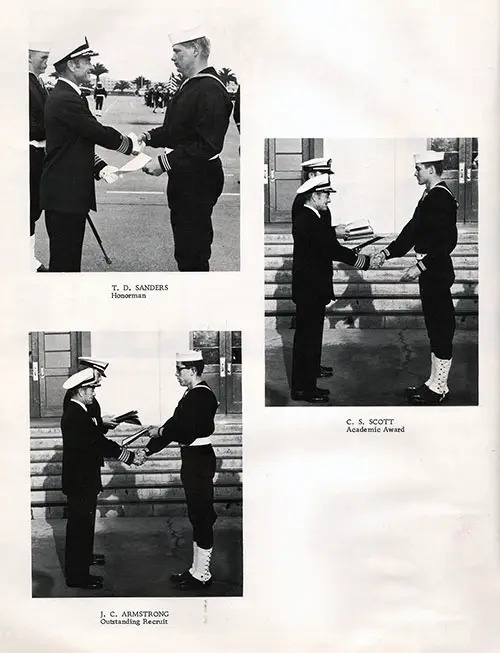 Company 72-318 Honormen
T. D. SANDERS, Honorman
C. S. SCOTT, Academic Award
J. C. ARMSTRONG, Outstanding Recruit