Navy Boot Camp Book 1964 Company
313

The Anchor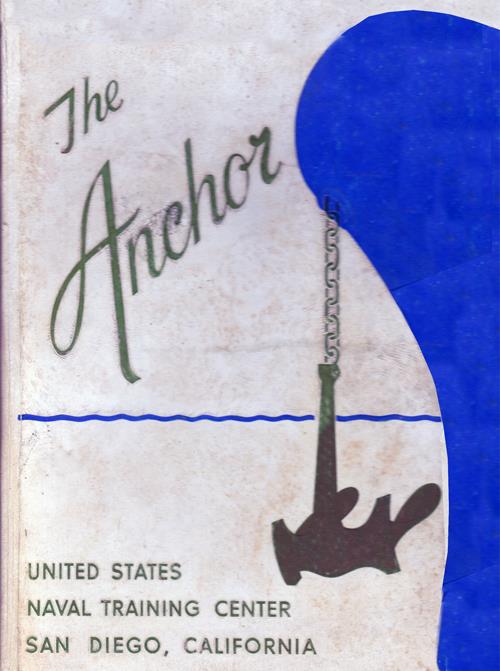 Roster and Photos for Recruit Company 313 for 1964, United States Naval Training Center, San Diego, California. Company Commander: C. Bryant, Jr., GMG1. 71 Men Graduated.
Company 64-313 Leadership
Battalion Commander: LTJG V. L. DRAKE, USNR
Company Commander: C. BRYANT JR. , GMG1
Company 64-313 Recruit Roster
E. L. FOSTER
Recruit Chief Petty Officer

T. L. ROCKEY
Honorman
L. R. Anderson
Prescott, AZ
D. Argue, Jr.
Port Barre, LA
M. D. Banks
Sanford, MI
C. E. Barber
Lake Sawyer, MI
David D. Bacon
Hope, MI
H. P. Bowles
Atlanta, GA
James P. Boyd
Oklahoma City, OK
Jack Bradle
Tucson, AZ
R. A. Brown
Pampa, TX
W. P. Bullard
Augusta, GA
Charles D. Byrd
Clayton, NC
A. W. Courcelle
New Orleans, LA
D. D. Conner
Harrah, OK
L. R. Conley
Phoenix, AZ
Donald E. Cowan
Rochester, WA
S. J. Coleman
Los Cruces, N. M.
E. H. Comfort
New Orleans, LA
J. R. Collins
Selma, NC
E. S. Crozier
Easton, WA
W. A. Devoll
Vallejo, CA
E. N. Driggers
Tyty, GA
S. H. Effinger
East Alton, IL
H. P. Falterman, Jr.
Gretna, LA
B. J. Fields
Crows Landing, CA
D. P. Frankus
Phoenix, AZ
W. M. George
Weathford, TX
Theral Golden
Vinton, LA
M. E. Grant
Fitzgerald, GA
Don R. Guidry
Sulphur, LA
L. E. Hall, Jr.
Concord, CA
J. W. Hawles
Sebastopol, CA
Leawood Harris
Columbus, MS
R. L. Heath
Vinton, LA
Charles R. Higgs
Phoenix, AZ
K. L. Hinds
Burleson, TX
J. A. Hingston
Burlington, WA
A. D. Holden
Scottsdale, AZ
B. E. Holien
Olympia, WA
David L. Hunt
Atlanta, GA
A. D. Inscoe
Louisburg, NC
M. L. Kitchen
Phoenix, AZ
Paul Kuhn
Spurger, TX
D. E. Lilly
Westley, CA
J. R. Mayfield
San Francisco, CA
L. E. Martin
Grand Prairie, TX
L. E. McBrearty, Jr.
Dallas, TX
E. V. Mills
Walnut Creek, CA
Calvin Miller
Spartanburg, SC
David A. Morgan
Yakima, WA
J. L. Morris
Selma, NC
D. L. Nickel
L. W. Peck
Bethel Island, CA
A. R. Peterson
Petaluma, CA
R. Pina, Jr.
Los Angeles, CA
L. Reyes, Jr.
Menlo Park, CA
D. M. Rutenchroer
Gardenia, CA
P. N. Salmon
Bogart, GA
J. C. Shinault
Dearborn, MI
Dennis L. Skog
Alderwood, WA
Lon D. Smith
Omaha, NE
Manuel A. Soto
Phoenix, AZ
W. F. Swanson
Louisburg, NC
James E. Thayer
Phoenix, AZ
J. E. Tomberlin
Sumner, GA
D. F. Vincent
Henderson, NV
W. T. Waddell
Piere, SD
T. D. Warren
Tyler, TX
D. L. Williams
Palo Alto, CA
Galen L. Young
Fort Worth, TX
Below: Company 64-313 Honors and Awards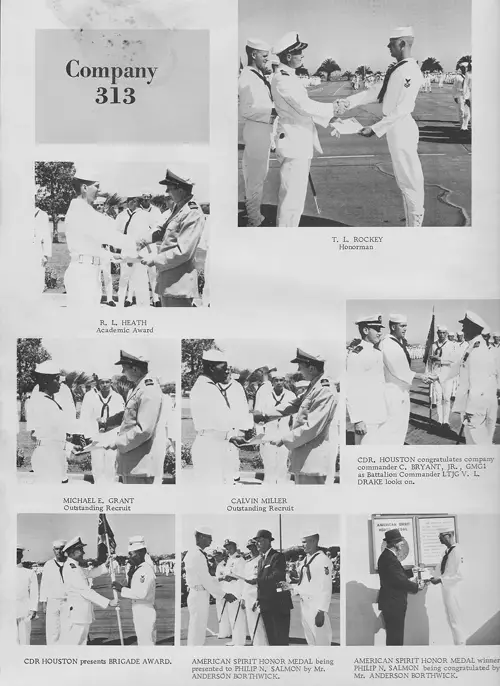 Top Row, Right
T. L. ROCKEY
Honorman
Top Row, Left
R. L. HEATH
Academic Award
Middle Row, Left
MICHAEL E. GRANT
Outstanding Recruit
Middle Row, Center
CALVIN MILLER
Outstanding Recruit
Middle Row, Right
Cdr. Houston Congratulates Company Commander C. Bryant, Jr. , GMG1 as Battalion Commander LtJG V. L. Drake Looks On.
Bottom Row, Left
Cdr Houston Presents Brigade Award.
Bottom Row, Center
American Spirit Honor Medal Being Presented to Philip N. Salmon by Mr. Anderson Borthwick.
Bottom Row, Right
American Spirit Honor Medal Winner Philip N. Salmon Being Congratulated by Mr. Anderson Borthwick.

INavy Boot Camp Recruit Photos - Company 64-313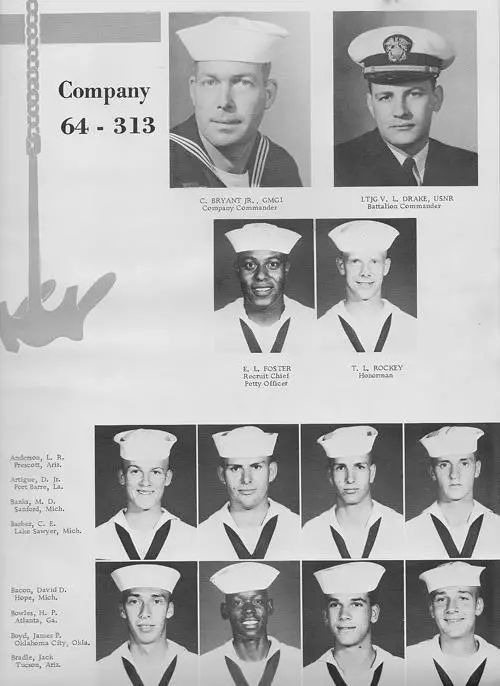 Company 64-313 Recruits, Page 1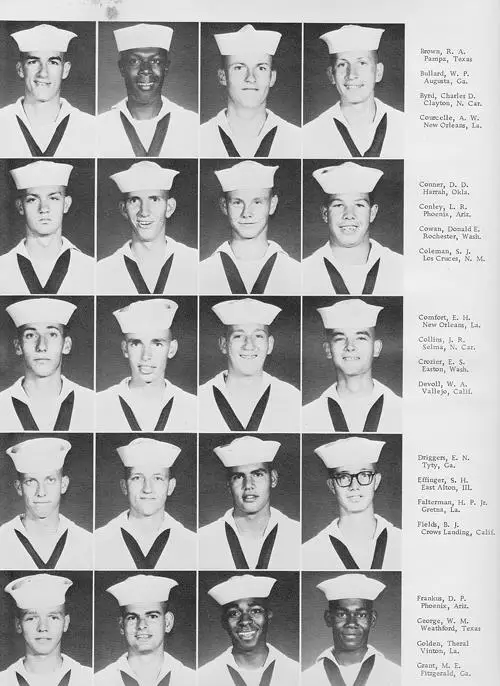 Company 64-313 Recruits, Page 2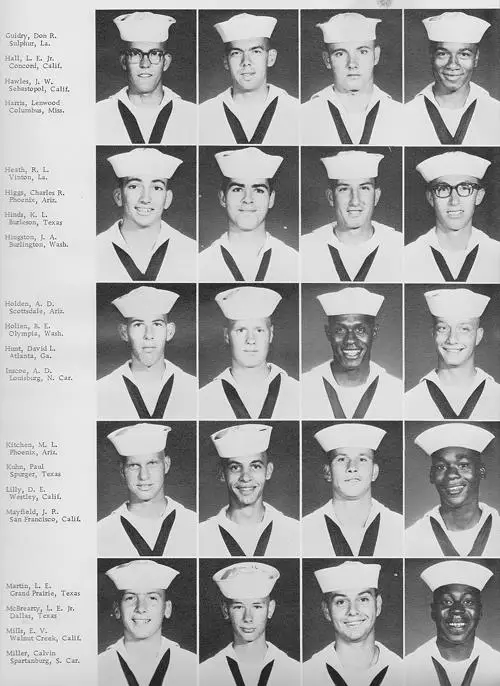 Company 64-313 Recruits, Page 3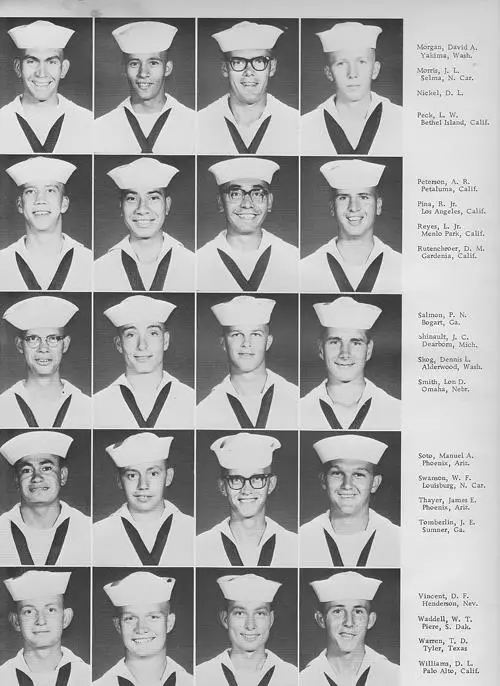 Company 64-313 Recruits, Page 4
Company 64-313 Recruits, Page 5
Images contributed by Phil Salmon