SS George Washington Passenger Lists 1911-1931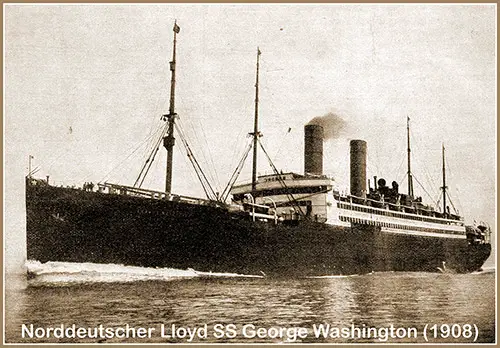 SS George Washington (1908) of the Norddeutscher Lloyd. GGA Image ID # 1d3a736e4d
George Washington (1908) North German Lloyd
Built by "Vulkan" Werke, Stettin, Germany. Tonnage: 25,570. Dimensions: 699' x 78' (722' o.l.). Twin-screw, 19 knots. Quadruple expansion engines. Four masts and two funnels. Her highest masts were 193 feet above the keel. Length of upper promenade deck was 328 feet. Two elevators were installed. Passengers: 520 first, 377 second, 2,000 third. Maiden voyage: Bremen-Southampton-New York, June 12, 1909. WW1 Service: Seized by the United States in 1917 and converted to troopship. Post War Service: After the war she was first employed by United States Mail Steamship Company for a brief time. USL Service: Sold to United States Lines in 1921. Thoroughly reconditioned for their trans-Atlantic service. Laid up in the Patuxent River, Maryland, in 1931. WW2 Service: In 1940 was removed from her moorings and outfitted as a troopship. Renamed: Catlin (1941). Her name soon reverted back to George Washington. From June 1942 to April 1943, she underwent an extensive overhaul. New oil-burning boilers were installed and original funnels replaced by a single modern one, which changed her appearance greatly. Fate: Gutted by fire while laid up at Baltimore, January 16, 1951. The hulk was broken up soon afterwards.
All Digitized Passenger Lists For the SS George Washington Available at the GG Archives. Listing Includes Date Voyage Began, Steamship Line, Vessel, Passenger Class and Route.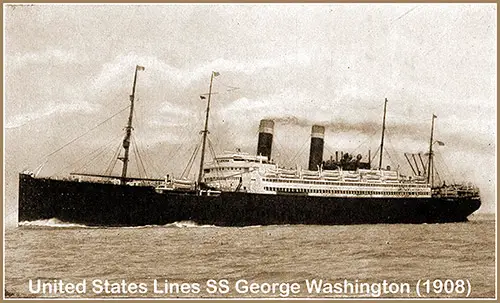 SS George Washington (1908) of the United States Lines. GGA Image ID # 1d3a201048
George Washington (1908) United States Lines
Tonnage: 23,788. Note: Listed above as George Washington (1908) North German Lloyd.
Passenger Lists contained in the GG Archives collection represent the souvenir list provided to the passengers of each cabin class (and other classes). Many of these souvenir passenger lists have disappeared over the years. Our collection contains a sampling of what was originally produced and printed by the steamship lines.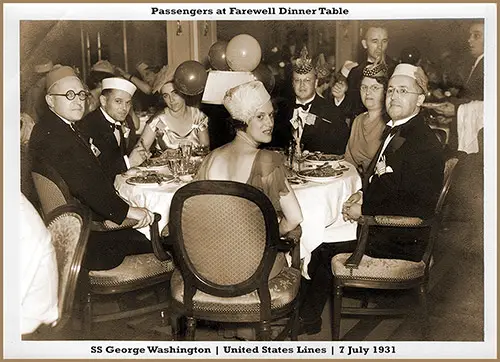 Passengers at Farewell Dinner Table on the SS George Washington of the United States Lines, 7 July 1931. GGA Image ID # 1d3a8f513e