SS France Passenger Lists 1921-1931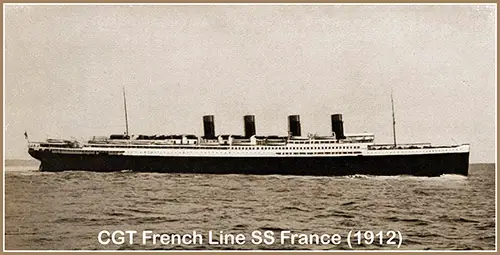 SS France (1912) of the CGT French Line. Paquetbot France, 1912. GGA Image ID # 1d3989c303
France (1912) French Line
Built by Chantiers et Ateliers de St. Nazaire, France. Tonnage: 23,769. Dimensions: 690' x 75'. Quadruple-screw, 23 1/2 knots. Two masts and four funnels. Note: Laid down in February, 1909, and was launched on September 20, 1910. Commenced her maiden voyage from Havre to New York on August 20, 1912. Speed: Has made the run between those two ports in 5 days and 17 hours. WW1 Service: She was used by the French Navy in World War I as the France IV and later employed as a hospital ship. Her final use during the war was that of a troopship. Post War Service: Returned to the passenger trade in August, 1919. Fate: Laid up in September, 1932, and sold to French ship-breakers in November, 1934.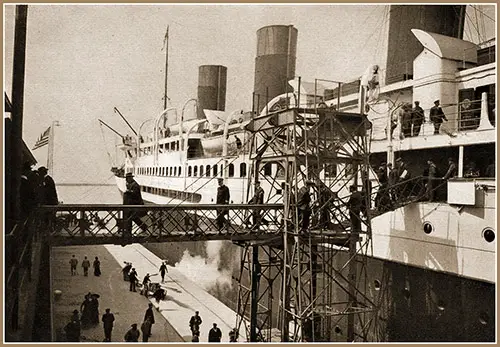 SS France of the CGT French Line Preparing for First Departure for New York, 20 April 1912. Paquetbot France, 1912. GGA Image ID # 1d39eb9075
All Digitized Passenger Lists For the SS France Available at the GG Archives. Listing Includes Date Voyage Began, Steamship Line, Vessel, Passenger Class and Route.
Passenger Lists contained in the GG Archives collection represent the souvenir list provided to the passengers of each cabin class (and other classes). Many of these souvenir passenger lists have disappeared over the years. Our collection contains a sampling of what was originally produced and printed by the steamship lines.