SS Espagne Passenger Lists 1917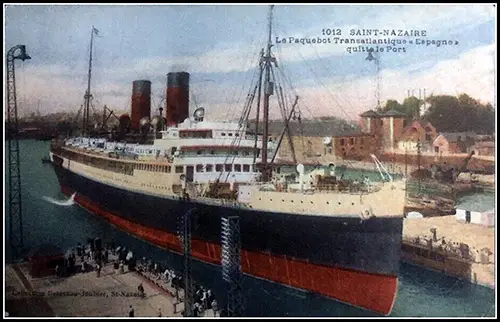 Colorized Postcard of the Paquebot Transatlantique SS Espagne at St. Nazaire. GGA Image ID # 1d1c7db6eb
Espagne (1909) French Line.
Built by Chantier & Ateliers de Provence, Port de Bouc, France. Tonnage: 11,155. Dimensions: 539' x 60'. Twin-screw, 15 1/2 knots. Triple expansion engines. Two masts and two funnels.
Launched, December 19,1909. Passengers: 296 first, 106 second, 86 third.
Maiden voyage: France- West Indies, October 5, 1910. She was also in the New York service. Scrapped in France, 1934.
All Digitized Passenger Lists For the SS Espagne Available at the GG Archives. Listing Includes Date Voyage Began, Steamship Line, Vessel, Passenger Class and Route.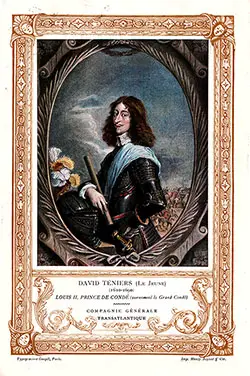 1917-02-11 SS Espagne Passenger List
Steamship Line: CGT French Line
Class of Passengers: First and Second Class
Date of Departure: 11 February 1917
Route: New York to Bordeaux
Commander: Captain Laurent
Passenger Lists contained in the GG Archives collection represent the souvenir list provided to the passengers of each cabin class (and other classes). Many of these souvenir passenger lists have disappeared over the years. Our collection contains a sampling of what was originally produced and printed by the steamship lines.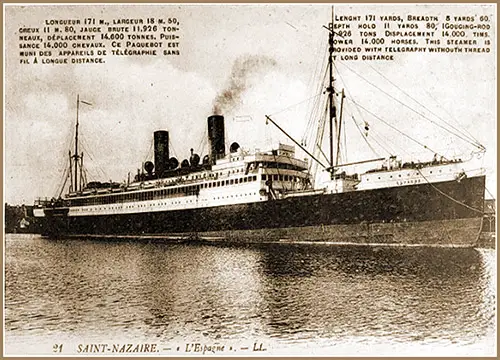 L'Espagne of the CGT French Line at St. Nazaire, France. Length: 539' Breadth: 60'. 11,920 Tons Displacement, 14,000 Gross Registered Tons. The Ship is Provided with Wireless without thread for Long-Distance.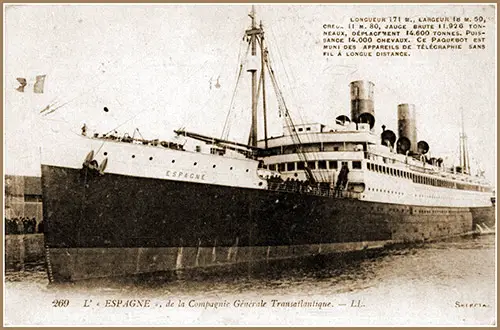 L'Espagne de la Compagnie Générale Transatlantique. GGA Image ID # 1d1cda307f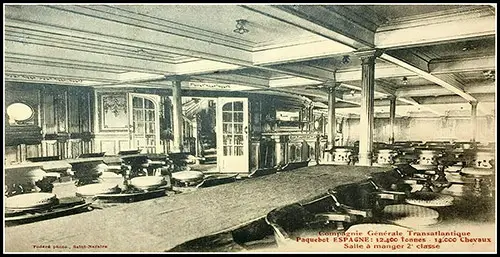 Second Class Dining Room on the CGT-French Line Steamer SS. Espagne. GGA Image ID # 1d1cfd64ed