SS Grampian Passenger Lists 1909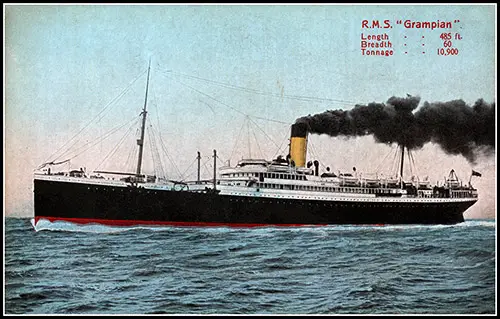 RMS Grampian (1907) of the Allan Line/CPL. GGA Image ID # 1d3cc4b3e9
Grampian (1907) (a) Allan Line, (b) Canadian Pacific Line
Built by Alexander Stephen & Sons, Ltd., Glasgow, Scotland. Tonnage: 10,920. Dimensions: 485' x 60'. Twin-screw, 15 knots. Triple expansion engines. Two masts and one funnel. Passengers: 210 first, 250 second, 1,000 third. Service: Glasgow-Quebec-Montreal. Notes: Taken over by Canadian Pacific Line in 1917. Retained her name in their service. Fate: Vessel was laid up in 1922. Scrapped in 1926. Sister ship: Hesperian. Similar to Corsican.
All Digitized Passenger Lists For the SS Grampian Available at the GG Archives. Listing Includes Date Voyage Began, Steamship Line, Vessel, Passenger Class and Route.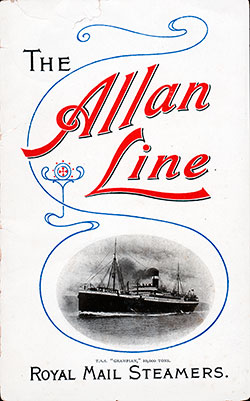 1909-08-21 RMS Grampian Passenger List
Steamship Line:

Allan Line

Royal Mail Steamers
Class of Passengers:

Saloon

Date of Departure:

21 August 1909

Route:

Glasgow

to Quebec and Montreal, via Moville

Commander:

Captain John M. Johnston
Passenger Lists contained in the GG Archives collection represent the souvenir list provided to the passengers of each cabin class (and other classes). Many of these souvenir passenger lists have disappeared over the years. Our collection contains a sampling of what was originally produced and printed by the steamship lines.