SS Ems Passenger Lists 1885-1895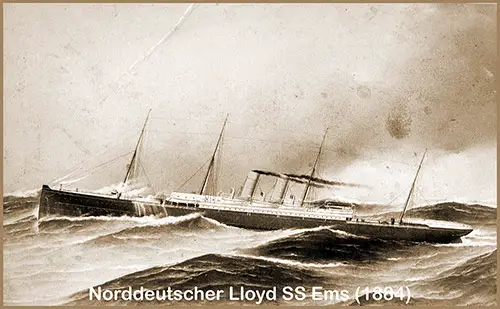 SS Ems (1884) of the Norddeutscher Lloyd. GGA Image ID # 1d397f9445
Ems (1884) North German Lloyd
Built by John Elder & Co., Glasgow, Scotland. Tonnage: 4,933. Dimensions: 430' x 47'. Single-screw, 16 knots. Compound engines. Four masts and two funnels. Maiden voyage: Bremen-Southampton-New York, June 2, 1884. Reduced to two masts in 1896. Transferred to Mediterranean-New York service. Renamed: Lake Simcoe (1901). Scrapped in 1904. Sister ship: Eider.
All Digitized Passenger Lists For the SS Ems Available at the GG Archives. Listing Includes Date Voyage Began, Steamship Line, Vessel, Passenger Class and Route.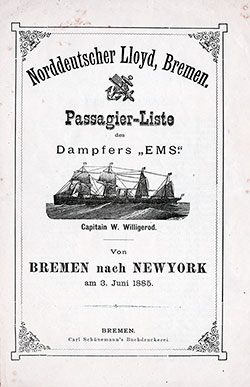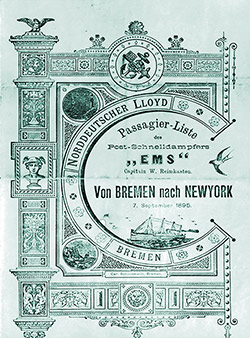 1895-09-07 SS Ems Passenger List
Steamship Line: Norddeutscher Lloyd (North German Lloyd)
Class of Passengers: Steerage
Date of Departure: 7 September 1895
Route: Bremen to New York
Commander: Captain W. Reimkasten
Passenger Lists contained in the GG Archives collection represent the souvenir list provided to the passengers of each cabin class (and other classes). Many of these souvenir passenger lists have disappeared over the years. Our collection contains a sampling of what was originally produced and printed by the steamship lines.
Letter from a Passenger on the SS Ems (1887)
To Miss Dodge
S. S. Ems, Tuesday afternoon, June 14th 1887. (Note 1)
Dear Abby, — This is the first time I have opened my well-furnished portfolio since I came on this Dampfer, and the seventh day of our passage is drawing to a close.
Seven days of sea and sky and sky and sea, and cloaks and bonnets and veils and gloves, and chairs on the deck, and rugs, and down cushions at the back of your head, and novel reading, and complete emptiness of mind and intellect, if these be not synonymous terms (I declare I have forgotten how to spell that adjective), five meals a day at the Captain's table, breakfast, lunch, dinner, supper, only four after all, with waiters of lemonade carried around by Wilhelm at all hours, not to say minutes, —
This is about the week's record which I must hand in if the teachings of my childhood are ever realized in that day, that day of doom.
The Captain speaks English well, so does the Graf, who sits on his left, ditto Mr. Blaine who sits on his right, and the three lesser B's who come in succession. But the ex P. M. General of Prussia, if that be his position, and I think it is, who sits next the Graf, can only look his unutterable English at us, though his expressive looks and his courteous pantomime make us want to know him better than the others.
His son, as unequipped as himself, comes next, and a young Hamburg merchant next is samples of the one hundred and sixty- five passengers who fill all these tables.
We take preserves with our salads and think it natural, and see the Germans who are not Jews eating raw ham, the Graf and all, and do not hint at touchiness.
Mr. Blaine, who began with a perturbed stomach, disbelief in his companions in misery, two overcoats, his old Pennsylvania gloves, and a yellow silk handkerchief around his neck, a steamer chair and all the rugs he could persuade his women kind they did not need, being generally swaddled and swathed.
Feet put to rest by kindly strangers, is now perambulating the deck in one summer overcoat, kid gloves stitched with black, and freedom of step, which is commonly supposed to belong to the healthy — as alert and bright-eyed and gentle as he appeared to Dr. Webb (Note 2) at the Orthodox Club dinner.
In brief, we are all doing well. The first day of the voyage seemed interminable, for we did not come on board till Wednesday morning. At ten a. M., it might have been that hour p. M. When we stowed ourselves away in our bunks, I was all homesickness, discomfort, and amazement at myself at finding myself in such a situation.
Although I do not yet understand why I should be dragged before the crowned heads of Europe in my old age, I have ceased to vex myself with questions. I am looking forward hopefully to the day after tomorrow when I shall give this old blue dress and bonnet to the stewardess and, arrayed in my new New York dress and Chicago bonnet, step out on Southampton soil.
At this moment, the purser has just sent to H, sitting by me, a ticket for the first class passage for four adults from Southampton to London, the ticket to be canceled within two days after the steamer arrives at Southampton. This makes the day of our deliverance seem very near.
I brought from home your North American. It came Sunday morning, and I so approved your Andover article that I brought it along for Mr. Blaine. In reading it that first day out, he forgot to remember his woes, all his home joys, and the German Dampfer, which he wished was a Cunarder. M., H., and I read you on Sunday.
I tried to get a moment to tell you how delighted I was with your argument and your treatment of Professor Phelps's (Note 3) unwholesome-looking broadcloth and all those hominos augustos. I have now given the N. A. to Mrs. Young, a canny Scot, who had dilated to me on your first paper.
We got off Monday afternoon at three, and as the train swung below the Governor's Grave, there sitting on the green bank, waving to us, were Blainey and José and the four maids, and there and then my heart broke. I shall never see that little figure in a Hitt hat with its red streamers waving to his grandma again. J, Emmons, Walker, and Rachel Sherman came to the steamship.
They saw us pulled out into the stream without any attempt at cheerfulness. Mr. Parsons went to the table where we were eating our last breakfast and tried to cheer us up by talking of the nesting birds of Virginia, at which we all hysterically laughed. It is a dreadful, dreadful pity you are not with us.
H S B.
1 Mr. and Mrs. Blaine and their daughters M. and H. sailed for England on June 7, 1887.
2 Rev. Edwin B. Webb, pastor of the Congregational church in Augusta from 1850 to 1860.
3 "The American Vedas," which appeared in the North American Review for June, 1887, and dealt with the theological position of Professor Phelps and the other Andover professors.
Harriet S. Blain Beale, Ed., "Letters of Mrs. James G. Blaine, New York: Duffield and Company, 1908, pp. 149-153