SS Frederik VIII Passenger Lists 1916-1919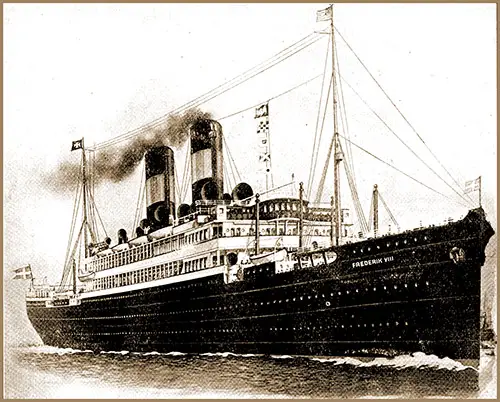 SS Frederik VIII (1913) of the Scandinavian-American Line. Shipping Magazine, 25 October 1921. GGA Image ID # 1d345e3a90
Frederik VIII (1913) Scandinavian-American Line
Built by Vulcan Co., Stettin, Germany. Tonnage: 11,850. Dimensions: 523' x 62'. Twin-screw, 17 knots. Two masts and two funnels. Fate: Scrapped in 1937.
Frederik VIII has First and Second Cabin Staterooms, also Superbly Furnished Suites Consisting of Sitting Room, Bedroom, and Bath. The Ship has Unsurpassed Accommodations for the Third Class Passengers.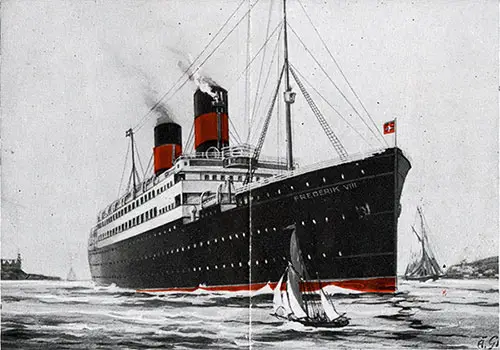 SS Frederik VIII of the Scandinavian Line. Passenger Service to Northern Europe, 1920s. GGA Image ID # 1d3aea42e9
Each ship carries a physician and trained nurse. The ships' officers are experienced and skilled navigators. The chief steward's forces schooled in polite efficiency.
The choicest foods, prepared by skilled chefs, afford a cuisine and a culinary service unexcelled anywhere.
Special Features: Moving pictures and lantern slides, all classes. Photographers' dark room. Wireless telegraph service day and night. An interesting magazine, the "Radio Press," is published on board. Daily concerts of ship's orchestra.
Minimum Rates of Passage (1926) To or from Scandinavia — Frederlk VIII. First Cabin, $187.60 and up. Second Cabin $146 and up. Other steamers—Cabin, $146 and up. Third Class, round trip, $176 and up.
First Class Dining Room on the SS Frederik VIII of the Scandinavian-American Line. Shipping Magazine, 25 October 1921. GGA Image ID # 1d345f13f1
All Digitized Passenger Lists For the SS Frederik VIII Available at the GG Archives. Listing Includes Date Voyage Began, Steamship Line, Vessel, Passenger Class and Route.
Passenger Lists contained in the GG Archives collection represent the souvenir list provided to the passengers of each cabin class (and other classes). Many of these souvenir passenger lists have disappeared over the years. Our collection contains a sampling of what was originally produced and printed by the steamship lines.