SS Frederik VIII Passenger List - 29 May 1931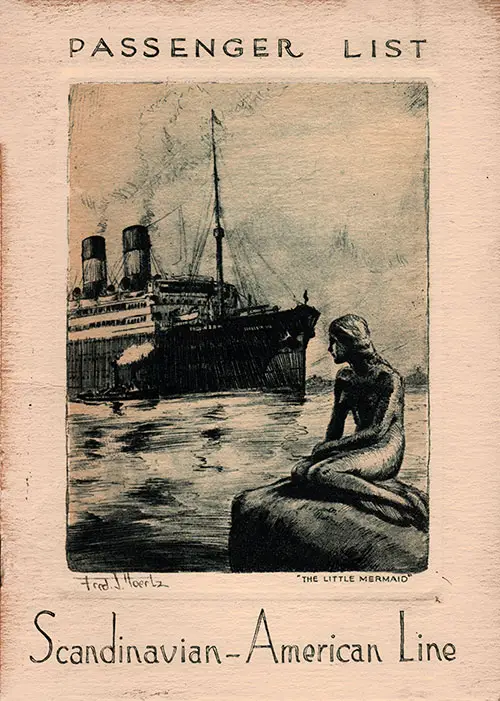 Front Cover of a Cabin and Tourist Third Cabin Passenger List from the SS Frederik VIII of the Scandinavian America Line, Departing Friday, 29 May 1931 from New York to Copenhagen via Kristiansand and Oslo, Commanded by Captain F. Mechlenburg. GGA Image ID # 1406fa3574
Senior Officers and Staff
Commander: CAPTAIN F. MECHLENBURG
Chief Officer: ERHARD EKHOLDT
Chief Engineer: P. H. JACOBSEN
Physician: POUL BERG
Purser: OVE JENSEN
Chief Steward: HOLGER BENTZEN
Cabin Passengers
Anderson, Mr. Adolph
Anderson, Mrs. Adolph
Andersen, Mr. Chris.
Andersen, Mrs. Cecilie
Andersen, Miss Laura
Auslander, Mr. J.
Auslander, Mrs. J.
Bank, Mr. Mads
Bank, Mrs. Mads
Barfour, Mrs. J. W.
Berthelsen, Miss D. K.
Bigelow, Mr. Joseph
Blichfelt, Miss Gudron
Bulford, Dr. Mrs. Wallace
Carr, Mr. Peter
Christiansen, Mr. Rudolph
Christiansen, Mrs. Bertha
Clemensson, Mr. Knut
Figge, Mr. A. H.
Fossum, Miss Emma
Freese, Miss Oda J.
Gaubas, Mr. Rokas
Gauvas, Mrs. Rokas
Godiksen, Mr. Emil and family
Grundt, Mr. Niels P. A.
Grundt, Mrs. Annie May
Haessig, Mrs. A. J.
Hansen, Mr. Frederick W.
Heiberg and Son, Mrs. Aase
Heiman, Mr. J.
Heiman, Mrs. J.
Henriksen, Mrs. Anna J.
Henry, Mrs. Elizabeth H.
Herbol, Mrs. Ayoe Kirketerp
Herbol, Master Gregers
Hornby, Miss Ellen
Horneman, Mrs. Ida
Jacobsen, Miss Johanne
Jacobsen, Miss Alida
Jensen, Dr. Julius
Jensen, Mrs. Deborah
Jensen, Mr. George
Jensen, Miss S. F. L.
Jensei White, Mrs. Alma
Johansen, Mrs. Ellen
Jonsson, Miss Else
Kaczmarek, Mrs. Valentine
Kaczmarek, Miss Helen
Kaseta, Mr. Adomas
Kierstein, Rev. Leon
Knudsen, Miss Marie
Kochanski, Mr. Arthur
Kochanski, Mrs. Elizabeth
Kruszka, Rev. Waclaw
Kruszka, Mrs. Wanda
Kruszka, Miss Sophie
Lumbye, Mr. Paul
Lumbye, Mrs. Edith
Lumbye, Master Poul
Lumbye, Miss Ann Virgin
Lumbye, Miss Betty
LövdaJ, Miss Sofie
Madsen, Mrs. Kristine
Markusen, Mr. R. H.
Markusen, Mrs. R. H.
Massalska, Mrs. Stanislawa
Massalska, Miss Barbara
Massalska, Miss Elzbicta
Mlotkowski, Mrs. Gurli
Muller, Mr. Frank C.
Murck, Mrs. Knud
Murck, Mr. Edwin
Nelson, Miss Hilda
Nelson-White, Mr. C. F.
Nelson-White, Master Raymond
Nelson-White, Miss Alice
Nielsen, Mr. Hans Henrik
Nielsen, Mrs. Karen
Nielsen, Mrs. Karen M.
Nielsen, Master Elmer H.
Ohlson, Mrs. Emilia
Olsen, Mr. Erling
Otto, Mr. Richard S.
Pauli, Mr. Hans
Pauli, Mrs. Hans
Pauli, Miss Karen
Pauli, Miss Helen
Pauli, Master Peter
Pearson, Mr. Bernard
Pearson, Mrs. Bernard
Pedersen, Mr. Fred L.
Pedersen, Mr. Hans
Pedersen, Mrs. Hans
Petersen, Mr. Chas
Petersen, Mrs. Chas
Steve, Mrs. Lovisa F.
Steve, Miss Helen M.
Rasmussen, Mrs. Henry
Rasmussen, Mrs. Olivia C.
Rasmussen, Mr. P. J.
Riis, Mrs. Gertrude J.
Riis, Miss Gertrude
Taylor, Mrs. Anna
Trevor, Miss Margaret
Tyberg, Miss Kristen
Ustruck, Miss Mary
Von Wowern, Mrs. Ellen
Williams, Mrs. Edith
Williams, Miss Maude
Williams, Miss Ellen
Zujus, Mrs. K.
Zujus, Master Mathew
Supplement
Stanulis, Mr. Joseph
Wedell, Mr. Egon
Tourist Third Cabin Passengers
Abelin, Mrs. Frank
Adelson, Miss Dora
Aerenlund, Miss Inger
Andersen, Mr. Albert
Andersen, Mrs. Albert
Andersen, Miss Gerda
Andersen, Mr. Christian
Andersen, Mrs. Lydia
Andersen, Miss Clara
Andersen, Mrs. Einer
Andersen, Miss Gertrud
Andersen, Mr. Niels P.
Andersen, Mr. Viggo
Andersen, Mrs. Viggo
Andersen, Master V.
Anderson, Mrs. C. C.
Andersen, Mrs. Esther
Bendtsen, Miss Edith
Bergman, Mr. Erik
Brandt, Mrs. Johanne
Brondt, Mrs. Nina
Brondt, Master N.
Bruun, Mr. Niels
Bruun, Mrs. Anna
Bubandt, Mr. Georg Chr.
Bubandt, Mrs. Georg Chr.
Budniak, Mr. Jozef.
Carlsen, Mr. A.
Carstensen, Miss Marie N.
Christensen, Mrs. Carla
Christensen, Miss Ellen
Christensen, Mr. Emil
Christensen, Mr. Hans
Christensen, Mrs. Yeddi
Christensen, Mr. J. C.
Christensen, Mrs. J. C.
Christensen, Mr. Robert
Christensen, Mr. James
Christensen, Miss Edna
Christensen, Mr. Mads P.
Christensen, Mr. Niels L.
Christensen, Mr. Peter
Christensen, Mrs. Anna
Christensen, Mrs. Oda
Christensen, Miss Anna
Christiansen, Mrs. E. E.
Christiansen, Miss May
Christiansen, Mr. Ole M.
Clausen, Mrs. Elna
Comber, Mr. Sylvester
Dahl,, Mrs. Alma
Dyrborg, Mr. Jens
Dyrborg, Mrs. Gerda
Ellis, Mrs. Mary
Emde, Mrs. Emma
Fledelius, Mr. Carl F. O.
Flittner, Miss Hertha
Forbes, Mrs. Anna
Fowler, Mrs. Emma
Freese, Mr. Mathias
Frost, Mrs. Arinta
Grann, Miss Jenny
Gregersen, Mrs. Ragnhild
Guldberg, Mr. D. H.
Guldberg, Mrs. D. H.
Guldberg, Master Frederick H.
Guldberg, Master Paul
Hansen, Mr. Andrew
Hansen, Mrs. Caroline M.
Hansen, Mrs. Marentine
Hansen, Mr. Chris.
Hansen, Mrs. Hansine
Hansen, Mr. J. C.
Hansen, Mrs. J. O.
Hansen, Mr. Sophus
Hansen, Mrs. Emilie
Hansen, Mr. Peter
Hansen, Mrs. Ellen
Hansen, Mr. Thovvaldv
Hansen, Mrs. Marianen
Hansen, Mr. Chris. K.
Hansen, Mrs. Chris. K.
Hansen, Mr. Alfred
Hansen, Mrs. Alfred
Hanson, Mr. Rasmus
Harris, Mr. Nathan
Hedebeck, Mrs. Mathilde
Herbert, Rev. Charles E.
Hermansen, Mr. Herman
Hermansen, Mrs. Herman
Hiehkonen, Miss Siiri
Hegberg, Miss Marie
Hjortshöj, Miss Marie
Hoglund, Miss Corinne
Ivanivicius, Mr. Antanas
Iversen, Mr. Laurence
Iversen, Mrs. Sophie
Jacobsen, Mr. A. H.
Jacobsen, Miss Amanda
Jagger, Mrs. Siri
Jansen, Mr. Fred W.
Jensen, Mrs. Anna
Jensen, Mr. Svend
Jensen, Mrs. Clara
Jensen, Miss Emma
Jensen, Mr. Hans
Jensen, Mrs. Hans
Jensen, Mr. Jens
Jensen, Mrs. Jens
Jensen, Master Chr.
Jensen, Master James
Jensen, Mr. John W.
Jensen, Mrs. E. Lybeck
Jensen, Mrs. Karen M.
Jensen, Miss Edna May
Jensen, Miss Marie
Jensen, Miss Magny
Jensen, Mr. Niels
Jensen, Mr. Niels Peter
Jessen, Mr. John A.
Jessen, Mrs. John A.
Jesby, Mr. Hartvig
Jesby, Mrs. Louise
Johansen, Mrs. Dagny
Johansen, Miss Elinor J
Johansen, Master Leon
Johansen, Miss Ingeborg
Johansen, Mrs. Martha
Johnson, Mrs. Hilda
Johnson, Mr. Kennedy
Jozwiak, Mr. Bronislaw
Jörgensen, Mr. Jörgen Chr.
Kallgren, Miss Ragny
Kay, Mr. William
Kay, Mrs. Margaret
Kirkeby, Miss Julia
Klitmark, Mr. Carl
Knudsen, Mr. Andrew
Koegh, Mr. T.
Korsgaard, Mr. Arnold
Kristensen, Miss Nielsine
Kure, Mr. Svend
Kure, Mrs. Clara
Kure, Master Richard
Lagreid, Mr. Thomas
Larsen, Mr. Emil
Larsen, Miss Inger
Larsen, Mrs. Laura
Larsen, Mr. N. P.
Larsen, Mrs. N. P.
Larsen, Mr. Jens Palluden
Larsen, Mr. Rasmus
Lassen, Mrs. Mary
Lassen, Miss Hope
Laursen, Mr. Laurent
Leedy, Mrs. Amanda
Likaite, Miss Grasilda
Lind, Mr. Julius
Lohse, Mrs. E. W.
Lowe, Mrs. Amanda
Luce, Mrs. Emma
Matulis, Mr. L.
Madsen, Mr. Carl
Madsen, Mr. Mads J.
Maloney, Mrs. Gerda W.
Maloney, Miss Marion
Maltesen-Berg, Mrs. Karen E.
Martin, Miss Marie E.
Matulis, Mr. Ladislaw
Melgaard, Mr. S. P.
Meyers, Mrs. John S.
Michaelsen, Mrs. Anna
Michaelsen, Miss Ella
Michaelsen, Miss Merlyn
Michaelsen, Miss Erma
Mikkelsen, Mr. H. P.
Mortensen, Mrs. Harold
Mortensen, Mr. J. C.
Mortensen, Mrs. J. C.
Mortensen, Miss Margaret
Munkedal, Mr. A.
Munkedal, Mrs. A.  
Naliwka, Mrs. Mary
Naliwka, Mr. Andro
Naliwka, Mr. Frank
Naliwka, Mr. William
Neil, Mrs. Johanne M.
Neil, Miss Grete B.
Nelson, Mrs. Anna
Nelson, Mr. N. B.
Nelson, Mrs. N. B.
Nielsen, Miss Alvilda
Nielsen, Mr. Christian A.
Nielsen, Mrs. Christian A.
Nielsen, Mr. E. K.
Nielsen, Mrs. Mia
Nielsen, Miss Marion
Nielsen, Miss Ella
Nielsen, Miss Emma Q.
Nielsen, Mr. Ernest
Nielsen, Miss Gladys
Nielsen, Miss Inger
Nielsen, Miss Neva
Nielsen, Mr. Christian
Nielsen, Mrs. Christian
Nielsen, Mr. Niels
Nielsen, Miss Anna
Nielsen, Mr. Carl Martin
Nielsen, Mr. Viggo
Nielsen, Mrs. Maren
Nielsen, Mr. Niels
Nielsen, Mr. Vilhelm
Nielsen, Mr. Terman
Nissen, Mrs. Anna
Nissen, Miss Helen
Odegaard, Mr. A.
Oland, Miss Rigmor
Olesen, Mr. Jens
Olesen, Mrs. Maren
Olesen, Miss Ruth
Olsen, Miss Ellen
Olsen, Miss Bodil
Olsen, Miss Cecilie
Olsen, Mrs. E.
Olsen, Miss Petra
Oppenheim, Mr. Julius
Oppenheim, Mrs. Eifrida
Otte, Mr. Hans F.
Otte, Mrs. Hans F.
Ozeliute, Miss Amilja
Palm, Mr. Hugo
Paulsen, Mrs. Elvira
Pedersen, Miss Marie
Pedersen, Mr. P. J.
Petersen, Mrs. Alma
Petersen, Mr. Chris.
Petersen, Mrs. Chris.
Pedersen, Mr. Kai
Pedersen, Mrs. Vera
Pedersen, Master Kai       
Pedersen, Master Walter
Pedersen, Master Edwin
Pedersen, Mr. Lars Peder
Petersen, Mr. Laurits
Peterson, Mr. Ivar J.
Peterson, Mrs. Ivar J.
Peterson, Master John M.
Petersen, Mr. Niels
Petersen, Mrs. Niels
Petersen, Mr. P. S.
Peterson, Miss Ethel
Peterson, Mrs. Jens
Poulsen, Mr. Carl
Poskaite, Miss Petronele
Prior, Mr. Erik
Prishorn, Mr. Einer
Rasmussen, Miss Dorthea
Rasmussen, Mr. Aksel
Rasmussen, Mr. H. P.
Rasmussen, Mrs. Josephine
Rasmussen, Mrs. Olga
Rasmussen, Mr. R.
Rasmussen, Mrs. Anna
Raven, Mr. Valde
Richters, Mrs. M.
Rosenfeld, Mr. William
Rotwitt, Miss H.
Ruplis, Mr. Anthony
Ruplis, Mrs. Anthony
Scavenius, Mr. Jacob
Seiling, Mr. John
Sexton, Mrs. B. D.
Simaviciute, Miss Franciska
Simonavicius, Mr. Stanislaus
Sköttegaard, Mrs. Agnes
Sköttegaard, Miss Myrtle
Skriver, Mr. Jens P.
Smith, Miss Ida
Staneliute, Miss Marijona
Staremose, Mr. Carl
Stockmar, Mr. S. L.
Stockmar, Mrs. Bengta
Stockmar, Miss Barbara
Stockmar, Master Eric
Stockmar, Miss Bengta
Stormoen, Miss Anne
Svarrer, Mr. George
Svarrer, Mrs. Ellen
Svarrer, Miss Evelyn
Svelmoe, Mr. G. C.
Söndergaard, Mr. Knud
Söndergaard, Mr. N. S.
Sorensen, Miss Laura
Sorensen, Mrs. Marion
Sorensen, Mr. Maurice
Sorensen, Mrs. Rigmor E.
Sorensen, Miss Helga C.
Sorensen, Mrs. Elna V.
Sorensen, Master Walter
Sorensen, Master Norman
Sorensen, Miss Laura
Thorsen, Mr. Hardis
Tolderlund, Mrs. Sigriu
Tolderlund, Miss Etien
Torp, Mr. Carl V.
Torp, Mrs. Carl V.
Twenstrop, Mr. Christian
Vedell, Mr. John
Vedell, Mrs. John
Villadsen, Miss Edith
Voss, Mr. Carl Herman
Warmke, Mr. Joseph
Williamsen, Mr. William
Wolstedlund, Miss Petrea
Zalnieraitis, Mr. Kazys
Zogaite, Miss Kotrina
Supplement
Berland Mr. Selmer
Christensen Mr. Harold
Gjeruldsen Mr. R.
Mattila Miss Elvi
Nielsen Master Ole
Tormashunas Mr. Geo
Information for Passengers
Meals. A bugle is sounded half an hour before and at the beginning of each meal.
Cabin
Breakfast 8 to 9.30 a. m.
Bouillon at 11:30 am
Luncheon at 12:30 pm
Coffee, Tea, Cocoa (with Danish Pastry) at 3:30 pm
Dinner at 7:00 pm
Tea at 9.30 p. m.
Danish Sandwiches at 10:00 pm
Tourist Third Cabin
Breakfast 8:00 am to 9:00 am
Luncheon at 12 noon
Coffee, Tea, Cocoa (with Danish Pastry) at 3:00 pm
Dinner at 6:00 pm
Tea at 9:00 pm
Seats at Tables can be arranged for through the Chief Steward in charge. If two sittings are necessary, children paying half fare take their meals at the first sitting.
Baggage. Questions relating to baggage should be referred to the Deck Officer in charge, who is the Ship's Baggage Master. Baggage marked "Wanted" is placed in the Baggage room, where Passengers will have access to it from 10 to 11:30 am and from 3 to 4:00 pm daily.
Valuables. In the Purser's Office the Company has provided a safe in which Passengers may deposit money or other valuables for safe-keeping. As the Company makes no charge for taking care of such articles during the voyage, no responsibility can be accepted for possible loss or damage however such may arise, but Passengers can protect themselves by insurance. The Company is not liable to the Passengers for the loss of valuables kept in the cabins.
Exchange of Money. For the convenience of the Passengers the Purser is prepared to exchange a limited amount of Foreign Money and will give due notice when the Exchange will be open.
Travelers Cheques are accepted in payment of accounts, but the Purser does not always carry funds to enable him to cash same.
Deck Chairs can be rented from the Deck Steward at a charge of $1.00 each for the voyage.
Steamer Rugs can be rented from the Deck Steward at a charge of $1.00 for the voyage.
Library. Books can be obtained on applying to the Library Steward.
Physician and Nurse. A Physician and a Trained Nurse are in attendance during the voyage. Medicine will also be provided free. The Doctor's office is open from 11:00 am to 12 noon and from 4:00 pm to 5:00 pm
Baths. Baths for ladies can be ordered from the Stewardess; baths for gentlemen can be ordered from the Barber.
Telegrams to be dispatched from the first port of call are accepted by the Purser or Chief Steward.
Wireless Telegrams are received for transmission by the Wireless Operator.
The Dancing Deck—after 7 P. M.—is at the disposal of Cabin Class passengers or of Tourist Third Cabin passengers, at the ship's discretion.
Passenger List Images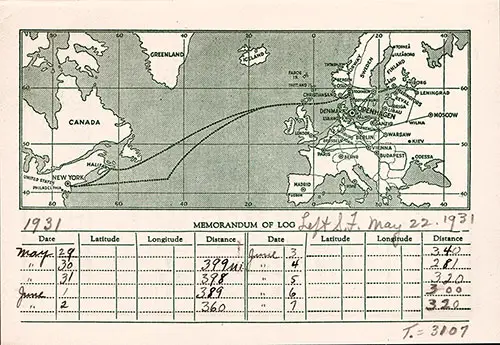 Completed Track Chart and Voyage Log