SS United States Passenger List - 12 December 1922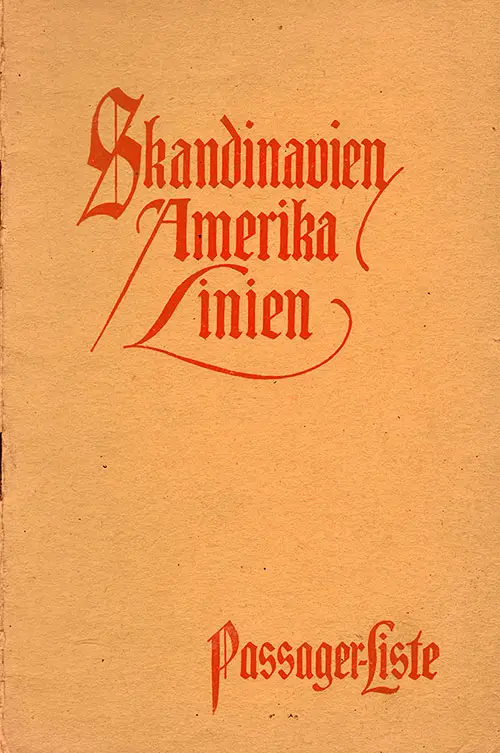 Front Cover of a Cabin Passenger List for the SS United States of the Scandinavian America Line, Departing 12 December 1922 from Copenhagen to New York, Commanded by Captain V. Voldborg. GGA Image ID # 1405f310e9
Senior Officers and Staff
Captain: V. Voldborg
First Officer: G. C. C. Meyer
Chief Engineer: E. Huusom
Physician: C. M. Norman-Hansenj
Purser: Corri Petersen
Chief Steward: A. Lyngbye
Cabin Passengers
Mrs. Marie Ammentorp
Mr. James Andersen
Miss Karin Andersson
Miss Anna M. Andersen
Miss Anna Andersen
Miss Kirsten Andreasen
Mrs. Hedwig Bielert
Miss Katharyn Baldwin
Mr. Max Breining
Mr. Hugo Birkedahl
Mrs. Charlotte Bordie
Mr. Director Carleton Balzer
Miss Johanna Carlstedt
Miss Hansine Christensen
Miss Daisy Dame
Mr. Johan Erikson
Miss Karen Frederiksen
Szima Gorelik
Mrs. Karoline Greimel
Miss Martha Gabrielson
John Granberg
Mr. Goralski
Mr. Direktør Harth Olsen
Mrs. Kirstine Højsgaard
Mr. Jørgen Hoick
Miss Anna Hult
Mr. Fritz Håkansson
Miss Ruth Håkansson
Miss Eva Johnson
Mr. Lars Jensen
Mr. Niels Brodersen Jensen
Miss Saima Jarvinen
Mr. Ludwig Kett
Mr. Franz Kett
Miss Liba Krentzel
Mr. Hans Kok Hansen
Miss Aino Kokkinen
Mr. Erich Kolassa
Miss Gertrude Løwgren
Mr. John Lundquist
Mr. Erik Petterson Liberg
Mrs. Helen Lahtinen
Barn Lahtinen
Miss Erika Lohmann
Miss Marie Lundquist
Miss Minnie Lintunen
Mr. M. Laitner
Mrs. Laitner
Mrs. Ane Lau
Mr. Nils Larson
Miss Esther Lindstrøm
Mr. Lammi
Mrs. Lammi
Mr. Peder Madsen
Mr. Aron Moberg
Mrs. Emilie Malmlof
Violet Malmlof
Wallace Malmlof
Miss Agnete Mathiasen
Mr. Barrister Th. Mikkelsen
Mrs. Pauline Mikkelsen
Mrs. Mach
Mr. Kai Nielsen
Mrs. Agnethe Nielsen
Miss Paula Nielsen
Mr. Robert Nielsen
Mr. André Olsen
Miss Fanny Olsen
Miss Ane Pedersen
Mr. Piotrowski
Mrs. Piotrowski
Miss Ane Nielsen Præst
Miss Hilja Pesonen
Mrs. Gitel Peres
Leiser Peres
Bertha Peres
Miss Ella Ryder
Mrs. Oda Rosener
Grethe Rosener
Johnna Rosener
Barn Rosener
Mr. Thomas Ranchie
Mrs. Louise Reckin
Mrs. Elizabeth Seacord
Mrs. Johanne Sørensen
Mr. Emil Strandberg
Lloyd Strandberg
Mrs. Ester Schultz
Mr. Hans Sinding
Mrs. Caroline Sinding
Mrs. Ebba Steckel
Charles Steckel
Mr. Ernst Schuh
Mrs. lverine Schuh
Ernst Schuh
Mr. William Topp
Mr. Hugo Tornagel
Mrs. Mary Volk
Miss Wilhelmine Werdelmann
Mrs. Elsa Wohrmann
Mrs. Bertha Wilkenfeldt
Miss Lulu Wilkenfeldt
Miss Anastazja Zuchowski
Miss Olga Zuchowski
Mr. Charles Zoch
Additional Cabin Passengers
Mr. Franciszek Antecki
Miss Victoria Barcik
Mr. Leopold Bare
Miss Marja Brzezinska
Mr. Cai Brock Helsingør
Ms. Helga Christensen
Mr. Rudolf Cwertnia
Mrs. Marya Cwertnia
Kazimiera Cwertnia
Mr. Leon Drzewjeski
Mrs. Josefa Durajska
Miss Antonia Donczalska
Miss Sosche Elkind
Mrs. Eugenja Exner
Mrs. Ida Enbergh
Mr. Stanislaw Fawerski
Mr. Franciszek Fidler
Mr. Stanislaw Golysniak
Mrs. Fr.mciszek Gorczynska
Edmund Gorczynska
Miss Anna Galant
Mr. Jankiel Gelermann
Miss Eva Grodzka
Mr. Andrzei Glass
Miss Rosalja Hartung
Mr. Arthur Jensen
Mrs. Frida Jensen
Aase Jensen
Miss Bronislawa Janiga
Mrs. Marya Jarzembowska
Feonja Jarzembowska
Brumon Jarzembowska
Miss Marja Jacion
Mrs. Emilja Jacob
Mr. Michail Kozub
Mrs. Katarzyna Kozub
Jan Kozub
Marya Kozub
Mrs. Petronela Kobylanska
Wanda Kobylanska
Mrs. Kazimiera Kubiak
Janina Kubiak
Waclaw Kubiak
Mr. Stanislaw Kaczor
Mrs. Agata Kaczor
Jozef Kotarski
Mrs. Marya Kaminska
Rysard Kaminska
Jerzy Kaminska
Henryk Kaminska
Mr. Czeslaw Kaminski
Mrs. Franciszka Kasprzak
John Kasprzak
Felix Kasprzak
Mrs. Fanny Lund
Mrs. Anastazia Nowicka
Miss Nielsine Olsen
Mr. Stor Sven Olsson
Mr. Antoni Orlowski
Mrs. Teodozja Orlowski
Miss Zofja Orlowski
Miss Jozefa Orlowski
Miss Asta Russel Petersen
Mr. Teofil Przeworski
Mrs. Rose Polczynski
Mrs. Stefanja Puszko
Jan Puszko
Mr. Franciszek Pawula
Mrs. Anieta Stachnik
Mr. Jan Sadlo
Mrs. Rosalja Szlaga
Mr. Ignacy Staszewski
Mrs. Bronislawa Stefanska
Ibigniew Stefanska
Tadeusz Stefanska
Mrs. Katarzyna Sznaider
Miss Wladyslawa Sznaider
Janina Sznaider
Mrs. Czeslawa Szyjewska
Janina Szyjewska
Leopold Szyjewska
Czeslaw Szyjewska
Mr. Gustaf Svensson
Mr. Erik Nils Sellén
Jozef Stachnich
John Stachnich
Kaziemierz Stachnich
Mr. Nuchim Teichmann
Mrs. Jozefa Vanksionowska
Anna Vanksionowska
Mr. Kaziemircz Zimbowicz
Mrs. Marya Zarczycka
Mr. Ignacy Zurawik
Mrs. Matylda Zurawik
Helena Zurawik
Tadeusz Zurawik
Mr. Franciszek Ziemba
Mrs. Jadwiga Ziemba
Information for Cabin Passengers
A bugle is sounded half an hour before and at the beginning of each meal.
Breakfast from 8 to 9.30 am
Bouillon at 11:30 am (served on deck)
Second Breakfast at 12.30 pm
Dinner at 6:00 pm
Coffee at 3.30 pm (served in dining room)
Tea at 9.30 pm
The Bar opens, after departure from port, from 8:00 am to 11:00 pm
Lights are extinguished in the Music Saloon at 11:00 pm and in the Smoking Room 11:30 pm
Seats at Table can be arranged for through the Chief Steward in charge. If two sittings are necessary, children paying half fare take their meals at the second sitting.
Baggage. Questions relating to baggage should be referred to the Deck Officer in charge, who is the Ship's Baggage Master. Baggage marked "Wanted" is placed in the Baggage room, where Passengers will have access to it from 10 to 11:30 am and from 3 to 4:00 pm daily.
Valuables. In the Purser's Office the Company has provided a safe in which Passengers may deposit money or other valuables for safe-keeping. As the Company makes no charge for taking care of such articles during the voyage, no responsibility can he accepted for possible loss or damage however such may arise, but Passengers can protect themselves by insurance. The Company is not liable to the Passengers for the loss of valuables kept in the cabins.
Exchange of Money. For the convenience of the Passengers the Purser is prepared to exchange a limited amount of Foreign Money and will give due notice when the Exchange will be open.
Travelers Cheques are accepted in payment of accounts, but the Pursers do not alvays carry funds to enable them to cash same.
Deck Chairs can be rented from the Deck Steward at a charge of $ 1.00 each for the voyage.
Steamer Rugs can be rented from the Deck Steward at a charge of $ 1.00 each for the voyage.
Library. Books can be obtained on applying to the Library Steward.
Physician and Nurse. A Physician and Trained Nurse are in attendance during the voyage. Medicine will be provided free. The Doctor's office is open from 11:00 am to 12 noon and from 4:00 pm to 5:00 pm
Baths. Baths for ladies can be ordered from the Stewardess; baths for gentlemen can be ordered from the Barber
Telegrams to be dispatched from the first port of call are accepted by the Purser or Chief Steward.
Recovery of U. S. Head Tax.
This Tax can be recovered by passengers, if same has been paid, provided they inform the U. S. Immigration Inspector on arrival at New York of their intention to leave the United States within sixty days (the time prescribed by U. S. law), and obtain from him Transit Certificate Form 514.
It is also necessary for Transit Certificate Form 514 to be handed to the transportation company when completed, in time to allow same to be placed before the Immigration Authorities in Washington within 120 days of passenger's arrival in the United States.
Unless this regulation is complied with, the Tax cannot be recovered.