SS United States Passenger List - 8 February 1912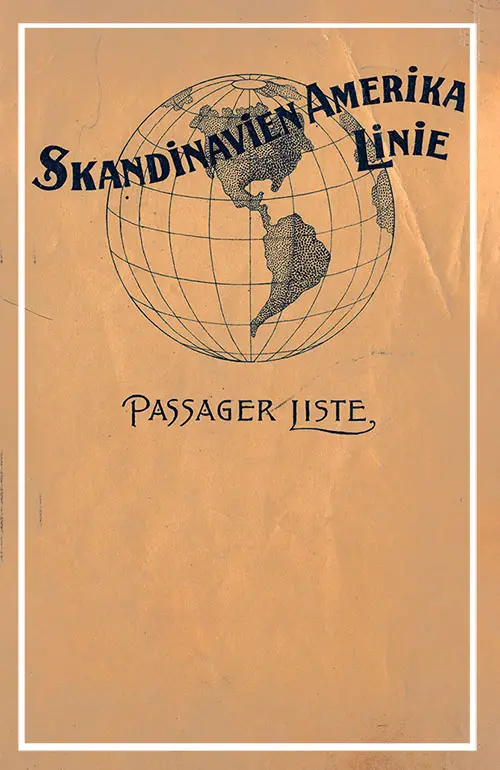 Front Cover of a Cabin Class Passenger List for the SS United States of the Scandinavian America Line, Departing 8 February 1912 from Copenhagen to New York, Commanded by Captain R. Gøtsche. GGA Image ID # 1405e6ec95
Senior Officers and Staff
Captain: R. Gøtsche
First Officer: J. P. Petersen
Chief Engineer: Chr. Hansen
PHysician: H. Bagger        
Purser: Ove Jensen      
Chief Steward: Holger Bentzen
List of Cabin Passengers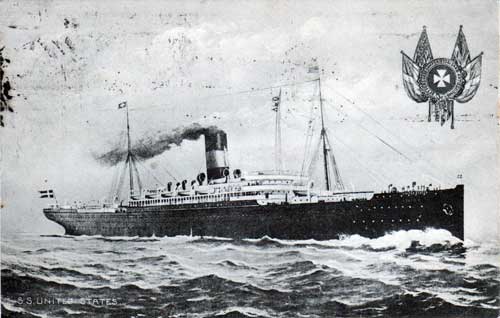 SS United States of the Skandinavien-Amerika Linie.
Mr. John Akerlund
Miss Martha Alholm
Miss Ellen Andersen
Mr. Paul Andersen
Mrs. Clara Andersen
Miss Edith Anderson
Mr. Anton Bang
Mr. Julius Bidstrup
Miss Marie Bidstrup
Mr. Hans Bjernsen
Miss Olga Bjørnsen
Irk. Harriet Bech Brøndum
Miss Amund Christensen
Mr. Erik Christiansen
Mrs. Magretha Christiansen
Mrs. C. N. Conner
Miss Augusta Dahlin
Mrs. Alvilda Ellingsen m. Inf
Finn Ellingsen
Miss Bagnhild Ericson
Mr. Fred. Errebo
Miss Irene Farnp
Miss Elise Fitschen
.John Fitschen
Elmer Fitschen
Miss Ulla Geist
Mr. Svend Godtfredsen
Miss Betty Hansen
Miss Marie Hansen
Mr. Andrew Haraldsen
Mrs. Justine Haraldsen
Arnulf Haraldsen
Miss Astrid Hardenberg
Mr. Karl Hovland
Miss Ebba Jansson
Mr. Cart C. G. Jensen
Mrs. Jensen m. Inf
Anna Jensen
Carl Jensen
Mrs. Laura Jensen
Miss Jenny Johansen
Mr. Georg Johnsen
Mr. John S. Johnson
Mr. Oscar H. Johnson
Mr. Elof Johnsson
Mr. Emil Johnsson
Mrs. Selma Jorønstad
Miss Alma E Kahlke
Mr. Walter E. R. Kruger
Miss Elna Källström
Miss Anna Larsen
Miss Mary Larsen
Mrs. Kjersten Lauridsen
Mr. Karl Lundberg
Mr. Nels Malmstrøm
Mrs. Karin Michaelis
Mr. Jacob Mikkelsen
Mrs. Sine Mikkelsen
Mr. Anders Nielsen
Mrs. Cecilie Nielsen
Mr. Jens Nielsen
Miss Johanne Nielsen
Mr. Niels Peter Nielsen
Mr. Murck Nilson
Mr. Gilbert Ogaard
Mrs. Alma Olsen
Mr. Peter J. Olsen
Mr. Chas. A. Petersen
Mrs. Anna Petersen
Mr. Jens S Petersen
Mrs. Laura Petersen
Edvard Petersen
Walter Petersen
Fred. Petersen
Mrs. Emilie Wolff Petersen
Mr. Holger Preisler
Mrs. Catharine Rathske
Mrs. Agda Rayburg
Mr. Oscar Scheitel
Carla Schiøler
Mr. Anton C. Skafgaard
Mrs. Annette Skafgaard
Mrs. Agnes Starcke
Mrs. Borghild Syversen m. Inf
Gustaf Syversen
Mrs. E. V. Thompson
Meldred Thompsøn
Mr. Peter Thorsen
Mr. Oscar Thorstensen
Mr. Otto Thorvaldsen
Miss Ina Troensegaard
SUPPLEMENT.
Mr. Redaktor Blaum
Mrs. Blaum
Mr. Blaum
Miss Hellberg
Mr. Mathiesen
Miss Drogseth
Mr. Jorgensen
Mr. Voigt
Miss Halversen Berg
Miss Westerhus
Mrs. Ravdi Eriksen
Miss Anna Gulseth
Mr. Josef Hedenblad
Mr. Carl Wiberg
Mr. Olaf Olsen
Mr. Niels Haaland
Mr. Werner Østerberg
Mr. Valdemar Olsen
Mr. Peter Lange
Mr. John Andersen
Mr. Carl Lindquist
Mr. Nordhassel
Mr. Fred. Schmidt
Hr Josef Jorland
Mr. Hans Jensen
Mr. Anders Andersen
Miss Javanainen
Mrs. Gersen m. Inf.
Mr. William Riis
Mr. Niels Petersen
Mrs. Amalie Petersen
Mr. John Petersen
Mr. Knud Ødegaard
FR. G. Knudtzons Bogtrykkeri, Kjøbenhavn