SS President Harding Breakfast Menu Card 8 April 1934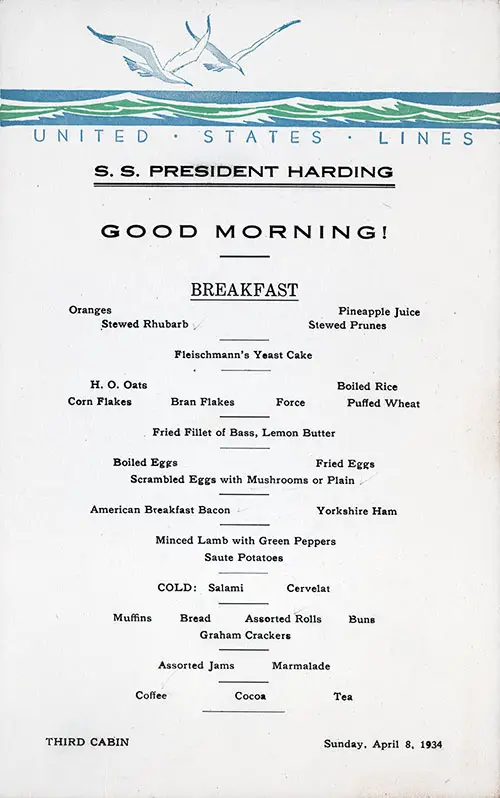 Colorful Breakfast Menu Card From Sunday, 8 April 1934 on the SS President Harding of the United States Lines Offered a Third Cabin Viewpoint Through the Passenger's Diary of the Day Written on the Back of the Menu. Bill of Fare Included Fleischmann's Yeast Cake, H-O. Oats, Force Cereal, Scrambled Eggs With Mushrooms or Plain, and Minced Lamb With Green Peppers. GGA Image ID # 154e65360c
Force, first produced in 1901 by Force Food Company, one of three American companies owned by Edward Ellsworth and advertised using a popular cartoon figure called Sunny Jim, was the first commercially successful wheat flake cereal. Before this, the only successful wheat-based cereal products had been Shredded Wheat and the hot semolina cereal, Cream of Wheat. The product was cheap to produce and kept well on store shelves.
BREAKFAST
Oranges
Pineapple Juice
Stewed Rhubarb
Stewed Prunes
Fried Fillet of Bass, Lemon Butter
Boiled Eggs
Fried Eggs
Scrambled Eggs with Mushrooms or Plain
American Breakfast Bacon
Yorkshire Ham
Minced Lamb with Green Peppers
Sauté Potatoes
Muffins
Bread
Assorted Rolls
Buns
Graham Crackers
Reverse Side of Menu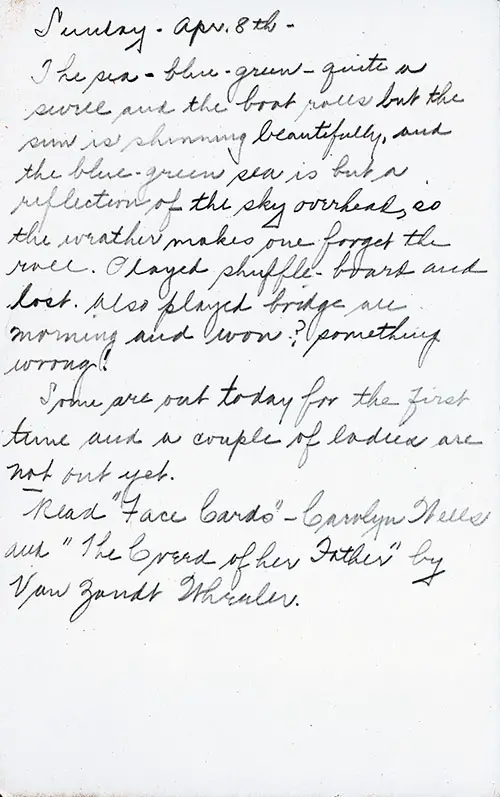 A Daily Diary Entry for a Third Class Passenger, Written on the Backside of a Vintage Breakfast Menu Card From Sunday, 8 April 1934 Onboard the SS President Harding of the United States Lines. GGA Image ID # 1577c84a62
Sunday, Apr. 8th -
The sea - blue = green - quite a swell and the boat rolls but the sun is shinning beautifully, and the blue-green sea is but a reflection of the sky overhead, so the weather makes one forget the roll. Played shuffle-board and lost. Also played bridge all morning and won? Somehting wrong!
Some are out today for the first time and a couple of ladies are not out yet.
Read "Face Cards" - Carolyn Wells (Note 1) and "The Bread of her Father" by Van Zandt Whruler.
Note 1: Face Cards written by Carolyn Wells Houghton (1862-1942) Published by G.P. Putnam's Sons, New York and London 1925, Hardcover, 334 pages