RMS Majestic Passenger Lists 1905-1935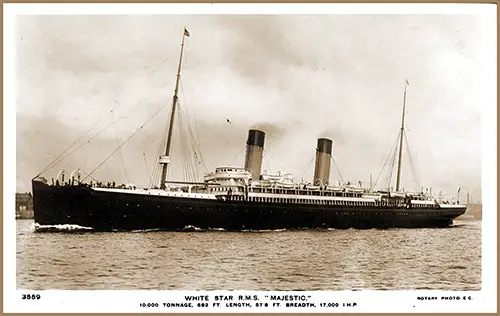 RMS Majestic (1890) of the White Star Line. 10,000 Tonnage, 582 Feet Length, 57'8" Breadth, 17,000 IHP. Rotary Photo, E.C. # 3559. GGA Image ID # 1d3e3f1169
Majestic (1890) White Star Line
Built by Harland & Wolff, Ltd., Belfast, Ireland. Tonnage: 9,861. Dimensions: 566' x 57' (582' o.l.). Twin-screw, 20 knots. Triple expansion engines. Three masts and two funnels. Launched, June 29, 1889. Cost $2,000,000 to build. Maiden voyage: Liverpool-New York, April 2, 1890. Speed Record: Broke the trans-Atlantic speed record. Her power plant contained 16 boilers and were heated by 76 furnaces, which enabled the engines to develop 17,500 indicated horse-power. Notes: Main and mizzen masts were removed in 1902, and an intermediate mast installed instead. Semi-Retirement: She was retired from active service in 1912. However due to the tragic loss of the Titanic in April of that year, she was put back in service as a replacement. Fate: Broken up for scrap at Morecambe in 1914. Sister ship: Teutonic.
White Star Line RMS Majestic (1890) Passenger Lists
1900s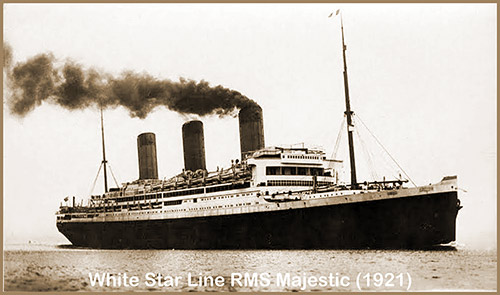 RMS Majestic (1921) of the White Star Line. GGA Image ID # 1d3e2bd3a0
Majestic (1921) White Star Line
Built by Blohm & Voss, Hamburg, Germany. Tonnage: 56,551. Dimensions: 915' x 100' (956' o.l.). Quadruple-screw, 24 knots. Eight steam turbines. Two masts and three funnels. Notes: Launched as the Bismarck (Hamburg- American Line) on June 20, 1914. However, was not completed until after the First World War. From keel to top of funnels 183 feet high. From keel to boat deck 102 feet. She had a draft of 38'-10". Purchase by WSL: When the liner was finished, she was handed over to the British Shipping Controller, who sold her to the White Star Line. Maiden voyage: Southampton-Cherbourg-New York, May 10, 1922. Made a fast Atlantic crossing in June 1922, at an average speed of 24.2 knots. Made her final sailing from New York, as an Atlantic liner, February 22, 1936. Fate: Acquired by the British Admiralty in 1936. Renamed: Caledonia (1936). Used as a training ship. Gutted by fire and sunk at Rosyth, September 29, 1939. The hulk was refloated, and subsequently broken up for scrap. Ex-Bismarck (1922).
White Star Line RMS Majestic (1921) Passenger Lists
1920s
1930s
Passenger Lists contained in the GG Archives collection represent the souvenir list provided to the passengers of each cabin class (and other classes). Many of these souvenir passenger lists have disappeared over the years. Our collection contains a sampling of what was originally produced and printed by the steamship lines.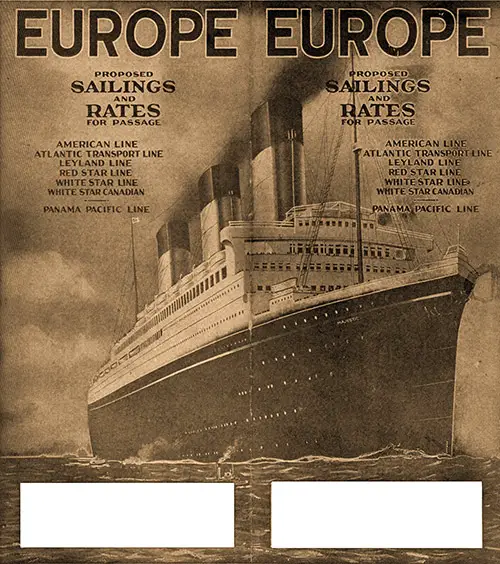 Majestic, Formerly the German Liner Bismarck, was the pride of the White Star and affiliated lines when the White Star Line printed this brochure a generation ago. White Star and the United States Lines fought for years over whether the Majestic or the American Leviathan was the largest ship in the world. Ocean Liners of the 20th Century, 1963. GGA Image ID # 1d4167c3d7
Related Categories
Ephemera & History
By Year of Voyage
By Port of Call
Ports of Call Information
Brochures
SS RMS MV - Defined