RMS Lusitania Passenger Lists 1908-1912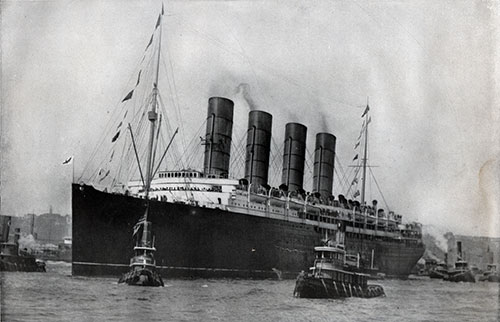 The Lusitania Leaving Her Pier at New York
This magnificent Cunard Liner was torpedoed by a German submarine, ten miles from Kinsale Head on the Irish coast on 7 May 1915. The shi sank in eighteen minutes. In this terrible wreck, 1,150 people, among whom were 114 Americans, lost their lives.
The wholesale slaughter of noncombatants without warning or opportunity for escape, in defiance of international law and the preedents of war between civilized nations, aroused the deepest indignation.
The sinking of the Lusitania was instrumental in bringing the United States into the European War that became World War I.
All Digitized Passenger Lists For the RMS Lusitania Available at the GG Archives. Listing Includes Date Voyage Began, Steamship Line, Vessel, Passenger Class and Route.
Passenger Lists contained in the GG Archives collection represent the souvenir list provided to the passengers of each cabin class (and other classes). Many of these souvenir passenger lists have disappeared over the years. Our collection contains a sampling of what was originally produced and printed by the steamship lines.