SS Noordam Passenger Lists 1912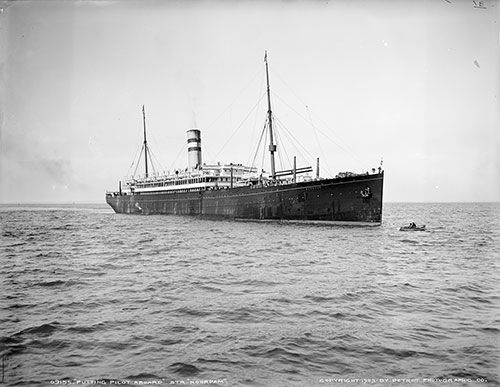 A pilot goes on board the SS Noordam of the Holland-America Line to Steer the Ship when close to Port.
Noordam (1902) Holland-America Line.
Built by Harland & Wolff, Ltd., Belfast, Ireland. Tonnage: 12,531. Dimensions: 550' x 62'. Twin-screw, 15 knots. Triple expansion engines. Two masts and one funnel. Passengers: 286 first, 192 second, 1,800 third. Renamed: (a) Kungsholm (1923), (b) Noordam (1925). Note: As the Kungsholm was on charter to the Swedish-American Line. Sister ships: Potsdam and Rijndam.
All Digitized Passenger Lists For the SS Noordam Available at the GG Archives. Listing Includes Date Voyage Began, Steamship Line, Vessel, Passenger Class and Route.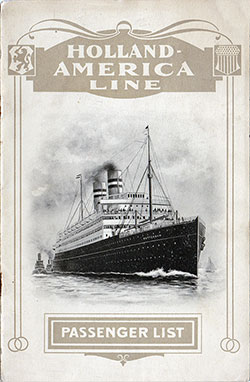 1912-06-18 TSS Noordam Passenger List
Steamship Line: Holland-America Line
Class of Passengers: First and Second Cabin
Date of Departure: 18 June 1912
Route: New York to Rotterdam via Boulogne-sur-Mer
Commander: Captain W. Krol, Lt., R.N.R
Passenger Lists contained in the GG Archives collection represent the souvenir list provided to the passengers of each cabin class (and other classes). Many of these souvenir passenger lists have disappeared over the years. Our collection contains a sampling of what was originally produced and printed by the steamship lines.
About the SS. Noordam of the Holland-American Line
This vessel, built by Messrs Harland & Wolff, Belfast, for the Netherlands-American Steam Navigation Co., has been taken for her trials. This is the fourth vessel built by Messrs Harland & Wolff for the same owners and is intended to trade in the Company's service between Rotterdam and New York.
The machinery has also been constructed in Messrs Harland & Wolff works and consists of two sets of triple-expansion engines embodying the latest improvements. The accommodation has been provided for many first- and second-class passengers. The ship also has the capacity for carrying very large cargo to deal with ample appliances of the most approved character on board.
Electric light is installed throughout, and refrigerating apparatus and chamber» fitted up for the conveyance of fruit, vegetables, etc., for the passengers. Special attention has been given to the decorative work, which, in its general features, closely resembles the sister-ship, the Ryndam, some details of quite a unique character being introduced in these two ships.
-- The Steamship, May 1909, p. 434