United States Submarines - Naval Submarine League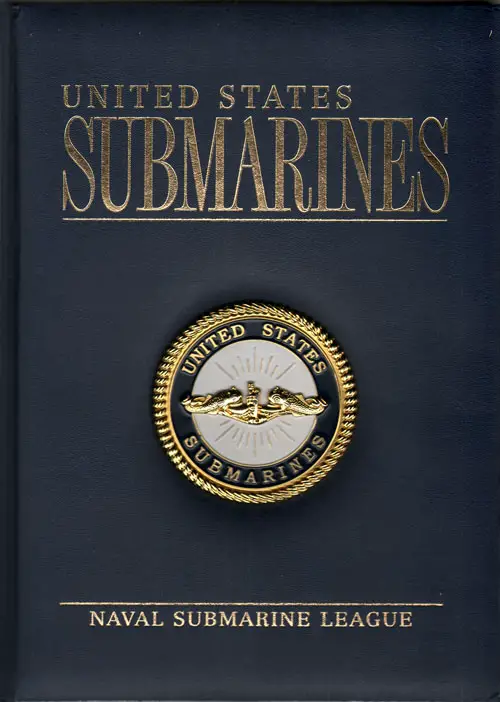 "United States Submarines" Naval Submarine League edited by David Randall Hinkle. This 352 page book celebrates the U.S. Navy's Submarine force by setting forth in prose and pictures the story of its development through the first 100 years.
The book is done in an elegant navy leatherette binding with gold leaf lettering and a raised gold center seal featuring 2 dolphins.
A Word to the Reader
This book exists to celebrate the U.S. Navy's Submarine Force, by setting forth in prose and pictures the story of its development through the first 100 years.
Although the selected time frame excludes some of the earlier key events in the history of U.S. submarines, we have made exceptions for Bushnell's Turtle and the Confederate submarine, Hunley.
This is because Turtle, designed and built for the Revolutionary War, recognized and addressed all the problems of using a submersible to attack an armed warship. Hunley took submarine development a step farther by actually sinking an enemy vessel.
Today's submarines are fully capable of supporting an aircraft carrier battle group or operating completely independently. Our By 1900 technology had caught up with this concept. John P. Holland—after several tries—produced Holland VI, the first viable submarine, which he sold to the U.S. Navy.
Navy's multimission Submarine Force operates around the clock and around the world. Armed with sophisticated torpedoes and long-range cruise missiles and equipped with complex sonar, navigation, and combat systems, attack submarines provide national commanders with a formidable asset to support United States strategy.
The nuclear attack submarine USS Jefferson City (SSN 759) is shown operating with elements of the USS Enterprise (CVN 65) Task Group during 1996 operations in the Persian Gulf.
Contents
A CENTURY OF SILENT SERVICE
Chronology
Captain Arne C. Johnson, USN (Ret)
THE EARLY YEARS
The First Skipper
Captain Harry H. Caldwell, USN (Ret)
The Legacy of Holland VI
Captain Harry H. Caldwell, USN (Ret)
The Early Days
Admiral William J. Crowe, Jr., USN (Ret)
Trouble Below : Submarine Sinkings, Rescues, and Salvage
James Christley, EMCS(SS) USN (Ret)
WWII
Submarine Operations in World War II
Rear Admiral Maurice H. Rindskopf, USN (Ret)
America's Victorious Submarines of World War II
Commander John D. Alden, USN (Ret)
Submarine Losses in World War II
Captain John M. Donlon, USN (Ret)
Uncommon Valor
Robert A. Hamilton, New London Day, Military Editor
THE COLD WAR
Post World War II : The Years of Innovation 152
Captain Raymond D. Woolrich, USN (Ret)
Rickover

Admiral James D. Watkins, USN (Ret)
Captain Edward L. Beach, USN (Ret)

A Cold War Retrospective
Vice Admiral Joe Williams, Jr., USN (Ret)
Cold War Submarine Confrontation
Captain James C. Hay, USN (Ret)
Submarines in Strategic Deterrence
Captain Richard T. Wright, USN (Ret)
Saturdays, Sundays, and Nights (SSNs)
Captain F T. Jones, USN (Ret)
Life On Board
Captain F. T. Jones, USN (Ret)
THE SUBMARINE FAMILY
Submariners and the Submarine Family
Lieutenant Commander Don C. LaForce, USN (Ret)
History of the Naval Submarine School
Captain Arnold 0. Lotring, USN
PROUD TRADITIONS
Insignia and Decorations
Wendy S. Gulley, Archivist, Submarine Force Museum
Submarine Museums and Memorials
Sarah C. Page
EXPLORATION AND THE FUTURE
Science and Exploration
Captain James C. Hay, USN (Ret)
The Future
Vice Admiral Bernard M. Kauderer, USN (Ret) Vice Admiral Roger F. Bacon, USN (Ret) Commander Daniel K. Bacon, USN (Ret)
Suggested Reading
Acknowledgements and Credits
Editors, Authors, and Contributors
Index
Naval Submarine League
The Naval Submarine League is a professional organization for submariners, the submarine industry, and proponents of submarines. The primary mission of the Naval Submarine League is to stimulate and promote awareness of the need for a strong U.S. Submarine Force.
The League strives to identify submarine issues affecting the common defense and national security of the United States. It also seeks to act as liaison and promote better communications among the military and academic and business communities. In addition, the Naval Submarine League provides a forum wherein views and perceptions can be focused and examined.
Finally, the League is dedicated to the support of the heritage, loyalty, patriotism, and memory of the many loyal submarine officers and men who have served and gone before us.
Naval Submarine League Sonalysts, Inc.
Post Office Box 1146 215 Parkway North
Annandale, Virginia 22003 Waterford, Connecticut 06385
© 2002 Sonalysts, Inc. All rights reserved.
Published with the cooperation and assistance of the Naval Submarine League.
This edition published by Barnes & Noble, Inc., by arrangement with Hugh Lauter Levin Associates, Inc. 2004 Barnes & Noble Books
M 10 9 8 7 6 5 4 3 2 1 ISBN 0-7607-6219-8 Printed in China
Sonalysts Representative: A. Lisa Mackie
Design: Lori S. Malkin
Project Editor: James 0. Muschett
Sonalysts Project Leader: Don C. LaForce
All photography and illustrations courtesy U.S. Navy unless otherwise credited.
David Randall Hinkle, Editor-in-Chief
Harry H. Caldwell, Editor
Arne C. Johnson, Editor
Library of Congress Catalog Listing
LC Control No.: 2003544525
Type of Material: Book (Print, Microform, Electronic, etc.)
Main Title: United States submarines / David Randall Hinkle, editor-in-chief; Harry H. Caldwell, editor, Arne C, Johnson, editor.
Published/Created: Annandale, Va. : Naval Submarine League, c2002.
Related Names:

Randall Hinkle, David.
Caldwell, Harry H. (Harry Harrison), 1920-
Johnson, Arne C.
Naval Submarine League (U.S.)

Description: 352 p. : ill. (some col.), col. maps, ports. (some col.); 38 cm.
ISBN: 0883631032
Contents:

A century of silent service: Chronology / Arne C. Johnson --
The early years: The first skipper / Harry H. Caldwell --
The legacy of Holland VI / Harry H. Caldwell --
The early days / William J. Crowe, Jr.--
Trouble below : submarine sinkings, rescues, and salvage / James Christley --
WWII: Submarine operations in World War II / Maurice H. Rindskopf --
America's victorious submarines of World War II / John D. Alden --
Submarine losses in World War II / John M. Donlon --
Uncommon valor / Robert A. Hamilton --
The Cold War: Post World War II : the years of innovation / Raymond D. Woolrich --
Rickover / James D. Watkins, Edward L. Beach --
A Cold War retrospective / Joe Williams --
Cold War submarine confrontation / James C. Haye --
Submarines in strategic deterrence / Richard T. Wright --
Saturdays, Sundays, and nights (SSNs) / F.T. Jones --
Life on board / F.T. Jones --
The submarine family: Submariners and the submarine family / Don C. LaForce --
History of the Naval Submarine School / Arnold O. Lotring --
Proud traditions: Insignia and decorations / Wendy S. Gulley --
Submarine museums and memorials / Sarah C. Page --
Exploration and the future: Science and exploration / James C. Hay --
The future / Bernard M. Kauderer, Roger F. Bacon, Daniel K. Bacon.

Notes:

Embossed badge of the United States Submarine Service on front board.

Includes bibliographical references (p. 346) and index.

Subjects:

United States. Navy. Submarine Service --History --20th century.
United States. Navy. Submarine Service --Military life.
Submarines (Ships) --United States --History --20th century.

LC Classification: V858 .U66 2002
Dewey Class No.: 359.930973 21
National Bibliography No.: GBA2-Y4745
Other System No.: (OCoLC)ocm49205331
Geographic Area Code: n-us---
Quality Code: lccopycat