Aircraft Carriers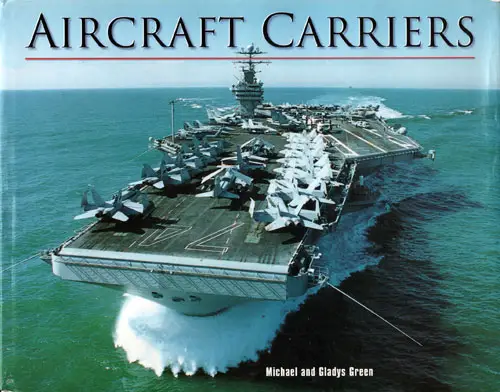 Aircraft Carriers by Michael and Gladys Green, MetroBooks ISBN 1567997228 Loaded with historical accounts and technical details and packed with more than 175 black-and-white and full-color photographs and illustrations. This remarkable book provides an insightful look at one of the most impressive manmade vessels in the world -- the Aircraft Carrier.
One of the best written, best-illustrated books available. It traces the development of the aircraft carrier from the British Royal Navy Furious to the 10th Nimitz Class Nuclear Carrier CVN-77. With numerous Illustrations, many full-page, this 11" X 14", the 144-page book combines detail with readability. It was published in 1999 by Michael and Gladys Green, 144 Pages.
CONTENTS
Introduction: QUEEN OF THE SEAS
Chapter One: THE EARLY YEARS OF CARRIER DEVELOPMENT
Chapter Two: CARRIER DEVELOPMENT DURING WORLD WAR II
Chapter Three: KEY CARRIER FEATURES
Chapter Four: POSTWAR CARRIER DEVELOPMENT
Chapter Five: U.S. NAVY SUPERCARRIERS
Conclusion: THE FUTURE OF U.S. NAVY SUPERCARRIERS
Appendix: U.S. Navy Fleet Carriers Past & Present
Suggested Reading
Resources
Index
MetroBooks
An Imprint of Friedman/Fairfax Publishers
©2000, 1999 by Michael Friedman Publishing Group, Inc.
Library of Congress Cataloging-in-Publication Data Available Upon Request.
ISBN 1-56799-722-8
Editors: Celeste Sollod and Hallie Einhorn
Art Director: Kevin Ullrich
Designer: Garrett Schuh
Photography Editor: Sarah Storey
Production Manager: Camille Lee
Color separations by Ocean Graphic International Company Ltd.
Printed in yellow-shirted C&C Offset Printing Co. Ltd.
For bulk purchases and special sales, please contact:
Friedman/Fairfax Publishers
Attention: Sales Department
15 West 26th Street
New York, NY 10010
212/685-6610 FAX 212/685-1307
Visit our website:
www.metrobooks.com
PAGE 1: The most comfortable chair on all U.S. Navy supercarriers is the captain's elevated "barber's" chair, located on the port side of the navigating bridge. From this prime location, the captain can observe activity on the flight deck and the movement of the ship. By longstanding tradition, carrier captains are former pilots.
PAGE 5: Deep within the hull of the U.S. Navy supercarrier Dwight D. Eisenhower CVN-69, red-shirted ordnance personnel prepare an unguided gravity bomb for delivery to the ship's flight deck by special bomb elevators.
PAGE 7: Flight deck personnel on the U.S. Navy supercarrier Enterprise CVN-65 prepare to launch a Grumman Aerospace F-14 Tomcat. The yellow-spirited personnel are taxi directors who have absolute authority over aircraft movements on the flight deck.
With more than 175 black-and-white and full-color photographs (including images of early prototypes as well as of today's supercarriers), insightful discussions of the challenges involved in building and controlling these vessels, vivid descriptions of the epic battles in which they took part, fascinating details about how they work, and personal accounts of the adventure of serving on these mammoth ships, Aircraft Carriers is an indispensable guide that brings the world of the aircraft carrier to life.
ABOUT THE AUTHORS
Michael and Gladys Green are freelance writers, researchers, and photographers who specialize in military, transportation, and law enforcement subjects, with more than 50 books to their credit. Their previous works include Hummer, Tiger Tanks, SWAT Teams, Patton's Tank Drive, MacArthur in the Pacific, Motorcycle Police, Bomb Squads, and Jaguar Sports Cars. In addition, Michael Green has written numerous articles for a variety of national and international military-related magazines. The authors live in the San Francisco Bay Area.
Front jacket photograph: ©Mile Dillard/US Navy and Newport News Shipbuilding
Back jacket photograph: Courtesy Royal Navy Jacket design: Garrett Schuh
MetroBooks
Printed in Hong Kong
From The Cover Flaps
0ut on the wide-open sea, hundreds of miles from the nearest land, a jet screams to life and swiftly takes to the air, leaving behind the protective embrace of a massive aircraft carrier. As much as seven stories high and home to up to seven squadrons of aircraft and their support crew, the aircraft carrier is one of the world's largest and most powerful vessels.
Until the introduction of atomic weapons at the end of World War II, no other weapons system had changed the methods of naval warfare more than the carrier (which dramatically increased the possible range of military operations).
Beginning with the infancy of these impressive vessels—the first one was introduced by the British Navy shortly before the end of World War I—Aircraft Carriers reveals their evolution into the fearsome ocean-crossing behemoths that they have become today.
For decades following World War II, the American and British navies were key players in the manufacture and deployment of carriers.
The phenomenal expense of construction and maintenance forced the British Navy to cut back its carrier program during the 1970s, leaving the United States as the sole possessor of a standing fleet of supercarriers. Just the same, other nations have floated at least a few of these awesome crafts because of their incredible tactical value.
Publisher Description
Even for non-military buffs, the power and massive lines of aircraft carriers inspire awe. Now readers can get a close-up look at these behemoths in this lavishly illustrated volume. It tells the story of the development of these immense vessels, describes their technological and military history, and profiles the carriers and the planes that fly from them that roam the oceans today. This is an invaluable reference with more than 150 black-and-white and color pictures, including images of early prototypes.
Library of Congress Catalog Listing
LC Control No.: 99013216
Type of Material: Book (Print, Microform, Electronic, etc.)
Personal Name: Green, Michael, 1952-
Main Title: Aircraft carriers / by Michael and Gladys Green.
Published/Created: New York, NY: MetroBooks, c1999.
Related Names: Green, Gladys, 1954-
Description: 144 p. : ill. (some col.); 29 x 37 cm.
ISBN: 1567997228
Notes: Includes bibliographical references (p. 139) and index.
Subjects: Aircraft carriers.
LC Classification: V874 .G74 1999
Dewey Class No.: 359.9/4835 21
Quality Code: pcc