Carriers: United States Naval Air Power in Action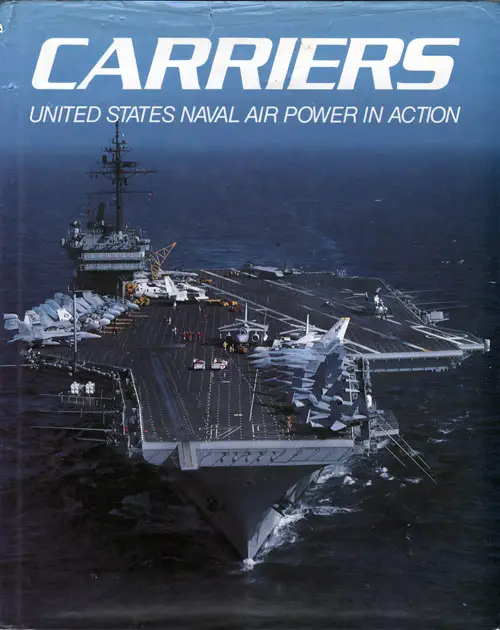 CARRIERS: UNITED STATES NAVAL AIR POWER IN ACTION
Tony Holmes & Jean-Pierre Montbazet
MILITARY PRESS
New York
Publisher's Note
Spotlights naval air defense, including life on the flight deck, profiles of specific aircraft, and a view of the carrier in port.
From the Inside Dust Jacket Flap
Carriers - Tony Holmes, Jean-Pierre Montbazet Over 260 color illustrations
Naval aviators are a rare breed. The delicate mixture of deft aircraft control and raw combat ability needed to produce the seaborne "jet jock" is a precious commodity nurtured by the U. S. Navy, and to watch these individuals at work is a truly extraordinary experience.
Strapped to a hurtling mass of metal that accelerates down a seemingly endless length of carrier deck at an ever-increasing speed takes nerves of steel. Conversely, still strapped to that same fiery mass of military might as it decelerates at an eye-watering rate, snagged upon the thin arrester wire, sends shivers up the spine of mere mortals!
Whether a razor-sharp fighter jock attached to a Tomcat squadron, or an Electronic Warfare Officer strapped into a Prowler, all are captured at work in this volume for the reader to share.
So climb aboard an A-7E Corsair on the U. S. S. Enterprise and prepare for a low-level strike mission against "enemy" forces invading Australia or accompany a crack VF-2 "Bounty Hunters" crew on a MIGCAP patrol of the South China Sea searching for Soviet Floggers.
The steam, the gut-wrenching acceleration, and the ear-piercing din of jet engines on full phase-five afterburner immerse you in the world of carrier aviation, possibly the most demanding military workplace on Earth.
CONTENTS
Introduction
FLIGHT DECK
F-14A TOMCAT: 'Anytime, baby.'
E-2C HAWKEYE: Aerial detective
A-7E CORSAIR: SLUF stuff
A-6 INTRUDER: Low-level high-tech
EA-6B PROWLER: Beam weapon
F/A-18A HORNET: All-round stinger
S-3A VIKING: Sub-smasher
KINGS & KNIGHTS: Rotor power
F-4 PHANTOM: Carrier classic
AV-8C HARRIER: Vertical venom 216
IN PORT
TITLE PAGES An evocative scene from the hangar deck of the USS John F. Kennedy as weak sunlight breaks through to brighten the white-capped ocean.
OPPOSITE The helmet of an electronic warfare officer from VAQ-134 `Garudas' pictured perched on the windmill propeller that energizes the jammer pod via a Garrett AiResearch ram-air turbine on board the EA-6B Prowler.
INTRODUCTION PAGES A radio intercept officer of VF-84 'Jolly Rogers' gives the 'thumbs-up' sign as his pilot prepares to launch their F-14 Tomcat from the USS Nimitz.
This 1990 edition published by Military Press, New York, and distributed by Crown Publishers, Inc., 225 Park Avenue South, New York, New York 10003. Printed and bound in Hong Kong ISBN 0-517-01219-7. Compiled, edited, and designed by Richard and Janette Widdows
[The material in this book previously appeared in the Osprey Aerospace publications Seventh Fleet Super Carriers (Tony Holmes), Super Carriers (Jean-Pierre Montbazet), and World Super Carriers (Tony Holmes & Jean-Pierre Montbazet)]
Library of Congress Catalog Listing
LC Control No.: 2009459346
Type of Material: Book (Print, Microform, Electronic, etc.)
Personal Name: Holmes, Tony.
Main Title: Carriers: United States naval air power in action / Tony Holmes & Jean-Pierre Montbazet.
Edition Information: 1990 ed.
Published/Created: New York: Military Press: Distributed by Crown, 1990.
Related Names: Montbazet, Jean-Pierre.
Description: 237 p.: chiefly col. ill.; 31 cm.
ISBN: 0517012197. 9780517012192
Notes: "The material in this book previously appeared in ... Seventh Fleet supercarriers (Tony Holmes), Supercarriers (Jean-Pierre Montbazet) and World supercarriers (Tony Holmes & Jean-Pierre Montbazet)"--T.p. verso.

Subjects: United States. Navy --Aviation --Pictorial works. Aircraft carriers --United States --Pictorial works. Airplanes, Military --United States --Pictorial works.
LC Classification: V874.3 .H548 1990
Other System No.: (OCoLC)ocm22857240
Geographic Area Code: n-us---
Quality Code: lccopycat