The Bluejackets' Manual, Fifteenth Edition, 1959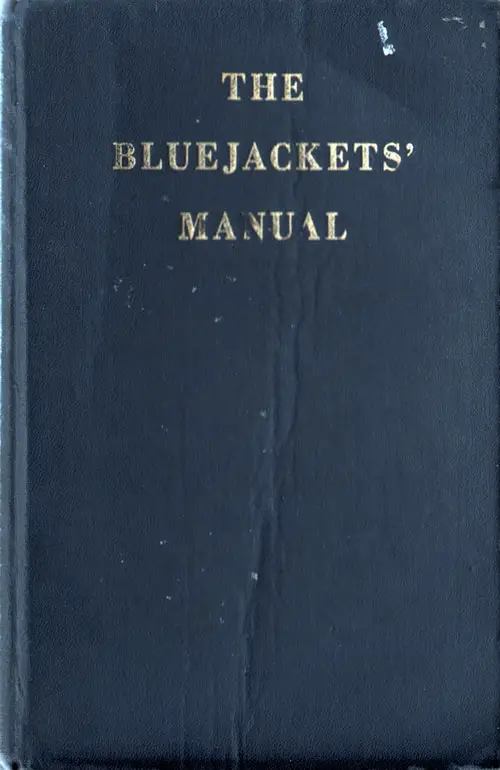 "The Bluejackets' Manual", Fifteenth Edition, published by The United States Naval Institute Annapolis, Maryland, 1959, navy blue hardcover, 647 pages.  Chapters include: Ships, Aircraft, and Firepower, Life at Sea, Drills and Defense, Seamanship and Communications, and much much more.  Great b/w photo's and illustrations.   Original owner was Mack Arthur Womble, Company 237, 21st Batt, Second Regimen, U.S.N.T.C. Great Lakes Ill.
CONTENTS
Preface
To All Navy Men
The United States Navy
Part 1 GENERAL
1. The Importance of the Navy
2. Naval Customs and Ceremony
3. How the Navy Is Organized
4. Leadership and Discipline
5. Uniforms, Insignia, Awards
6. Health and First Aid
7. Security of Information
8. Military Facts
Part 2 YOUR CAREER IN THE NAVY
9. Your Navy Career
10. Advancement and Assignments
11. Classification, Training, and Retirement
Part 3 SHIPS, AIRCRAFT, AND FIREPOWER
12. Facts About Ships
13. Here Are Your Navy's Ships
14. Aircraft of the Navy
15. Navy Firepower
Part 4 LIFE AT SEA
16. How Ships and Aircraft Squadrons Are Organized
17. Living Aboard Ship
18. Keeping the Ship Clean
Part 5 DRILLS AND DEFENSE
19. General Drills
20. Damage Control
21. Fire Fighting
22. ABC Defense
23. Safety First
Part 6 SEAMANSHIP AND COMMUNICATIONS
24. Marlinspike Seamanship
25. Boatmanship
26. Landing Craft Seamanship
27. Compasses, Courses, and Bearings
28. Rules of the Road
29. Survival
30. Communications
31. The Telephone Talker
Appendix
A. A Brief History of the Navy
B. Ditties of Ratings
C. Naval Words and Phrases
D. Answer to Quizzes
E. Navy Pay
F. The Declaration of Independence
G. The Constitution of the United States of America
Index
COPYRIGHT 1938, 1939, 1940, 1943, 1944, 1946, 1950, 1957
REVISED 1959
BY
THE UNITED STATES NAVAL INSTITUTE
ANNAPOLIS, MARYLAND
Library of Congress Catalogue Card No. 3-1595
Price $1.95
7-50-59
Preface
THE BLUEJACKETS' MANUAL was originally written in 1902 by Lieutenant (later Rear Admiral) Ridley McLean, USN, for the United States Naval Institute. It has served the Navy for nearly sixty years as a source of practical information for the enlisted man.
Its various editions have traced the progress of the U. S. Navy from its first battleships to the latest super-aircraft carriers and guided missile ships firing atomic weapons; from the earliest submarine to the atomic-powered Nautilus and Sea Wolf; from primitive torpedo boats to the giant-sized frigate; from black powder to rockets and automatic weapons.
This manual mainly serves two types of Navyman.
First is the recruit—new to the Navy, he has here a handbook of basic knowledge about his new profession. Backing-up his on-duty instruction, his off-duty study of the BLUEJACKETS' MANUAL will help make him a well-informed, confident, and productive bluejacket.
Second is the long-service Navyman—the man who is advancing into the area where he must use his "military and general-Navy" knowledge more than ever before. Whether he be a PO3rd or CPO, he will find between the covers of this manual the most complete and up-to-date collection of such key information.
No finer tribute can be paid to THE BLUEJACKETS' MANUAL, after more than half a century of use as an essential text in the Navy's education and training system, than the name which it has acquired from three generations of men who have used it—"The Bluejackets' Bible."

HAROLD P. SMITH Vice Admiral, U. S. Navy Chief of Naval Personnel
THE UNITED STATES NAVY
THE
BLUEJACKETS'
MANUAL
FIFTEENTH EDITION
Revised by
Captain John V. Noel, Jr., U. S. Navy
Assisted by
Lieutenant Donald A. Franz, U. S. Navy
Chief Journalist William J. Miller, U. S. Navy
Published by
THE UNITED STATES NAVAL INSTITUTE
ANNAPOLIS, MARYLAND
Library of Congress Listing
LC Control No.: 03001595
Type of Material: Serial (Periodical, Newspaper, etc.)
Main Title: The Bluejackets' manual / United States Navy.
Published/Created: Annapolis, Md. : United States Naval Institute,
Related Names:

United States Naval Institute.
United States. Navy.

Description:

v. : ill.; 15-22 cm.
Fifth ed. (1917) called also: Rev. Nov. 1916, and: Authorized ed.
Began with 1st ed. (1902).

Current Frequency: Irregular
Cancelled/Invalid LCCN: sn 91028220
Notes: At head of title, 1946- : U.S. Navy.
Description based on: 5th ed. (1917).
Imprint varies:

1917, New York, Military Pub. Co. --
1918, New York, E. N. Appleton. --
1922-1927, Washington, U.S. Govt. Print. Off. (varies slightly).
Some issues in rev. editions.
SERBIB/SERLOC merged record

Subjects: United States. Navy --Sailors' handbooks.
LC Classification: V113 .B55
Dewey Class No.: 359
Other System No.: (OCoLC)ocm03045881
Geographic Area Code: n-us---