The Navy: Naval Historical Foundation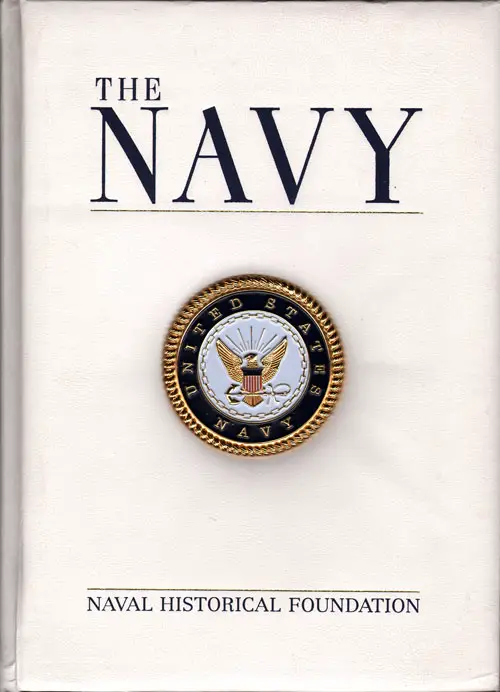 Large format white coffee table book from The Naval Historical Foundation. It has padded covers with the Navy Emblem on the front. Published in 2004 this book covers naval topics about the years 1775 through to 1991 as well as the fleet of today and the heritage of the Navy.
It provides an excellent outline, complete with stunning pictures, many in full color, including supporting stories and details.
Publisher's Note
To mark the 225th anniversary of the U.S. Navy, this oversized naval history features hundreds of full-color and black-and-white photographs and illustrations that document the ships and weaponry, campaigns, accomplishments, and people that have played a key role in the evolution of the U.S. Navy.
Table of contents for The Navy
Preface
Rear Admiral W. J. Holland, Jr., USN (Ret)
The Prerogative of Sea Powers
Rear Admiral Alfred Thayer Mahan, USN
1775-1865
We Have Met the Enemy and They Are Ours
1775 -1815 William M. Fowler, Jr.
Whose Flag Has Displayed in Distant Climes
1816-1860 Michael J. Crawford
Damn the Torpedoes! Full Speed Ahead!
The Civil War by Craig L. Symonds

1865-1941
You May Fire When Ready, Gridley
1865-1922 James C. Bradford
A Navy Second to None
1922-1941 Thomas C. Hone
1941-1945
Winning a Two-Ocean War
1941-1945 Paul Stillwell
1945-1991
Cold War to Violent Peace
1945-1991 Edward J. Marolda
THE FLEET TODAY
Today's Fleet-Forward from the Sea
Vice Admiral Robert F Dunn, USN (Ret)
President, Naval Historical Foundation
Surface Action Starboard!
Captain Bruce R. Linder, USN (Ret)
Two Block Foxtrot!-U.S. Carrier Aviation
Captain Rosario Rausa, USNR (Ret)
Dive! Dive! Submarines in the New World Order
Captain James H. Patton, USN (Ret)
Land the Landing Force! Amphibious Assault at the Turn of the Millennium
Captain George Galdorisi, USN (Ret)
Mare Nostrum: Ocean Surveillance, Maritime Patrol, and Intelligence
Captain Andrew C. A. Jampoler, USN (Ret)
Weapons That Wait: Mine Warfare in the 21st Century
Rear Admiral Charles F. Home III, USN (Ret)
Stealth from the Sea
Rear Admiral George R. Worthington, USN (Ret)
The Supporting Cast
Doctors . . Lawyers ... and Storekeeper Chiefs
Captain John Edward Jackson, Supply Corps, USN (Ret)
THE HERITAGE
Partakers of the Glory-Customs and Traditions
Vice Admiral William P. Mack, USN (Ret)
Lest We Forget-Museums and Memorials
Rear Admiral Henry C. McKinney, USN (Ret)
Acknowledgments and Index
Acknowledgments
Suggested Reading
Authors and Editors
Index
AKA : The Big White US Navy Book
Library of Congress Catalog Listing
LC Control No.: 2002727263
Type of Material: Book (Print, Microform, Electronic, etc.)
Main Title: The Navy / W. J. Holland, Jr., editor-in-chief.
Published/Created: Washington, D.C. : Naval Historical Foundation; [S.l.] : Hugh Lauter Levin Associates, c2000.
Related Names:

Holland, W. J.
Naval Historical Foundation.

Description: 352 p. : ill. (some col.); 38 cm.
ISBN: 0883631008
Notes: Includes bibliographical references (p. 345-346) and index.
Subjects:

United States. Navy --History.
United States --History, Naval.

LC Classification: VA55 .N249 2000
Dewey Class No.: 359/.00973 21
Other System No.: (OCoLC)ocm45158244
Geographic Area Code: n-us---
Quality Code: pcc