Book of Submarines by the Navy Times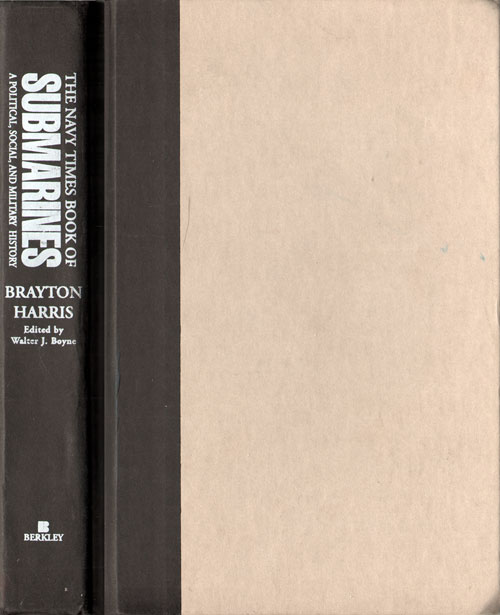 Synopsis
This sourcebook provides a thorough overview of the technical development of the submarine, its military uses, and the politics that sometime interfered with both. Prepared in cooperation with Navy Times, this is an authoritative illustrated history.
Size
Length: 398 pages
Height: 9.5 in.
Width: 6.5 in.
Thickness: 1.5 in.
Weight: 26.4 oz.
SBN: 0425157776
Publisher's Note
Here is an engaging, informative, and sometimes startling history of the men and the machines that dared to go beneath the surface of the water to enter combat.
In his careful reconstruction of events, Brayton Harris combines his extraordinary sense of humor with intensive research, to present a compelling history of the submarine, from conception, to gestation, to birth during World War I, to the genesis of the mighty nuclear submarine.
In his excursion through the political, social, and military history of the submarine, Harris refutes many popular myths that grew out of "eyewitness" accounts and "copies of copies"-and sets the record straight with wit and insight.
A fascinating exploration of the steps and stumbles during development, a rousing tribute to the heroes who fought and died, and a powerful study of the submarine's impact on America.
The Navy Times Book of Submarines is an unparalleled source for understanding the great equalizer, the beguiling boat, that decided the outcome of World War I-and changed the face of warfare forever.
Library of Congress Catalog Listing
LC Control No.: 97038078
Type of Material: Book (Print, Microform, Electronic, etc.)
Personal Name: Harris, Brayton, 1932-
Main Title: The Navy times book of submarines : a political, social, and military history / Brayton Harris; edited by Walter J. Boyne.
Portion of Title: Submarines
Edition Information: 1st ed.
Published/Created: New York : Berkley Books, 1997.
Related Names: Boyne, Walter J., 1929-
Description: xvii, 398 p. : ill.; 24 cm.
ISBN: 0425157776
Notes: Includes bibliographical references and index.
Subjects: Submarines (Ships)
LC Classification: V857 .H37 1997
Dewey Class No.: 359.9/3 21