Bluejackets' Manual, Fourteenth Edition, United States Navy 1950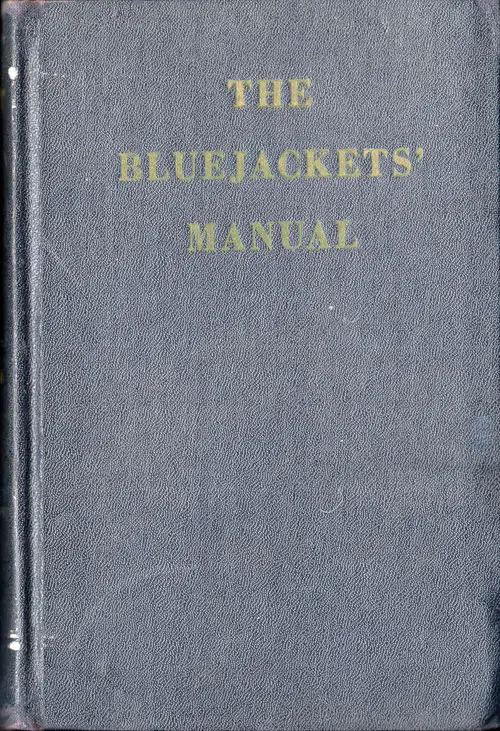 THE BLUEJACKETS' MANUAL
FOURTEENTH EDITION
Published by
THE UNITED STATES NAVAL INSTITUTE
ANNAPOLIS, MARYLAND
CONTENTS
Foreword
Preface vii
National Anthem xii
Part I THE NAVAL SERVICE
I. Entering the Naval Service
2. Naval Customs and Courtesy
3. Naval Discipline
4. Organization of the Navy
5. Uniforms and Insignia
6. Pay Grades and Duties of Ratings
7. Pay Accounts, Allotments, and Insurance
8. Enlistments, Duty Tours, and Discharges
9. Uniform Regulations and Care of Clothing
10. Awards and Decorations
11. Inspections and Care of Government Property
12. Recreation, Educational, and Special Services
13. Personal Hygiene and First Aid
14. Swimming and Lifesaving
15. Security of Information
16. Your Career in the Navy
Part 2 MILITARY DRILL
17. Military Fundamentals
18. Manual of Arms
19. Close Order Drill
20. Physical Drill With and Without Arms
21. Marches, Security, and Sanitation in the Field
22. Basic Combat Techniques
23. Small Arms
Part 3 SHIPS AND AIRCRAFT
24. Construction and Equipment of Ships
25. Types of Navy Ships
26. Aircraft of the Navy
Part 4 SHIP ORGANIZATION AND DUTIES AFLOAT
27. Ship Organization
28. Routines and Formations Aboard Ship
29. Watches and Lookouts
30. Cleaning, Maintenance, and Painting
Part 5 EMERGENCY DRILLS AND BATTLE STATIONS
31. General Drills
32. Damage Control
33. Fire Fighting
34. Chemical Warfare
35. General Safety Precautions
Part 6 BOAT AND DECK SEAMANSHIP
36. Marlinspike Seamanship
37. Boat Seamanship—Part I
38. Boat Seamanship—Part 2
39. Compasses and Bearings
40. Rules of the Road
41. Survival Afloat and on Land
Part 7 COMMUNICATIONS AND SIGNALING
42. Radio and Visual Communications
43. The Telephone Talker
Appendix
A. Navigation Without Instruments
B. Military Requirements for All Enlisted Personnel
C. Standards for Marking Personnel
D. Glossary
E. Answers to Quizzes
F. List of Useful Publications
Index
COPYRIGHT 1938, 1939, 1940, 1943, 1944, 1946, 1950
BY
THE UNITED STATES NAVAL INSTITUTE
ANNAPOLIS, MARYLAND
B-15-50-52
FOREWORD
THE BLUEJACKETS' MANUAL is now 48 years old, and it is probable that this Fourteenth Edition will see it to its first half-century of use. Originally written in 1902 by Lieutenant Ridley McLean, USN, for the United States Naval Institute, THE BLUEJACKETS' MANUAL has ever since been a source of practical information for the seaman. In recent years the necessary revisions have been prepared under the direct supervision of the Bureau of Naval Personnel. To accord with the needs of the Navy the book now serves more as a training manual for the recruit and less as a general reference book for the qualified seaman.
This edition covers the naval subjects presently required of the recruit and the non-rated man and, where possible, shows the avenues for further study. A broad understanding of naval traditions and customs and an ever-increasing knowledge of the different phases of life at sea will not only enrich a man's own naval experience but will make him more valuable to his ship, to the Navy, and to his country.
HON. FRANCIS P. MATTHEWS, Secretary of the Navy
PREFACE
As far as possible this edition of THE BLUEJACKETS' MANUAL follows the form and content of the 1944 and 1946 editions. Every effort has been made to bring it up to date both in substance and approach. Some subjects have been omitted because they receive snore detailed treatment in other texts or training courses. Certa in topics have been added or expanded in order to bring the book more in line with the general training program of the Bin eau of Naval Personnel.
Accordingly, THE BLUEJACKETS' MANUAL, Fourteenth Edition, has three fundamental purposes:
First: To cover as far as possible in one volume the subjects listed in the "Military Requirements for All Men (Non-rated) in the Navy," which listing appears in the Manual of Qualifications for Advancement in Rating (NavPers 18068).
Second: To serve as a general text for recruits at Naval Training Centers.
Third: To provide a reference source of military and naval subjects for the enlisted man ashore and afloat.
Several guides to present and future study have been added, among which are the following:

a. Self-examination review questions are placed at the end of each chapter. The reader should try to answer these questions without referring to the text.
b. "Military Requirements for All Enlisted Personnel in the Navy" have been listed in their entirety in the Appendix. These will tell the recruit not only what he needs to know now but also what he must prepare to learn in the future.
c. A bibliography of general references is included to stimulate the seaman's continuing study of naval subjects.
J. W. ROPER, VICE ADMIRAL, USN,
Chief of Naval Personnel
THE UNITED STATES NAVY
Library of Congress Listing
LC Control No.: 03001595
Type of Material: Serial (Periodical, Newspaper, etc.)
Main Title: The Bluejackets' manual / United States Navy.
Published/Created: Annapolis, Md. : United States Naval Institute,
Related Names:

United States Naval Institute.
United States. Navy.

Description:

v. : ill.; 15-22 cm.
Fifth ed. (1917) called also: Rev. Nov. 1916, and: Authorized ed.
Began with 1st ed. (1902).

Current Frequency: Irregular
Cancelled/Invalid LCCN: sn 91028220
Notes: At head of title, 1946- : U.S. Navy.
Description based on: 5th ed. (1917).
Imprint varies:

1917, New York, Military Pub. Co. --
1918, New York, E. N. Appleton. --
1922-1927, Washington, U.S. Govt. Print. Off. (varies slightly).
Some issues in rev. editions.
SERBIB/SERLOC merged record

Subjects: United States. Navy --Sailors' handbooks.
LC Classification: V113 .B55
Dewey Class No.: 359
Other System No.: (OCoLC)ocm03045881
Geographic Area Code: n-us---
Quality Code: lcd premarc