Naval Review Annual 1966: United States Naval Institute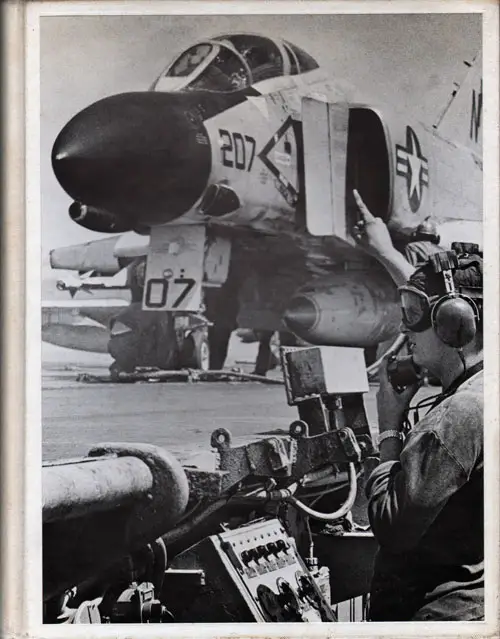 NAVAL REVIEW
FRANK UHLIG, JR., EDITOR • UNITED STATES NAVAL INSTITUTE • ANNAPOLIS, MARYLAND • 1965
The Naval Institute trusts it is plain to the reader that the authors of Naval Review 1966, in preparing their critical examinations of one aspect or another of the Navy and the world environment in which it must operate, have not been required either to approve or disapprove present doctrine, present action, or present trends in the fields they discuss. Each was charged with expressing his views on his subject, whatever those views might be. - Frank Uhlig, Jr., Editor
CONTENTS
Part 1: ESSAYS
The Case for Inshore Warfare
W. F. Searle, Jr.
COMMANDER, U. S. NAVY
"It follows, then, that if the Navy is to uphold its role in complementing our foreign policy, it must possess a significant inshore warfare capability. Experience in the past ten years, and most recently in South Vietnam, has proved that we do not have that capability."
A Marine's View of the Amphibious Assault Forces
J. B. Soper
LIEUTENANT COLONEL, U. S. MARINE CORPS
"The key is the enemy's ability to reinforce his engaged elements. Essentially, an assault operation becomes a race between the attacker's ability to project his force ashore and the enemy's ability to reinforce his defenses or to counterattack."
Submarine Against Submarine
Frank A. Andrews
CAPTAIN, U. S. NAVY (RETIRED)
"During a broad sea war, the submarine force can best conduct anti-submarine warfare immediately outside the enemy's harbors because his submarines must operate in those areas."
Patrol Planes to the "Orion" and Beyond
M. J. Stack
CAPTAIN, U. S. NAVY
"The 'Orion' can move on short notice to any part of the globe. Its ability to take off and land on very short airfields enables it to operate in remote corners of the world. Fields in such places may not always have jet fuel, but the 'Orion' can use any aircraft fuel."
Do We Still Need the Sixth Fleet?
J. E. Greenbacker
CAPTAIN, U. S. NAVY
"If the arguments just advanced are correct, U. S. naval power in the Mediterranean should consist of a force continuously on station and of sufficient strength to ensure naval predominance. As indicated above, this fleet should be centered upon an amphibious assault force ..."
The Maritime Strategy of Great Britain
Sir Peter Gretton
VICE ADMIRAL, ROYAL NAVY (RETIRED)
"But I believe that NATO has been living in a dream world, insulated from reality by the chain of international committees in which it is enmeshed and by powerful interests that oppose any change in strategic concepts."
Naval Communications Today
Bernard F. Roeder
VICE ADMIRAL, U. S. NAVY
"Contrary to certain press accounts, message communications to and from those distant places were good. The task group commander on the carrier was connected right into Washington with a secure circuit; intermediate commanders afloat and in Hawaii were also plugged in; communication delays were only on the order of minutes."
Foreign Policy and Sea Power
George F. Muller
FOREIGN SERVICE OFFICER
"If naval forces are to be increasingly used as instruments of our diplomacy, we cannot remain addicted to established modes of operation, and those charged with responsibility for the foreign policy must have a strong voice in decisions regarding the area and timing of their deployment."
Arms Control and the Navy
Robert D. McWethy
CAPTAIN, U. S. NAVY
"When does a ship become an armament for negotiating purposes? Does the underway-fueling rig on a Navy oiler make that ship a combatant? What should be the status of an electronic-intelligence-collecting craft masquerading as a trawler?"
A Coast Guard Officer's Career
Frederick J. Hancox
CAPTAIN, U. S. COAST GUARD
"Under the new concept, surface-operations specialists may anticipate ten years of sea duty in five assignments during their time in grade as lieutenant through commander—roughly 20 years."
The Influence of Military Judgment on Defense Decisions
Henry A. Renken
REAR ADMIRAL, U. S. NAVY and
Walter J. Stencil
CAPTAIN, U. S. NAVY
"The problem is, how does one determine an efficient mix of forces? The validity of the comparisons is the crux of the matter."
PART 2: Advertisements
PART B: APPENDIXES
Naval and Maritime Chronology: 1 July 1964-30 June 1965
George R. Kolbenschlag
LIEUTENANT, U. S. NAVY
"20 May 1965: Seventh Fleet destroyers began gunfire shore bombardment for the first time since the Korean War. The actions were revealed on 26 May when the muzzle of a gun on board the USS Somers (DD-947) burst and killed a gun crew member."
Sea Power, July 1964-June 1965, A Commentary
John D. Hayes
REAR ADMIRAL, U. S. NAVY (RETIRED)
"The creation of a permanent American base at Camranh Bay means the re-establishment of U. S. power on the mainland of Asia and the final abandonment of the Acheson line of defense through Japan, Okinawa, and the Philippines."
Blue- Water American Merchant Ships, 1947-1965
John A. Culver
COMMANDER, U. S. NAVAL RESERVE
"These peaks and valleys should be leveled, and one way to do that would be to have an arrangement between the Navy and the merchant marine whereby a new ship would spend five years in the merchant service and then be traded in or sold to the Navy for conversion to an auxiliary."
U. S. Defense Program 1966-1970
The Secretary of Defense
"Although there are still important uncertainties, we now find ourselves, for reasons I will discuss later, to be generally in better shape than we previously thought concerning anti-submarine warfare. Further improvements, however, are needed in the fleet's air defense and mine-clearing capabilities."
Copyright 1965 by United States Naval Institute, Annapolis, Maryland
Library of Congress Catalog Card Number 62-21028
Designed by Walter Paiko
Printed in Menasha, Wisconsin, USA, by the George Banta Company
The United States Naval Institute is a private organization founded in 1873 "for the advancement of professional, literary, and scientific knowledge in the Navy,"
BOARD OF CONTROL
president
Admiral David L. McDonald, u. S. Navy
vice president
Rear Admiral Draper L. Kauffman, U. S. Navy
secretary-treasurer
Commander Roland T. E. Bowler, Jr., U. S. Navy (Retired)
directors
Lieutenant General H. W. Buse, Jr., U. S. Marine Corps Rear Admiral Allen M. Shinn, u. S. Navy
Rear Admiral William P. Mack, U. S. Navy
Captain Edward L. Beach, U. S. Navy
Captain Sheldon H. Kinney, U. S. Navy
Captain Joseph J. McClelland, U. S. Coast Guard
STAFF
EXECUTIVE EDITOR
Commander Roland T. E. Bowler, Jr., U. S. Navy (Retired)
STAFF (continued)
EDITORIAL DIRECTOR Roger C. Taylor
NAVAL REVIEW
editor
Frank Uhlig, Jr.
editorial assistant
Mary Veronica Amoss ART DEPARTMENT
director
David Q. Scott
assistant
Walter Paiko
ADVERTISING REPRESENTATIVE
Thomas 0. Woolf & Son, Inc.
225 Park Avenue
New York, N.Y. 10017

Books In Review
Discussions of U.S. Naval Problems
NAVAL REVIEW, 1966. Edited by Frank Uhlig, Jr. U.S. Naval Institute, Annapolis, Md. $12.50.
INEVITABLY submarine warfare, now occupying the most significant part of United States Navy thinking and preparation, is extensively dealt with in the Naval Institute's current "Naval Review," which annually presents bold and provocative arguments from expert writers in our own and foreign services. The far-reaching role of the United States ' sub, as a political as well as a naval instrument, is vigorously presented, both by several of the contributing essayists and by Frank Uhlig, Jr., again the editor of this lively professional annual.
"The power that can sink our Polaris submarines on station, that can torpedo our amphibious assault forces and cargo-carrying freighters as they emerge from their harbors, and that can force your carriers to remain alongside their piers," he writes in his preface, "will have won all its political points, and will have done so without obliterating the world in the process."
—0—
He notes, accordingly, the importance of blockading the enemy submarines in their harbors, rather than letting them cross the high seas, and describes our underseas craft as the only means (other than nuclear weapons) of achieving that blockade.
In this, he judges our subs to be the proper successor to the British fleet of the Eighteenth Century which, by keeping the French and Spanish fleets bottled up harmlessly or by destroying them in high seas battle, permitted the spread of Britain's world power and the success of its army and its allies ashore.
Should enemy subs still reach the open sea, he notes, there remain to the United States other anti-submarine instruments in the destroyer, the helicopter, and the fixed-wing airplane. Their multiple threats applied simultaneously would severely test the enemy sub's powers of resistance to all.
The eleven contributors (from United States Navy, Marine Corps, and Coast Guard, and the Royal Navy) deal variously with the underseas problem, amphibious operations, communications, inshore fighting, seapower's role in foreign policymaking, and, impressively, the influence of military judgment on defense decisions, an exceptionally touchy point in Pentagon atmosphere in recent years.
A thoughtful discussion by Rear Admiral Henry A. Steichen and Capt. Walter H. Stencil, giving professional experience its proper role, remarks that it is a rounded and balanced experience which counts. For the experienced officers to be listened to, "they should be open-minded but not unquestioning.
The naval officer must shed parochial approaches, and the analyst must shed his prejudgments... The naval officer must continually seek to answer the central question: How can seapower better answer the nation's interests? The civilian analyst should ask himself the same question. It has to be asked time and again. Experience in relating a means to an end is needed."
—0—
A significant suggestion, contrasting strongly with official assurances about our restricted aims in Vietnam, comes from Rear Adm. John D. Hayes, USN (Ret.), namely, that the new base at Cain Ranh Bay could not only mark the end of the old "Acheson Line," off the Asian shore but could put the United States naval power in supporting reach of the Malacca Straits, thus taking over a part of Singapore's historic role.
It must be observed that some such suspicion about our future, if not our present, aims in Vietnam has been suggested by critics of United States policy.
MARK S. WATSON.
from THE EVENING SUN, BALTIMORE, MARYLAND of 18 February 1966
U. S. Naval Institute: A Naval Forum
Ninety-two years ago, our Navy found itself in a period of routine and almost anachronistic duties, with the naval world passing it by and with little hope of improvement. In that time of comparative leisure, a group of 17 officers and professors at the U. S. Naval Academy stirred themselves to find what could be done for the rejuvenation of the Service.
Our Navy should have a professional forum generally recognized by these officers; they founded the United States Naval Institute on 9 October 1873.
The Naval Institute's constitution provided for a meeting of members on the second Thursday of each month "for the discussion of professional and scientific subjects." It directed that whenever the papers read and the record of "discussion growing out of them, shall accumulate in quantities sufficient . . . they shall be prepared for issue in pamphlet form." Those pamphlets became the United States Naval Institute Proceedings.
The Proceedings became a quarterly in 1879, a bimonthly in 1914, and a monthly in 1917. Today, more than 65,000 copies of the Proceedings are mailed each month to U. S. Naval Institute members and subscribers worldwide. First and foremost, the Proceedings seeks to present a wide divergence of authoritative views on the U. S. Navy of the future, the present, the past, and its maritime, national, and international environment.
Each issue offers a broad selection of writings by American and foreign naval officers, officers of the other U. S. armed forces, and civilians both in and out of government.
In addition to the Proceedings, the Naval Institute has been publishing books since 1898; it has more than 100 titles on its list of publications.

The list includes a wide variety of professional texts, naval and maritime histories and biographies, operational histories of naval actions in World War II, and the annual Naval Review. This volume is the fourth.
A board of control, consisting of active officers elected annually by the membership, directs the affairs of the Naval Institute.
The Naval Institute is a private, autonomous, nonprofit association having no official connection with either the Naval Academy or the Department of the Navy.
Established primarily to serve the U. S. naval officer, the Naval Institute offers membership to those who support its objective: ". . the advancement of professional, literary, and scientific knowledge in the Navy."
For complete information on becoming a member, write the Secretary-Treasurer, U. S. Naval Institute, Annapolis, Maryland 21402.
Library of Congress Catalog Listing
LC Control No.: 62021028
Type of Material: Serial (Periodical, Newspaper, etc.)
Uniform Title: Naval review (Annapolis, Md.)
Main Title: Naval review.
Serial Key Title: Naval review (Annapolis)
Abbreviated Title: Nav. rev. (Annapolis)
Published/Created: Annapolis, Md.: United States Naval Institute, 1962-
Related Names: United States Naval Institute.
Description: 8 v. : ill., ports.; 29 cm. 1962-1963- Ceased in 1969. Absorbed by: Proceedings of the United States Naval Institute (OCoLC)2496995 (DLC) 64054905 0041-798X
ISSN: 0077-6238
Linking ISSN: 0077-6238
Notes: SERBIB/SERLOC merged record. Later vols. published as the May issue of Proceedings of the United States Naval Institute, ISSN 0041-798X.
Subjects: Naval art and science --Periodicals.
LC Classification: V10 .N615
Dewey Class No.: 359.058
National Bibliographic Agency No.: 100969422 DNLM
Other System No.: (OCoLC)ocm01771669
Quality Code: pcc nsdp