USS Midway (CV-41)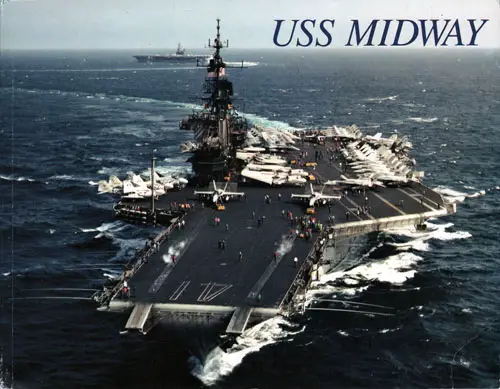 USS Midway (CV-41) by I. B. Clayton. CVB-41 was the third U.S. Navy ship and second aircraft carrier to bear the name of Midway. Commissioned on 10 September 1945 and operational until 11 April 1992. ASIN: B000JPKHX6 Softcover 154 Pages © 2005
PREFACE
The aircraft carrier Midway was named for the historic carrier battle fought off Midway Atoll from 4-6 June 1942. In this battle a numerically inferior U. S. carrier force destroyed four Japanese carriers and altered the course of World War II in the Pacific theatre.
The threat to Hawaii and the West Coast was eliminated and Japan was forced into defensive operations for the remainder of the war. CVB-41 was the third U. S. Navy ship and the second aircraft carrier to bear the name of Midway. The first Midway, a fleet auxiliary, was renamed Tanay in April 1943.
The second ship bearing the name was a Casablanca-class escort carrier, CVE-63, whose name was changed to Saint Lo in September 1944. Saint Lo was subsequently lost in action when she was hit by two kamikazes and bombs at the Battle of Leyte Gulf on 25 October 1944.
TABLE OF CONTENTS
I - DESIGN AND CONSTRUCTION
II - ATLANTIC FLEET OPERATIONS - STRAIGHT DECK
Shakedown and Early Operations 1945 - 1949
Mediterranean Operations 1950
Air Group Six and the Sixth Fleet 1951 - 1954
World Cruise and the Pacific Fleet 1955
III - RECONSTRUCTION AT PUGET SOUND 1955 - 1957
IV - PACIFIC FLEET OPERATIONS - ANGLE DECK
Air Group Two and the Seventh Fleet 1958 - 1964
Vietnam Combat Operations 1965
V - MODERNIZATION AT HUNTERS POINT 1966 - 1970
VI - THE NEW MIDWAY AND CARRIER AIR WING FIVE
Vietnam Combat Operations 1971
Vietnam Combat Operations 1972
Japan - Overseas Family Residence Program 1973
Operation Frequent Wind 1975
Indian Ocean Operations 1975 - 1982
Northern Pacific Operations 1982 - 1983
Return to the Indian Ocean 1984 - 1985
VII - F/A-18 CONVERSION AND HULL STRENGTHENING
VIII - A MODERN MIDWAY AND A NEW AIR WING FIVE
Hornets and Double Intruders 1987 - 1990
Operation Desert Storm 1991
Final Operations
COMMANDING OFFICERS
CARRIER AIR GROUP COMMANDERS
TECHNICAL SPECIFICATIONS
DEPLOYMENT MATRIX