The Bluejackets' Manual, Tenth Edition 1940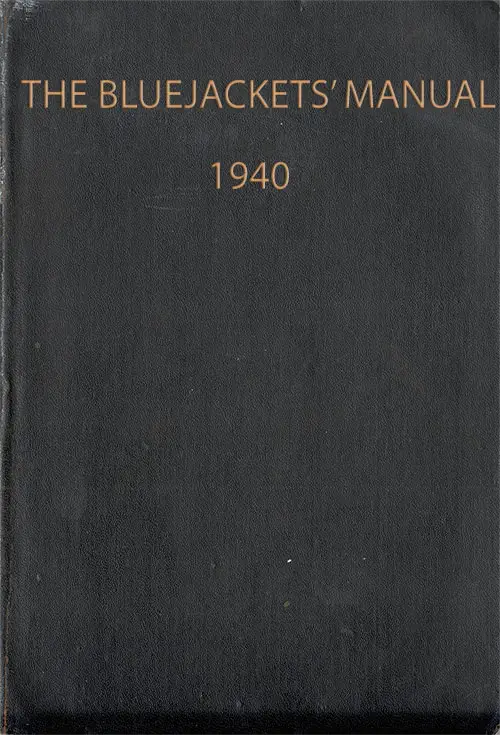 The Bluejackets' Manual
United States Navy
1940
Tenth Edition
United States Naval Institute
Annapolis, Maryland
1940
Copyright 1938, 1939, 1940 by U.S. Naval Institute, Annapolis, Maryland.
456-549-3942
The Bluejackets Manual of 1940 gave all recruits the information necessary to integrate themselves into the Navy and be successful. You'll find that everything a recruit needs to know, such as The History The Rules and Regulations Uniforms and Insignias Ordanance, etc. There are many illustrations and photographs, including a few oversized foldouts, many in color. Explanations of the how-tos of being a Bluejacket!
Foreword To The Tenth Edition
This tenth edition has become necessary by the Navy's adoption of the U. S. Army's drill regulations and the desirability of new typesetting for clearness of print. As compared with the ninth edition (revised), one should note the following changes:
Chapters 7, 8, and 9 now accords with the close order drill of the U. S. Army.
Chapter 41, "Artillery: School of the Platoon," has been replaced by "Cart Drill."
Chapter 51, "Artillery: 75-mm. Pack Howitzer," has been omitted because that weapon will no longer be carried aboard a ship.
G. V. Stewart
Captain, U. S. Navy
Secretary-Treasurer
U. S. Naval Institute
Annapolis, Maryland
June 1940
Table of Contents
Part 1.-For The Recruit
Part 2.-Subjects All Enlisted Men Should Know-A To N
Part 3.-Rudimentary Seamanship And Gunnery
Part 4.-Advanced Seamanship And Gunnery
Part 5.-Physical Drills
Part 6.-Landing Force
Part 7.-Miscellaneous
Illustrative Plates
Plate I. Flags Of Principal Maritime Nations
Plate II. Flags Of Principal Maritime Nations
Plate III. Distinctive Flags And Pennants
Plate IV. Flag And Dot And Dash Alphabet
Plate V. Numeral Flags And Pennants
Plate VI. Special Flags And Pennants
Plate VII. Special Flags And Pennants
The National Anthem - The Star-Spangled Banner
Fold-Out Oversized Illustrations Include:
Fig. 43-3. Firing Lock Detail
Fig. 43-9. Marking Of Shells
Fig. 47-18-Gun-Factory wire splice in 6 stages.
Library of Congress Listing
LC Control No.: 03001595
Type of Material: Serial (Periodical, Newspaper, etc.)
Main Title: The Bluejackets' manual / United States Navy.
Published/Created: Annapolis, Md. : United States Naval Institute,
Related Names: United States Naval Institute. United States. Navy.
Description: v. : ill.; 15-22 cm. Fifth ed. (1917) also called: Rev. Nov. 1916, and: Authorized ed. Began with 1st ed. (1902).
Current Frequency: Irregular
Canceled/Invalid LCCN: sn 91028220
Notes: At the head of title, 1946-: U.S. Navy.
Description based on: 5th ed. (1917).
Imprint varies: 1917, New York, Military Pub. Co. -- 1918, New York, E. N. Appleton. -- 1922-1927, Washington, U.S. Govt. Print. Off. (varies slightly). Some issues in Revised Editions. SERBIB/SERLOC merged record
Subjects: United States. Navy --Sailors' handbooks.
LC Classification: V113 .B55
Dewey Class No.: 359
Other System No.: (OCoLC)ocm03045881
Geographic Area Code: n-us---
Quality Code: LCD premarc