Carrier: A Guided Tour of an Aircraft Carrier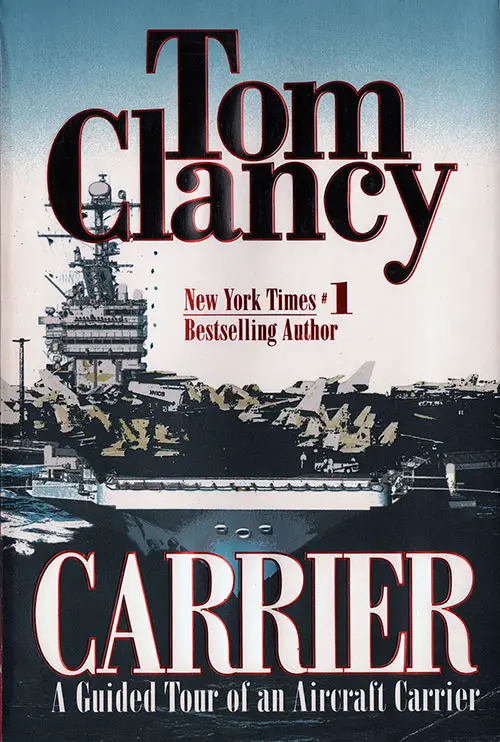 New York Times #1 Bestselling Author
From the Cover
NONFICTION
A RARE INSIDER'S LOOK AT LIFE ABOARD THE GREATEST WEAPON EVER CREATED...
Tom Clancy takes you on a mind-blowing tour of the U.S. Navy's crown jewel -- the aircraft carrier Is crew, its aircraft, and its domination of the high seas...
They are floating cities with crews of thousands. They are the linchpins of any military strategy, for they provide what has become the key to every battle fought since World War I: air superiority.
The mere presence of a U.S. naval carrier in a region is an automatic display of strength that sends d message no potential enemy can ignore. Now, Tom Clancy welcomes you aboard for a detailed look at how these floating behemoths function. With his trademark style and an eye for detail, Clancy brings you naval combat strategy as no one else can.
CARRIER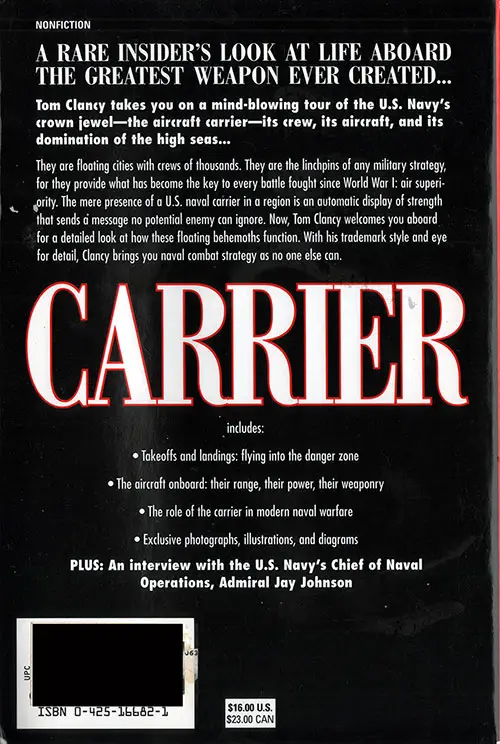 includes:
Takeoffs and landings: flying into the danger zone
The aircraft onboard: their range, their power, their weaponry
The role of the carrier in modern naval warfare
Exclusive photographs, illustrations, and diagrams
PLUS: An interview with the U.S. Navy's Chief of Naval Operations, Admiral Jay Johnson
Contents:
Acknowledgments
Foreword
Introduction
Naval Aviation 101
Hand on the Helm: An Interview with Admiral Jay Johnson
Wings of Gold: A Naval Aviator's Life
Building the Boats
Tools of the Trade: Birds and Bombs
Carrier Battle Group: Putting It All Together
Final Examination: JTFEX 97-3
Aircraft Carriers in the Real World
Conclusion
Glossary
Bibliography
Information about Carrier
ISBN: 0-425-16682-1
Publisher: Berkley Books
Stated Price: $16.00 U.S. $23.00 CAN
Pages: 348
Dimensions: 15.2 x 22.9 x 2.6 cm
Library of Congress Catalog Listing
LC Control No.: 99174425
Type of Material: Book (Print, Microform, Electronic, etc.)
Personal Name: Clancy, Tom, 1947-
Main Title: Carrier: a guided tour of an aircraft carrier / Tom Clancy.
Edition Information: Berkley trade paperback ed.
Published/Created: New York: Berkley Books, 1999.
Description: xx, 348 p. : ill.; 24 cm.
ISBN: 0425166821 (Pbk.)
Notes: Includes bibliographical references (p. 337-347). Includes video and game references (p. 348).
Subjects: United States. Navy --Aviation. George Washington (Aircraft carrier). Aircraft carriers --United States. Naval battle groups --United States.
LC Classification: VG93 .C58 1999
Dewey Class No.: 359.9/435/0973 21
Other System No.: (OCoLC)40654493
Geographic Area Code: n-us---
Quality Code: lccopycat