Naval Review Annual 1965 : United States Naval Institute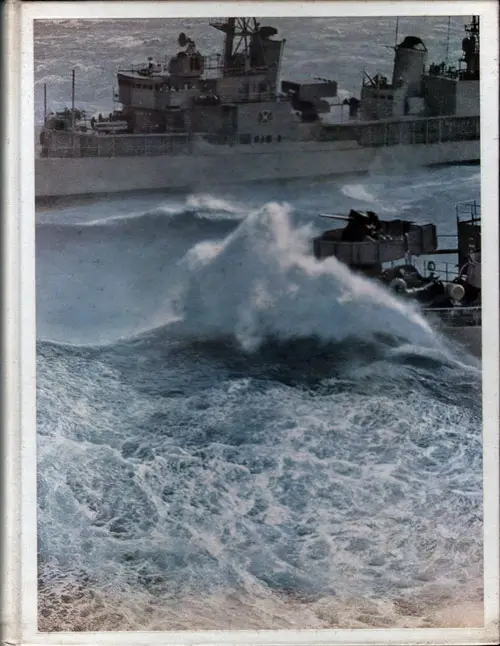 As long as the nation depends to any considerable degree upon its Navy, it depends on its naval officers concerning themselves with, and debating, such matters as these. Their failure to do so adequately in the past is one reason for the current pre-eminence of the civilians in the Pentagon.
Currently, both officers and civilians are undergoing a process of mutual education which can only benefit the country. The sole regrettable thing is that it did not happen long ago.
To a small degree, this book exists as part of that process. Perhaps to a greater degree it is part of the naval officers, increasing debate among themselves, which may lead to a regrowth to proper proportions of naval influence in areas of naval concern. - Framk Uhlig, Jr.
CONTENTS
PART 1 : Biographies of Authors
PART 1 : Essays
Antisubmarine Warfare—Where Do We Stand?
by C. E. WEAKLEY, Vice Admiral, U. S. Navy
"Between the years 1955 and 1964, the submarine as a combatant vehicle made her most significant advances. It would appear that her development from the present into the foreseeable future holds nothing of the magnitude of the changes brought about during that period."
The Future of the Surface Fighting Ship
by W. D. BRINCKLOE, Captain, U. S. Navy
"If professional demands present a high challenge, if the crews are an elite corps doing vital tasks in a vital ship, then, even if space limitations make them crawl on all fours from bunk to control station there will be habitability enough."
Naval Weapons Today
by PAUL VAN LEUNEN, JR., Captain, U. S. Navy
"We must recognize that we have been through a revolution, and that revolutions are expensive, difficult to manage, and can go off in unforeseen directions. But there has been solid achievement, and we now have a substantial force at sea which can shoot down fast targets at high altitudes."
Aircraft Carrier Design
by NATHAN SONENSHEIN, Captain, U. S. Navy
"The same technology that has heightened the enemy threat and provided high-performance aircraft for the carrier to operate, has also had its effect on every aspect of carrier design, and has permitted a fortified jet air base with a vast electronic complex to be consolidated in as small a structure as a 1,000-foot ship."
Systems Analysis and the Navy
by ALAIN ENTHOVEN, Deputy Assistant Secretary of Defense (Systems Analysis)
"If the Navy is to continue to make a vital contribution to American security, it must keep re-thinking its purposes, re-defining its missions, and re-shaping its forces."
The French Navy
by YVES DE BAZELAIRE, Contre-Amiral, French Navy
The command structure of the Alliance did not change to take into account the development of forces in the zones of vital interest to France. . . . While awaiting a reorganization of command that will restore a satisfactory balance, the government has returned most of its forces to national command."
Alaska and Siberia: A Strategic Analysis
by SAYRE A. SWARZTRAUBER, Lieutenant Commander, U. S. Navy
"A Soviet move into Alaska or the Aleutians would be difficult, more likely impossible, and, in any event, unrewarding."
The Soviet Air Forces
by W. C. CHAPMAN, Captain, U. S. Navy
"Nothing that is now known of Soviet fighter performance would keep either the U. S. Navy or Air Force from achieving air superiority in an objective area if numbers of aircraft were anywhere near comparable."
Marine Corps Aviation Today
by GEORGE J. COLLINS, Lieutenant Colonel, U. S. Marine Corps
"In maintaining its high degree of readiness, Marine Corps Aviation enhances this flexibility, mobility, and operational economy by using the sea as its base. It is difficult to envision Marines participating in any battle arena that is not close to the sea."
The Military Support Role of M.S.T.S.
by LANE C. KENDALL
"This fleet is deployed worldwide in much the same way, and for very nearly the same reasons, as the combat Navy."
Naval Medicine and Modern Sea Power
by CARL E. PRUETT, Captain, Medical Corps, U. S. Navy
"Medical care of dependents and retired officers and men is important, but it can, if necessary, be purchased. The kind of scientific and technical knowledge and experience needed to support the research, development, training, and combat operations of the Navy and Marine Corps is not purchasable on any market."
Search and Rescue in the '60s
by JOHN M. WATERS, JR., Captain, U. S. Coast Guard 260
"To survive at sea, a person in distress must have, in order of priority, a means of flotation, protective clothing, detection aids to enable search units to locate him, and water. Food is not essential. . ."
PART 2 Advertisements
PART 3 Appendixes
APPENDIX A. Naval Chronology, 1 July 1963-30 June 1964
by WILLIAM S. GRAVES, Lieutenant, U. S. Navy
"March 4, 1964: Cuba's Premier Castro offered to restore water service to the U. S. naval base at Guantanamo Bay. The United States rejected the offer."
APPENDIX B. Ten Best Naval Photographs of 1963
APPENDIX C. A New Fleet Emerges: Research Craft and Auxiliaries
by JOHN D. ALDEN, Commander, U. S. Navy
"It is in some of these ships that a knowledgeable observer can first make out the shapes and forms that will mark the Navy of the future."
APPENDIX D. U. S. Defense Program, 1965-1969
by The Secretary of Defense
"The true potential for the application of nuclear power to surface ships, is, in my judgment, not the few new aircraft carriers that we may build over the next decade, but the large number of other major ships that we will need."
COVER BY DANIEL E BRADY, SENIOR CHIEF AVIATION MACHINIST'S MATE. U. S. NAVY, FROM THE DECK OF USS RANDOLPH, SPRING 1963. SHIPS ARE KANKAKEE AND VOGELGESANG. DIVIDER PAGES: USS NATHAN HALE (SSBN-623). GENERAL DYNAMICS PHOTO.
PHOTOGRAPHS UNLESS INDICATED OTHERWISE BY A CREDIT LINE, ALL PHOTOGRAPHS ARE OFFICIAL PHOTOGRAPHS BY NAVY PHOTOGRAPHERS.

Copyright c 1964
by United States Naval Institute
Annapolis, Maryland
Library of Congress Catalog Card Number 62-21028
Printed in Menasha, Wisconsin, USA,
by the George Banta Company
Designed by Walter Paiko
The United States Naval Institute is a private organization founded in 1873 "for
the advancement of professional, literary, and scientific knowledge in the Navy."
Liberty cannot be preserved without a general knowledge among the people. Let us dare to read, think, speak, and write.
John Adams
BOARD OF CONTROL
president : Admiral David L. McDonald, U S. Navy
vice-president : Rear Admiral Charles S. Minter, Jr., U. S. Navy
secretary-treasurer : Commander Roland T. E. Bowler, Jr., U. S. Navy (Retired)
directors

Major General Henry W. Buse, Jr., U. S. Marine Corps
Rear Admiral Allen M. Shinn, u. S. Navy
Rear Admiral William P. Mack, u. S. Navy
Captain Robert W. McNitt, u. S. Navy
Captain Edward L. Beach, u. S. Navy
Captain William F. Cass, u. S. Coast Guard
STAFF
EXECUTIVE EDITOR : Commander Roland T. E. Bowler, Jr., U. S. Navy (Retired)
EDITORIAL DIRECTOR : Roger C. Taylor
NAVAL REVIEW

editor : Frank Uhlig, Jr.
editorial assistant : Mary Veronica Amoss

PROCEEDINGS

editor : A. Denis Clift
assistant editors : Clayton R. Barrow, Jr. Norman Polmar, Katherine McInnis
associate editors : Captain Sheldon H. Kinney, U. S. Navy Professor C. P. Lemieux, U. S. Naval Academy

BUSINESS DEPARTMENT

business manager : H. Gordon Williams

BOOK DEPARTMENT

editor : Lieutenant Commander Arnold S. Lott, U. S. Navy (Retired)
assistant editors : Dorothy Williams Joyce Atwood
editorial assistant : Louise Gerretson

ART DEPARTMENT

director : David Q. Scott
assistants : Delroy Kiser Walter Paiko Gerard Valerio

PROMOTION DEPARTMENT

promotion manager : Fred Stolley

ADVERTISING REPRESENTATIVE Thomas 0. Woolf & Son, Inc.,
225 Park Avenue, New York 17, New York
NAVAL REVIEW
FRANK UHLIG, JR., EDITOR
UNITED STATES NAVAL INSTITUTE
ANNAPOLIS, MARYLAND
1964
Library of Congress Catalog Listing
LC Control No.: 62021028
Type of Material: Serial (Periodical, Newspaper, etc.)
Uniform Title: Naval review (Annapolis, Md.)
Main Title: Naval review.
Serial Key Title: Naval review (Annapolis)
Abbreviated Title: Nav. rev. (Annapolis)
Published/Created: Annapolis, Md. : United States Naval Institute, 1962-Related Names: United States Naval Institute.
Description:

8 v. : ill., ports.; 29 cm.
1962-1963-
Ceased in 1969.
Absorbed by: Proceedings of the United States Naval Institute (OCoLC)2496995 (DLC) 64054905 0041-798X

ISSN: 0077-6238
Linking ISSN: 0077-6238
Notes: SERBIB/SERLOC merged record
Later vols. published as May issue of: Proceedings of the United States Naval Institute, ISSN 0041-798X.
Subjects: Naval art and science --Periodicals.
LC Classification: V10 .N615
Dewey Class No.: 359.058
National Bibliographic Agency No.: 100969422 DNLM
Other System No.: (OCoLC)ocm01771669
Quality Code: pcc nsdp