The Bluejackets' Manual, Twelfth Edition, 1944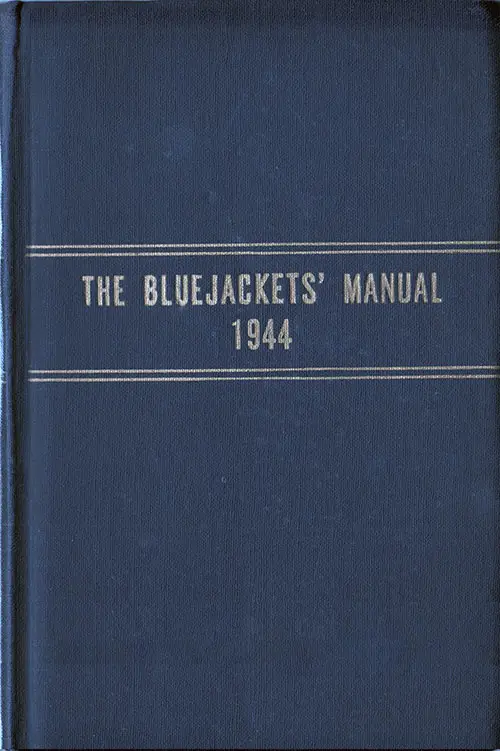 1944 Book: The Bluejackets' Manual, United States Navy, 1944, Twelfth Edition, United States Naval Institute, Annapolis, Maryland.
The Bluejackets' Manual, the "Bible" issued to new Navy recruits when entering boot camp. This is the earlier printing of this edition as noted by the square corners. Published by the United States Naval Institute and copyright 1944. Has everything about Introduction to the navy  to Military drills, movements on land, ships & aircraft, weapons, battle stations, handling of ships, communications and signaling.
Title: The Blue Jacket's Manual 1944 (Twelfth Edition)
Author: United States Naval Institute, Annapolis, Maryland
Binding: Size 5 x 7.5 inches (13 x 19 cm), 585 pages hardbound
Published: 1944 by U.S. Government Printing Office, Washington, DC
The Contents Include: Everything you need to know to be an accomplished sailor in the United States Navy in 1944. A sampling of the chapters include: Entering the Service, Pay, Accounts, Allotments and Insurance, Clothing (includes all insignia) Manual of Arms, Close Order and Extended Order Drill, Construction and Equipment of Ships, Aircraft Recognition, Small Arms, Gunnery, Ammunition, Bombs, Mines and Torpedoes, Navigation, Chemical Warfare Defense, Boat Handling, Deck Tools, Battle Stations and more. It's profusely illustrated with period photographs and drawings. Makes an interesting vintage reference on life in U.S. Navy during WWII.
Introduction
In the forty-two years between the first and twelfth editions of the Bluejackets' Manual, this book has been a source of practical information for several generations of seamen. During this period this book has been changed frequently to keep it up-to-date and improve its usefulness. The changes, however, have not altered the fundamental purpose of the manual.
In the twelfth edition further extensive changes have been made to bring the book into better adjustment with the needs of the times. Considerable overtechnical matter has been eliminated, the organization revised, a new glossary added, and the index expanded and cross-referenced.
Obsolete text matter has been brought up-to-date and new material of current interest has been included. The many new illustrations serve to clarify text matter and convey the spirit of the Navy at war.
These revisions are intended to improve the usefulness of the manual both as a training text and reference source for bluejackets. At the same time, the basic features of the book which have met the test of time are preserved and strengthened.
This edition is the result of cooperative effort on the part of training officers at U.S. Naval Training Centers and the Bureau of Naval Personnel.
J. E. Holloway, Jr.
Captain, U. S. Navy
Director of Training
Bureau of Naval Personnel
April 1944.
Table of Contents
National Anthem
Flags of Principal Maritime Nations
Distinctive Flags and Pennants
Small Craft, Storm and Hurricane Warnings
Comparative Rates and Ranks of the U.S. Armed Services
Devices and Specialty Marks
Chapters / Sections
Part One - Introduction To The Navy
Part Two - Military Drill And Movements On Land
Part Three - Ships And Aircraft
Part Four - Navy Weapons
Part Five - Ship Organization And Duties Afloat
Part Six - Emergency Drills And Battle Stations
Part Seven - Handling Of Ships Underway
Part Eight - Deck Seamanship
Part Nine - Boat Seamanship
Part Ten - Communications And Signaling
Library of Congress Listing
LC Control No.: 03001595
Type of Material: Serial (Periodical, Newspaper, etc.)
Main Title: The Bluejackets' manual / United States Navy.
Published/Created: Annapolis, Md. : United States Naval Institute,
Related Names:

United States Naval Institute.
United States. Navy.

Description:

v. : ill.; 15-22 cm.
Fifth ed. (1917) called also: Rev. Nov. 1916, and: Authorized ed.
Began with 1st ed. (1902).

Current Frequency: Irregular
Cancelled/Invalid LCCN: sn 91028220
Notes: At head of title, 1946- : U.S. Navy.
Description based on: 5th ed. (1917).
Imprint varies:

1917, New York, Military Pub. Co. --
1918, New York, E. N. Appleton. --
1922-1927, Washington, U.S. Govt. Print. Off. (varies slightly).
Some issues in rev. editions.
SERBIB/SERLOC merged record

Subjects: United States. Navy --Sailors' handbooks.
LC Classification: V113 .B55
Dewey Class No.: 359
Other System No.: (OCoLC)ocm03045881
Geographic Area Code: n-us---
Quality Code: lcd premarc