U.S. Navy: An Illustrated History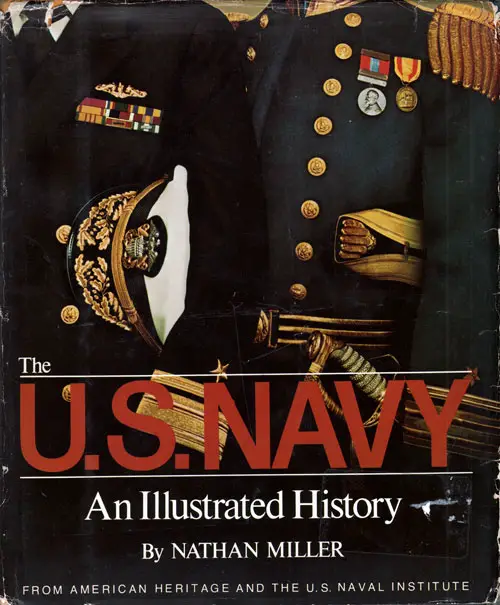 On a cold February day in 1775, eight small converted merchant ships lay huddled in the estuary of Delaware Bay. Guns poked from their sides and they flew a strange ensign that combined the British Union Jack with a field of alternating red and white stripes.
Lookouts aboard seven of the vessels kept their eyes on the flagship Alfred, 24 guns, awaiting the signal to make sail. At 1:00 in the afternoon Commodore Esek Hopkins gave his order, the Alfred loosed her fore-topsail and sheeted it home.
The Continental Navy's diminutive attack force rounded Cape Henlopen and set sail for the British-held Bahamas. Thus began the navy's 200-year history.
That history is told here more vividly than ever before in stirring, authoritative prose, which is dramatized by more than 400 carefully chosen illustrations.
Here are Great naval leaders, from John Paul Jones, whose "I have not yet begun to fight!" launched a great tradition in the U.S. Navy, to submarine commander Howard Gilmore, who, wounded and trapped on the conning tower of the Growler, ordered his men, "Take her down!";
Proud ships, from the golden age of sail to the "instant response" fleet of today; Actions, famous or forgotten, ranging from skirmishes of the Revolution and the war with the Barbary pirates to the convoy battles of the North Atlantic during two world wars, to the Coral Sea, Midway, and Leyte Gulf, to Korea and Vietnam;
Enlisted men, who have always been the backbone of America's fighting ships, from the smoke-blackened gunners on the flaming deck of the Bonhomme Richard to the modern computer technicians of the nuclear-powered submarines.
But THE U.S. NAVY tells of more than fighting ships and sailors and marines. It tells also of:
Resourceful shipbuilders convening, adapting, renovating from Noah Brown. a humble canoeist cutting green wood to build a fleet for Oliver Hazard Perry on Lake Erie. to John Ericsson, delivering the Monitor to the Union Navy in the nick of time;
Thinkers and strategists. In hot wars and cold, and their political battles outside the navy and within;
Life in the harsh days of sail, when a man's lot was "hard labor, hard treatment, hard biscuit and little hard cash";
Precedence and honors, rank and pomp—a language of its own—and pride in its traditions.
Contents
Foreword
Author's Preface
1. A Navy Is Born
2. In Pursuit of Privateers and Pirates
PICTURE ESSAY: Life at Sea
3. "A Handful of Fir-built Frigates"
4. Distant Stations
PICTURE ESSAY: Perry in Japan
5. Divided Waters
6. A Naval Renaissance
PICTURE ESSAY: The Steel Navy
7. A Navy Second to None
8. The Long Armistice
PICTURE ESSAY: Day of Infamy
9. "The Way to Victory"
10. "Challenging Years"
Notes
Acknowledgments
Index
AMERICAN HERITAGE PUBLISHING CO., INC.
BOOK DIVISION
Editor-in-Chief
Ezra Bowen
Staff for THE U. S. NAVY
Editor
Oliver Jensen
Art Director
Mervyn Edward Clay
Picture Editor
Gail Nussbaum
Assistant Picture Editor
Henry Wiencek
Copy Editor
Charles Blackwell
• Assistant Text Editor
Anne M. Knight
NAVAL INSTITUTE PRESS
Senior Editor
Frank Uhlig, Jr.
Director, Library and Photographic Services
Patty Maddocks
Editorial Director, Books
Thomas F. Epley
Acquisitions Editor
Jan Snouck-Hurgronje
Senior Manuscript Editor
Mary Veronica Amoss
Administrative and Editorial Assistant
Marjorie B. Whittington
Copyright © 1977 text by United States Naval Institute. Copyright © 1977 design, illustrations, captions, and other supporting text for illustrations by American Heritage Publishing Co., Inc. All rights reserved. Printed in the United States of America.
Library of Congress Cataloging in Publication Data: P. 407 Book Trade Distribution by Simon and Schuster, Inc. ISBN: 0-671-22984-2 (regular)
0-671-22985-0 (de luxe)
ILLUSTRATIONS ON PRECEDING PAGES:
Endpapers: Officers and men of the USS Georgia. April 1907, from U. S. Naval Academy Museum; Half Title: "The Ocean, The Highway of All Nations," by Edward Moran, from the U. S. Naval Academy Museum; Title Page: "The Return of the Conquerors," by Edward Moran, from the U. S. Naval Academy Museum; On this page. a recruiting poster from World War I, painted by James Montgomery Flagg, from the U. S. Navy.
The Author
Nathan Miller is the author of the widely acclaimed Sea of Glory, on the Continental Navy, published in 1974, and The Founding Finaglers, a history of political corruption in America, published in 1976. He served in the U.S. Navy during the closing days of World War II and has been a Washington reporter for the Baltimore Sun and a foreign correspondent. Mr. Miller lives in Chevy Chase, Maryland, with his wife, Jeanette.
The Illustrations
The more than 400 illustrations (many of which are in full color)—paintings, portraits, charts, maps, plans of ships, diagrams of battles, and superb photographs old and new—depict action, storms, and life at sea.
The Publishers
The American Heritage Publishing Co., Inc., is noted for its hard-cover magazine of history, AMERICAN HERITAGE, and many illustrated books on historical subjects. It also publishes HORIZON and AMERICANA magazines.
The United States Naval Institute, with headquarters at the Naval Academy in Annapolis, Maryland, is a private, nonprofit professional organization for those interested in naval and maritime affairs; it publishes books for naval use and a distinguished magazine, The U.S. Naval Institute Proceedings.
Front Cover: Left, rear admiral's uniform of today; right, rear admiral's uniform, c. 1909
BOOK TRADE DISTRIBUTION BY SIMON AND SCHUSTER, INC.
AMERICAN HERITAGE PUBLISHING CO., INC.
10 ROCKEFELLER PLAZA, NEW YORK, N.Y. 10020