The Bluejackets' Manual, Thirteenth Edition 1946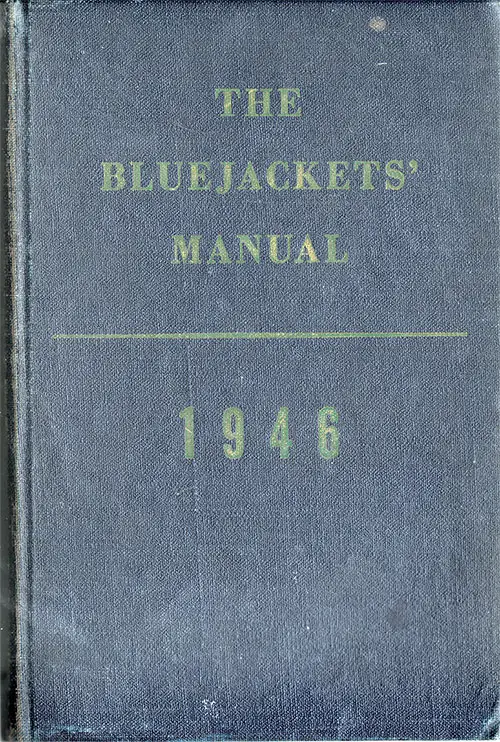 THE UNITED STATES NAVY
THE BLUEJACKETS' MANUAL
1946 THIRTEENTH EDITION
UNITED STATES NAVAL INSTITUTE, ANNAPOLIS, MARYLAND
The Bluejackets' Manual is designed to serve both as a training manual for the recruit and a reference text for the in-service seaman. For the recruit, a body of elementary information that may be classified as preliminary indoctrination is included, in addition to more technical matter.
This material covers such subjects as naval discipline, pay accounts, recreation, rights of servicemen, and security of information, and is concentrated in the first unit of the book. The remaining nine units of the text are devoted to information, such as deck seamanship, Navy weapons, etc., that is more concretely related to day-by-day duties afloat.
As a training manual, The Bluejackets' Manual is designed for clarity. It is straightforward in organization, clearly written, and well and fully illustrated.
As a reference volume, The Bluejackets' Manual is designed for easy use and rapid location of desired information.
The index is detailed and cross-referenced. Frequent center and side headings in the text are keys to the location of specific facts. A glossary of naval terms and phrases precedes the index.
The present revision was undertaken at the request of the U.S. Naval Institute by the Standards and Curriculum Division, Training, Bureau of Naval Personnel. Acknowledgment is made by the U.S. Naval Institute to the officer who edited the revision, Lieutenant Charles S. Ross, USNR.
Rear Admiral, U.S. Navy (Ret.), Secretary-Treasurer,
U.S. Naval Institute.
Annapolis, Maryland
2 January 1946
Introduction
For nearly half a century The Bluejackets' Manual has been a basic training and reference text for hundreds of thousands of Navy men. During these years the book has incorporated the experience gained from two major wars, and has evolved into an ever more effective volume. This thirteenth edition is the most recent step in that evolution.
Table of Contents
National Anthem
Flags of Principal Maritime Nations
Small Craft, Storm and Hurricane Warnings
Distinctive Flags and Pennants
Comparative Rates and Ranks of the U. S. Armed Forces
Devices and Specialty Marks
Seals, Emblems and Insignia
Part One : INTRODUCTION TO THE NAVY
Chapter 1. Entering the Service
Chapter 2. Naval Discipline
Chapter 3. Pay Accounts, Allotments, and Insurance
Chapter 4. Clothing
Chapter 5. Personal Hygiene and First Aid
Chapter 6. Physical Fitness, Swimming and Lifesaving
Chapter 7. Recreation, Educational and Special Services
Chapter 8. Legal Rights of Servicemen and Veterans
Chapter 9. Naval Customs and Courtesies
Chapter 10. Organization of the Navy
Chapter 11. Rank, Rates, and Pay Grades
Chapter 12. Security of Information
Part Two : MILITARY DRILL AND MOVEMENTS ON LAND
Chapter 13. School of the Recruit
Chapter 14. Manual of Arms
Chapter 15. Close Order Drill and Physical Drill with Arms
Chapter 16. Extended Order Drill
Chapter 17. Scouting and Patrolling
Chapter 18. Marches and Military Maps
Part Three : SHIPS AND AIRCRAFT
Chapter 19. Construction and Equipment of Ships
Chapter 20. Types of Navy Ships
Chapter 21. Aircraft of the Navy
Chapter 22. Recognition
Part Four : NAVY WEAPONS
Chapter 23. Small Arms
Chapter 24. Gunnery
Chapter 25. Ammunition, Bombs, Mines and Torpedoes
Part Five : SHIP ORGANIZATION AND DUTIES AFLOAT
Chapter 26. Ship Organization and Daily Routine Afloat
Chapter 27. Watches and Lookouts
Chapter 28. Cleaning, Maintenance and Painting
Part Six : EMERGENCY DRILLS AND BATTLE STATIONS
Chapter 29. Emergency Drills
Chapter 30. Battle Drills and Stations
Chapter 31. Fire Fighting
Chapter 32. Chemical Warfare Defense
Part Seven : HANDLING OF SHIPS UNDERWAY
Chapter 33. Steering and Sounding
Chapter 34. Navigation and Piloting
Chapter 35. Navigation Aids and Instruments
Chapter 36. Rules of the Road
Part Eight : DECK SEAMANSHIP
Chapter 37. Marlinspike Seamanship
Chapter 38. Anchoring, Mooring, Docking
Chapter 39. Deck Tools, Fittings, and Machinery
Part Nine : BOAT SEAMANSHIP
Chapter 40. Pulling Boats
Chapter 41. Power Boats
Chapter 42. Boat Handling
Chapter 43. Survival Adrift
Part Ten : COMMUNICATIONS AND SIGNALING
Chapter 44. Types of Communications and Methods of
Signaling
Chapter 45. Flags, Pennants and Flag-Hoist Signaling
Chapter 46. Pyrotechnics, Distress Signals and Storm
Warnings
Chapter 47. The Telephone Talker
Glossary
Index
COPYRIGHT 1938, 1939, 1940, 1943, 1944, 1946 BY U. S. NAVAL INSTITUTE
ANNAPOLIS, MARYLAND
B•IV•50-47