The Bluejackets' Manual - Eleventh Edition 1943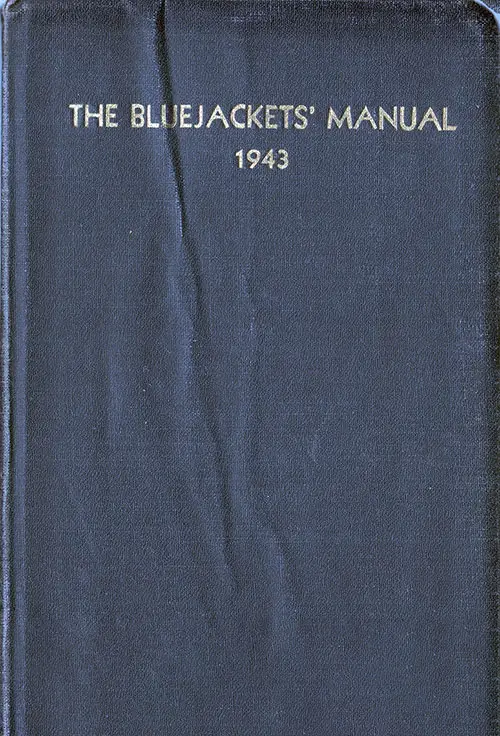 1943 The Bluejackets' Manual, United States Navy, 1943, Eleventh Edition, United States Naval Institute, Annapolis, Maryland.
The book measures 7 3/4" tall x 5 1/4" wide x 1 3/4" thick and contains 1145 pages. The forward indicates this edition was revised to eliminate obsolete material and freshen the contents to suit the needs of the Navy at War.
Section headings within the book are as follows: National Anthem (words only), Flags of principal maritime nations (includes German WW II era flags), Distinctive flags and pennants of the United States, Subjects All Enlisted Men Should Know; Deck Seamanship; Boat Seamanship; Elements of Navigation and Piloting; Communications and Signals; Gunnery; Landing Force; Technical Features, Components of the Navy, Ship Facilities. The book is full of illustrations, drawings, and some black/white photographs.
Library of Congress Listing
LC Control No.: 03001595
Type of Material: Serial (Periodical, Newspaper, etc.)
Main Title: The Bluejackets' manual / United States Navy.
Published/Created: Annapolis, Md.: United States Naval Institute,

Related Names: United States Naval Institute. United States. Navy.
Description: v. : ill.; 15-22 cm. Fifth ed. (1917) also called: Rev. Nov. 1916, and: Authorized ed. Began with 1st ed. (1902).
Current Frequency: Irregular
Canceled/Invalid LCCN: sn 91028220
Notes: At the head of title, 1946-: U.S. Navy.
Description based on: 5th ed. (1917).
Imprint varies: 1917, New York, Military Pub. Co. -- 1918, New York, E. N. Appleton. -- 1922-1927, Washington, U.S. Govt. Print. Off. (varies slightly). Some issues in Revised Editions. SERBIB/SERLOC merged record
Subjects: United States. Navy --Sailors' handbooks.
LC Classification: V113 .B55
Dewey Class No.: 359
Other System No.: (OCoLC)ocm03045881
Geographic Area Code: n-us---
Quality Code: lcd premarc