U.S. Navy : A Complete History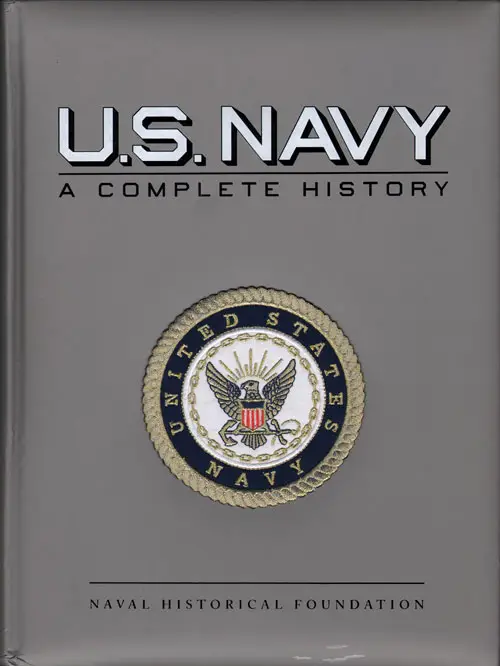 Building on the official Navy chronologies, this handsome book presents a year-by-year summary of significant naval activities from 1775 to the present.
Key historical entries, along with significant operations, technological advances, and narratives of the women and men instrumental in shaping the organization, are written by leading expects in each subject.
With a distinctive battleship cover, this authoritative and encyclopedic account of the U.S. Navy is an important addition to any military history collection.
Publisher's Note
A year-by-year summary of naval activity from 1775 to the present covers a wide range of actions during both war and peacetime, chronicling the technological advances and compelling stories that make the U.S. Navy such a fascinating subject.
Library of Congress Catalog Listing
LC Control No.: 2008383197
Type of Material: Book (Print, Microform, Electronic, etc.)
Personal Name: Goodspeed, M. Hill.
Main Title: U.S. Navy : a complete history / M. Hill Goodspeed.
Variant Title: United States Navy : a complete history Published/Created: Washington, D.C. : Naval Historical Foundation; [Westport, Conn.] : Hugh Lauter Levin Associates, 2003.
Related Names: Naval Historical Foundation.
Description: 728 p. : ill. (chiefly col.), ports.; 34 cm.
ISBN:

0883631121
978-0883631126

Summary: Building on the official Navy chronologies, this handsome book presents a year-by-year summary of significant naval activities from 1775 to the present. Key historical entries, along with significant operations, technological advances, and narratives of the women and men instrumental in shaping the organization, are written by leading expects in each subject. With a distinctive battleship cover, this authoritative and encyclopedic account of the U.S. Navy is an important addition to any military history collection.
Contents:

1775-1815: A new nation sets sail --
1816-1860: Distant stations --
1861-1865: A Navy divided --
1866-1899: Retrenchment and rebirth --
1900-1918: A Navy for a new century --
1919-1938: The treaty Navy --
1939-1945: The two ocean war --
1946-1963: Hot to cold --
1964-1980: The longest war --
1981-2003: Sea power resurgent.

Notes: Includes index.
Subjects:

United States.
Navy --History.
United States.
Navy --History --Chronology.

LC Classification: VA55 .G66 2003
Dewey Class No.: 359.00973 22
Other System No.: (OCoLC)ocm53331435
Geographic Area Code: n-us---
Quality Code: lccopycat