Navy Yearbook 1944 by Andrews and Engel, First Edition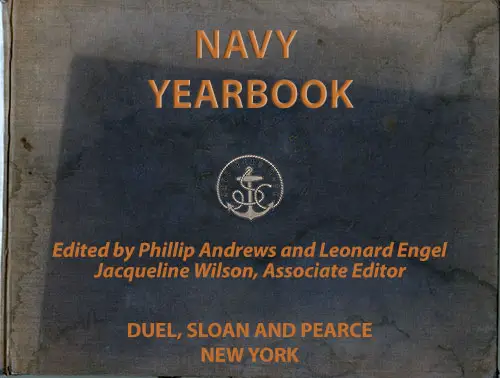 NAVY YEARBOOK
Edited by Phillip Andrews and Leonard Engel
Jacqueline Wilson, Associate Editor
Photographic record of the Navy Activities during World War Two. An excellent photographic record of the ships and planes from the powerful navies taking part in World War II with additional statistical data for each class of ship and aircraft.
DUELL, SLOAN, AND PEARCE
NEW YORK
CONTENTS
NAVAL CHRONOLOGY-WORLD WAR II (Narrative)
BATTLE OF THE ATLANTIC (Narrative)
U. S. NAVY TO WORLD WAR II (Narrative)
U. S. NAVAL CONSTRUCTION (Narrative)
U. S. COAST GUARD (Narrative)
U. S. NAVAL AVIATION (Narrative)
U.S. Navy (Photographs of Ships and Aircraft)
GREAT BRITAIN (Narrative and Photographs)
Includes British Commonwealths and India
U. S. S. R. (Narrative and Photographs)
FRANCE (Narrative and Photographs)
ITALY (Narrative and Photographs)
GERMANY (Narrative and Photographs)
JAPAN (Narrative and Photographs)
DATA SECTION
Description of Book
In the pages that follow, the details of armor and armament given are few compared to earlier reference volumes. The reason is that nearly all belligerent warships have been refitted one or more times since 1939 and extensively altered as to both armor and armament. Precise details of present equipment are seldom available.
The number of crew is also usually omitted, for the significant increase in anti-aircraft batteries has resulted in large additions to crews above the war complements listed three years ago, and present crew figures are, of course, restricted too.
In general, a large aircraft carrier today may have more than 2500 men aboard her, a new battleship nearly 2000, an older one above 1500 (instead of 1100 to 1300), a 10,000-ton cruiser 900 to 1100 in place of 650 to 900, a medium-sized destroyer, 150.
UNITED STATES
GREAT BRITAIN
CANADA
AUSTRALIA
INDIA
NEW ZEALAND
OTHER BRITISH
U. S. S. R.
FRANCE
ITALY
GERMANY
JAPAN
SMALLER ALLIED NAVIES
SMALLER AXIS NAVIES
PRO-ALLIED NON-BELLIGERENTS
OTHER COUNTRIES
WAR LOSS SECTION
ADDENDA
INDEX
COPYRIGHT, 1944, BY PHILLIP ANDREWS
All rights reserved, including the right to reproduce this book or portion thereof in any form.
FIRST EDITION
ENGRAVED AND PRINTED IN SHEET-FED GRAVURE AND LETTERPRESS
BY THE BECK ENGRAVING COMPANY, INC.
PHILADELPHIA, NEW YORK, AND BOSTON, U. S. A.
FAIRMAT GRAVURE PAPER SUPPLIED BY THOMAS N. FAIRBANKS COMPANY, INC.
GRAVURE INK FROM SINCLAIR & VALENTINE COMPANY
BINDING BY RUSSELL-RUTTER COMPANY
JACKET DESIGN BY ERIK NITSCHE