Submarine: A Guided Tour Inside a Nuclear Warship - Tom Clancy - 1993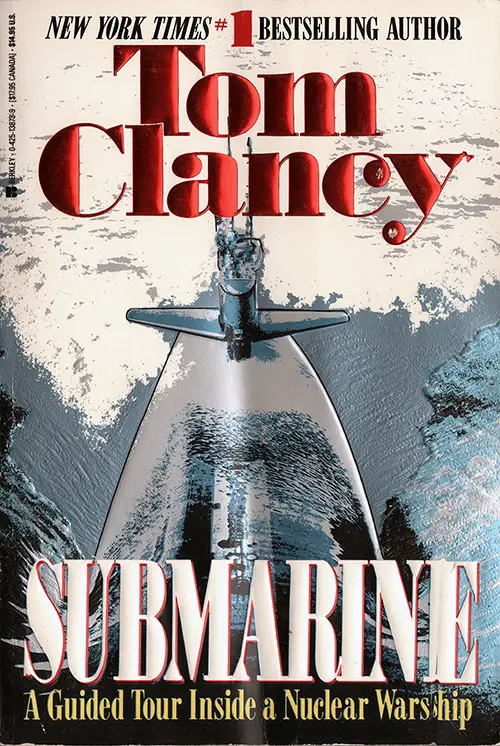 From the Cover
THE MOST UNUSUAL BOOK TOM CLANCY HAS EVER WRITTEN.
THE FACTS BEHIND THE FICTION.
Never before seen by the general public: A rare glimpse inside a Los Angeles-class (SSN-688) nuclear submarine ...with Tom Clancy as your guide.
Only the author of The Hunt for Red October could capture the reality of life aboard a nuclear submarine. Only a writer of Mr. Clancy's magnitude could obtain security clearance for information, diagrams, and photographs never before available to the public. Now, for the first time, every civilian can enter this top secret world and experience the drama and excitement of this stunning technological achievement...the weapons, the procedures, the people themselves...the startling facts behind the fiction that made Tom Clancy a #1 bestseller.
includes:
Exclusive photographs, illustrations, and diagrams
Mock war scenarios and weapons launch procedures
An inside look at life on board, from captain to crew, from training exercises to operations
The fascinating history and evolution of submarines
PLUS: Tom Clancy's controversial views on submariner tactics and training methods
Contents
Foreword
Introduction
The Silent Service
Building the Boats
The Boat: A Tour of USS Miami (SSN-755)
The British Boats: A Tour of HMS Triumph (S-93)
Roles and Missions
The Future
Other People's Submarines
Glossary
Bibliography
Information about Submarine
ISBN: 0-425-13873-9
Publisher: Berkley Books
Stated Price: $14.95 U.S. $17.95 CAN
Pages: 328
Dimensions: 15.2 x 22.9 x 2 cm
Library of Congress Catalog Listing
LC Control No.: 93232129
Type of Material: Book (Print, Microform, Electronic, etc.)
Personal Name: Clancy, Tom, 1947-
Main Title: Submarine : a guided tour inside a nuclear warship / Tom Clancy.
Edition Information: 1st ed.
Published/Created: New York : Putnam, c1993.
Description: xx, 328 p. : ill.; 23 cm.
ISBN:

0399139508 Hardcover
0425138739 Paperback

Notes:

"Three hundred copies, specially bound, have been signed by the author and numbered"--Prelim. leaf.
Includes bibliographical references.

Subjects:

Nuclear submarines.
Submarines (Ships)

LC Classification: V857.5 .C55 1993
Dewey Class No.: 623.8/2574 21