The Organization of Information - 9781591585862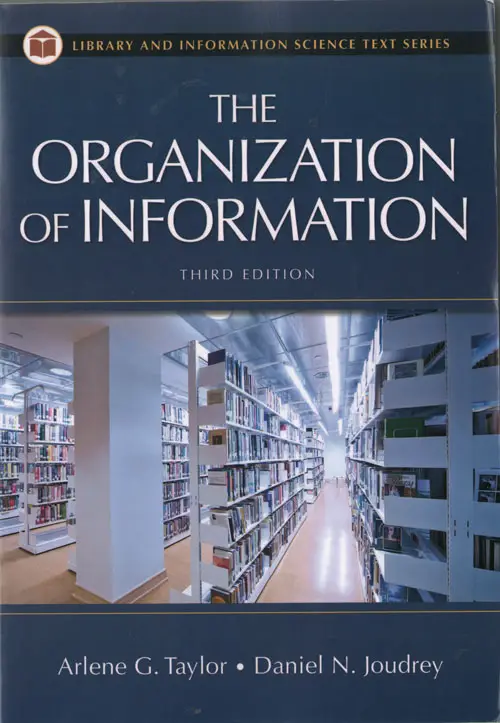 The organization of information / Arlene G. Taylor and Daniel N. Joudrey.
From the Back Cover
LIBRARY AND INFORMATION SCIENCE TEXT SERIES
THE ORGANIZATION OF INFORMATION
THIRD EDITION
Arlene G. Taylor • Daniel N. Joudrey
PRAISE FOR AN EARLIER EDITION...
-An extremely well-designed, structured, and articulated work, noteworthy for its clarity and usability. A fine contribution to the field of library and information science."
— Booklist/Professional Reading
This third edition of a modern classic continues to articulate the theory, principles, standards, and tools behind information organization.
As with previous editions, it begins with strong justification for the continued importance of organizing principles and practice. Following a broad overview of the concept and its role in human endeavors, Taylor and Joudrey provide a detailed and insightful discussion of such basic retrieval tools as inventories, bibliographies, catalogs, indexes, finding aids, registers, databases, major bibliographic utilities, and other organizing entities. They then trace the development of the organization of recorded information in Western civilization from 2000 B.C.E. to the present.
Standards of codification (MARC, SGML, and various DTDs), controlled vocabularies and ontologies, and Web 2.0 technologies are but a sample of the extensive topical coverage special to this edition, which also includes:
restructured and expanded sections on metadata (description, access, and access control) and subject analysis and aboutness
significant revisions to sections dealing with indexing and abstracting, systems and system design, and authority control (especially FRAR)
improved coverage of archives and archival finding aids, museums and galleries, and digital libraries.
There is no doubt that The Organization of Information remains the title of choice for students and professionals eager to embrace the heritage, immediacy, and future of this fascinating field of study.
ISBN 978-1-59158-700-2
Libraries Unlimited 
Cover design by Joseph DePinho

Table of Contents
Contents Page
Contents
List of Figures
Preface
Acknowledgments by Arlene G. Taylor
Acknowledgments by Daniel N. Joudrey
Chapter 1: Organization of Recorded Information
The Need to Organize
The Nature of Information

The Nature of the Organization of Recorded Information

Organization of Information in Different Contexts

Libraries
Archives
Museums (Art and Object Collections)
The Internet
Digital Libraries and Archives
Information Architecture
Indexing and Abstracting
Records Management
Knowledge Management

Conclusion
Notes
Suggested Readings
Chapter 2: Retrieval Tools
The Need for Retrieval Tools
The Basic Retrieval Tools, Their Formats, and their Functions

Bibliographies
Catalogs

Purposes of Catalogs
Forms of Catalogs

Book Catalogs
Card Catalogs
Microform Catalogs
OPACs

Arrangements within Catalogs

Classified
Alphabetical
Chronological and Other

Indexes
Finding Aids
Registers and Other Museum Databases
Search Engines and Directories

Conclusion
Notes
Suggested Readings
Chapter 3: Development of the Organization of Recorded Information in Western Civilization
Inventories, Bibliographies, Catalogs, and Codification

Antiquity
Middle Ages
European Renaissance
From Inventories to Finding Lists to Collocating Devices
Period of Codification

Twentieth Century

Description
Subject Access

Verbal Subject Access
Classification

Special Materials

Archives
Museums (Art and Object Collections)
Subject Access to Special Materials

Mechanization of Bibliography

The Documentation Movement
Library Automation

Conclusion
Notes
Suggested Readings
Chapter 4: Metadata
The Basics of Metadata
Metadata Schemas
Metadata Characteristics
Categories of Metadata

Administrative Metadata

Technical Metadata
Preservation Metadata
Rights and Access Metadata
Meta-Metadata

Structural Metadata

Implementations of Structural Metadata
METS (Metadata Encoding & Transmission Standard)

Descriptive Metadata

Metadata Models

Functional Requirements for Bibliographic Records (FRBR)

User Tasks
FRBR Entities and Attributes
FRBR Relationships

Resource Description Framework (RDF)
DCMI Abstract Model (DCAM)

Metadata Management Tools

Application Profiles
Metadata Registries
Crosswalks
Harvesting Tools and Templates

Metadata and Cataloging
Conclusion
Notes
Suggested Readings
Chapter 5: Encoding Standards
Encoding of Characters
Encoding of Records

MARC (MAchine-Readable Cataloging)

MARC 21
UNIMARC
The Future of MARC

SGML (Standard Generalized Markup Language)

HTML (HyperText Markup Language)
XML (Extensible Markup Language)

TEI (Text Encoding Initiative) Schema
EAD (Encoded Archival Description) DTD and Schema
ONIX (Online Information eXchange) DTD and Schema
MARCXML Schema and MODS

Conclusion
Notes
Suggested Readings
Chapter 6: Systems and System Design
Systems

Databases
Bibliographic Networks
Integrated Library Systems (ILSs)

History of the ILS
ILS Developments
Development of Online Public Access Catalogs (OPACs)

System Design

Organization of Information and System Design
Searching Methods
Retrieval Models
Standardization and Systems

Display

Display of Retrieved Results
Display of Records
Display Guidelines

Basic Search Queries
Initial Articles
Truncation, Boolean Operators, and Proximity
Punctuation

Federated searching and Z39.50
User-Centered System Design

Universal Design
Multiple Languages/Scripts
Other Aids for Users

Authority-Control Integration

Conclusion
Notes
Suggested Readings
Chapter 7: Metadata: Description
Units to be Described

Finite vs. Continuing Resources
FRBR's Entities

Creation of Surrogate Records

Bibliographic and General Metadata Schemas

International Standard Bibliographic Description (ISBD)
Anglo-American Cataloguing Rules, Second Edition, 2002 Revision (AACR2R)
The Dublin Core (DC)
Metadata Object Description Schema (MODS)

Domain-Specific Metadata Schemas

General International Standard Archival Description (ISAD(G))
Describing Archives: A Content Standard (DACS)
Encoded Archival Description (EAD)
TEI (Text Encoding Initiative) Headers
FGDC (Federal Geographic Data Committee) Content Standard for Digital Geospatial 
Metadata (CSDGM)
VRA (Visual Resources Association) Core
Categories for the Description of Works of Art (CDWA)
Cataloging Cultural Objects (CCO)
ONIX (ONline Information eXchange)

Other Surrogate Record Types

Index and Bibliography Records
On-the-Fly Records

Conclusion
Notes
Suggested Readings
Chapter 8: Metadata: Access and Authority Control
Access
Bibliographic Relationships
Authority Control

Authority Work
Authority Files
International Authority Control

Models and Standards for Authority Control

General Bibliographic Standards

Functional Requirements for Bibliographic Records (FRBR)
Functional Requirements for Authority Data (FRAD)
Anglo-American Cataloguing Rules, Second Edition, 2002 Revision (AACR2R)

Primary Access Point
Additional Access Points
Headings for Access Points

Statement of International Cataloguing Principles and RDA: Resource Description and Access
Dublin Core Agents
Metadata Authority Description Schema (MADS)

Standards for Archives

International Standard Archival Authority Record for Corporate Bodies, Persons, and Families (ISAAR (CPF))
Encoded Archival Context (EAC)
Describing Archives: A Content Standard (DACS)

Standards for Art and Museums

Cataloging Cultural Objects (CCO)
Categories for the Description of Works of Art (CDWA)
VRA (Visual Resources Association) Core

Semantic Web
Conclusion
Notes
Suggested Readings
Chapter 9: Subject Analysis
What is Subject Analysis?
Challenges in Subject Analysis

Cultural Differences
Consistency
Nontextual Information
Exhaustivity
Objectivity
Differences in Methods Used

Langridge's Approach
Wilson's Approaches
Use-based Approaches

Conceptual Analysis Process

Item Examination
Content Examination

Identification of Concepts

Topics Used as Subject Concepts
Names Used as Subject Concepts
Chronological Elements

Content Characteristics

Research Methods
Point of View
Language, Tone, Audience, and Intellectual Level
Form and Genre

Content Examination Strategies

Stages in Aboutness Determination

Next Steps in Subject Analysis
Conclusion
Notes
Suggested Readings
Chapter 10: Systems for Vocabulary Control
Controlled Vocabularies
Controlled Vocabulary Challenges

Specific vs. General Terms
Synonymous Concepts
Word form for One-Word Terms
Sequence and form for Multiword Terms and Phrases
Homographs and Homophones
Qualification of Terms
Abbreviations and Acronyms
Popular vs. Technical Terms
Subdivision of Terms

Precoordination vs. Postcoordination
General Principles for Creating Controlled Vocabularies

Specificity
Literary Warrant
Direct Entry

General Principles for Applying Controlled Vocabulary Terms

Specific Entry and Coextensive Entry
Number of Terms Assigned
Concepts Not in Controlled Vocabulary

Index Terms for Names
Mechanics of Controlled Vocabularies
Types of Controlled Vocabularies

Subject Heading Lists

Library of Congress Subject Headings (LCSH)
Sears List of Subject Headings (Sears)
Medical Subject Headings (MeSH)

Thesauri

Art & Architecture Thesaurus (AAT)
Thesaurus of ERIC Descriptors

Ontologies

Natural Language Approaches to Subjects

Natural Language Processing (NLP)
Keywords
Tagging and Folksonomies

Conclusion
Notes
Suggested Readings
Chapter 11: Systems for Categorization
What are Categories, Classifications, and Taxonomies?
Theory of Categorization

The Rise and Fall of the Classical Theory of Categories

Cracks in the Classical Theory
Prototype Theory

Bibliographic Classification

Hierarchical, Enumerative, and Faceted Classifications
Major Bibliographic Classification Schemes

Classification Concepts

Broad vs. Close Classification
Classification of Knowledge vs. Classification of a Particular Collection
Integrity of Numbers vs. Keeping Pace With Knowledge
Fixed vs. Relative Location
Closed vs. Open Stacks
Location Device vs. Collocation Device
Classification of Serials vs. Alphabetical Order of Serials
Classification of Monographic Series (Classified Separately vs. Classified as a Set)

Systems for Categorization and the Internet

Categories and Taxonomies on the Web
Classification on the Internet
Clustering Search Results

Conclusion
Notes
Suggested Readings
Conclusion
Appendices
Appendix A: An Approach to Subject Analysis
Appendix B: Arrangement of Physical Information Resources
Appendix C: Arrangement of Metadata Displays

Filing History
General Rules for Arrangement
Filing/Display Dilemmas
Notes

Glossary
Selected Bibliography
Index
Library of Congress Catalog Listing
LC control no.:
2008037446
Type of material:
Book (Print, Microform, Electronic, etc.)
Personal name:
Taylor, Arlene G., 1941-
Main title:
The organization of information / Arlene G. Taylor and Daniel N. Joudrey.
Edition:
3rd ed.
Published/Created:
Westport, Conn. : Libraries Unlimited, 2009.
Description:
xxvi, 512 p. : ill.; 26 cm.
ISBN 13 (alk. paper):
9781591585862
ISBN 10 (alk. paper):
1591585864
ISBN 13 (pbk. : alk. paper):
9781591587002
ISBN 10 (pbk. : alk. paper):
159158700X
Related names
Joudrey, Daniel N.
Subjects:
Information organization.
Metadata.
Notes:
Includes bibliographical references (p. 479-498) and index.
Series:
Library and information science text series
Library and information science text series.
LC classification:
Z666.5 .T39 2009
Dewey class no.:
025
National bib no.:
GBA8B2392
National bib agency no.:
014760831
Other system no.:
(OCoLC)236328585
(OCoLC)ocn236328585
Invalid system no.:
(OCoLC)236328594