Copyright and Cultural Institutions : Guidelines for Digitization for U.S. Libraries, Archives, and Museums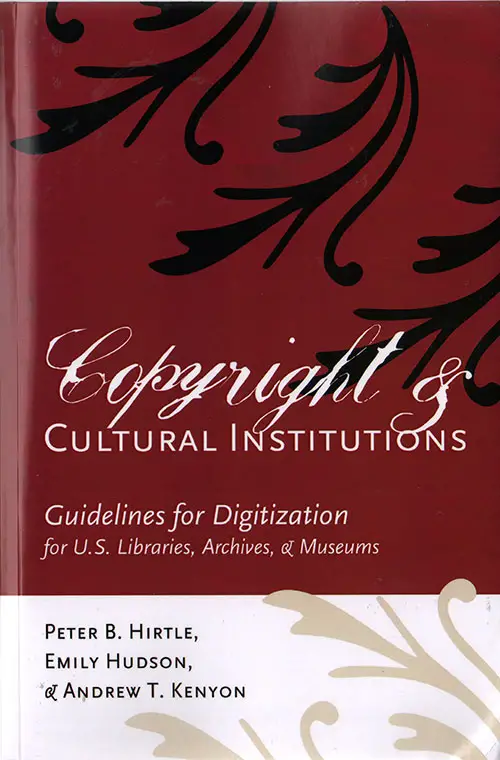 Front Cover, Copyright & Cultural Instutions: Guidelines for Digitization for U.S. Libraries, Archives, and Museums, 2009. GGA Image ID#
Summary
The development of new digital technologies has led to fundamental changes in the ways that cultural institutions fulfill their public missions of access, preservation, research, and education. Many institutions are developing publicly accessible Web sites that allow users to visit online exhibitions, search collection databases, access images of collection items, and in some cases create their own digital content. Digitization, however, also raises the possibility of copyright infringement. It is imperative that staff in libraries, archives, and museums understand fundamental copyright principles and how institutional procedures can be affected by the law.
"Copyright and Cultural Institutions" was written to assist understanding and compliance with copyright law. It addresses the basics of copyright law and the exclusive rights of the copyright owner, the major exemptions used by cultural heritage institutions, and stresses the importance of "risk assessment" when conducting any digitization project. Case studies on digitizing oral histories and student work are also included.
Table of Contents
Introduction

Copy fundamentals

Duration and ownership of copyright

Exclusive rights and infringement

Fair use and other exemptions

The libraries and archives exemptions

Copyright permissions and licenses

Locating copyright owners

Other types of intellectual property, contracts, and jurisdictional issues

Risk management : how to digitize safely

Case study 1 : interviews and oral histories

Case study 2 : dissertations, theses, and student papers.
Library of Congress Catalog Listing
Personal name: Hirtle, Peter B.
Main title: Copyright and cultural institutions : guidelines for digitization for U.S. libraries, archives, and museums / Peter B. Hirtle, Emily Hudson, & Andrew T. Kenyon.
Published/Created: Ithaca, N.Y. : Cornell University Library, c2009.
Description: xi, 259 p. : ill., forms ; 23 cm.
ISBN: 9780935995107 (pbk.); 0935995102 (pbk.)
LC classification: KF3024.C6 .H57 2009
Related names: Hudson, Emily; Kenyon, Andrew T.; Cornell University. Library.
Summary: The development of new digital technologies has led to fundamental changes in the ways that cultural institutions fulfill their public missions of access, preservation, research, and education. Many institutions are developing publicly accessible Web sites that allow users to visit online exhibitions, search collection databases, access images of collection items, and in some cases create their own digital content. Digitization, however, also raises the possibility of copyright infringement. It is imperative that staff in libraries, archives, and museums understand fundamental copyright principles and how institutional procedures can be affected by the law. "Copyright and Cultural Institutions" was written to assist understanding and compliance with copyright law. It addresses the basics of copyright law and the exclusive rights of the copyright owner, the major exemptions used by cultural heritage institutions, and stresses the importance of "risk assessment" when conducting any digitization project. Case studies on digitizing oral histories and student work are also included.
Contents: Introduction -- Copy fundamentals -- Duration and ownership of copyright -- Exclusive rights and infringement -- Fair use and other exemptions --The libraries and archives exemptions -- Copyright permissions and licenses -- Locating copyright owners -- Other types of intellectual property, contracts, and jurisdictional issues -- Risk management : how to digitize safely -- Case study 1 : interviews and oral histories -- Case study 2 : dissertations, theses, and student papers.
LC Subjects: Copyright--Electronic information resources--United States; Library materials--Digitization--Law and legislation--United States; Archival materials--Digitization--Law and legislation--United States; Cultural property--Digitization--Law and legislation--United States.
Other Subjects: Copyright--legislation & jurisprudence--United States; Archives--United States; Copying Processes--legislation & jurisprudence--United States; Libraries, Digital--United States.
Notes: Includes bibliographical references (p. 247-259).
Additional formats: Also available in an electronic version via the World Wide Web.
LCCN: 2010459022
Dewey class no.: 346.7304/8
Geographic area code: n-us---