Arranging & Describing Archives & Manuscripts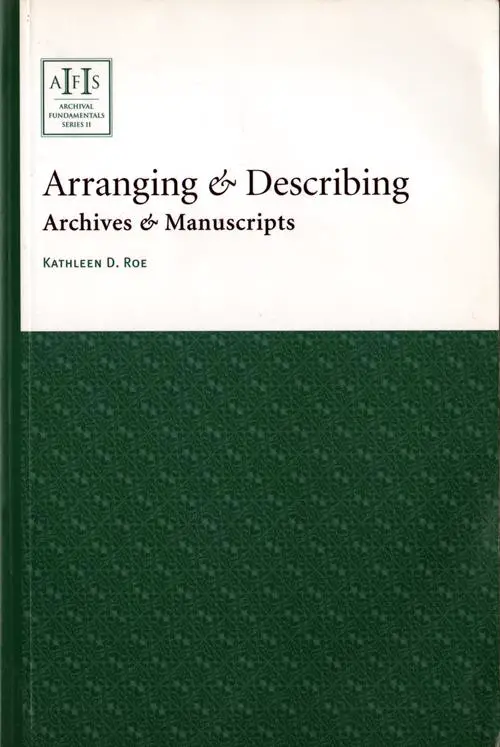 Arranging and Describing Archives and Manuscripts
KATHLEEN D. ROE
A][F][S ARCHIVAL FUNDAMENTALS SERIES II
2005
The new edition of the Archival Fundamentals Series is intended to provide the basic foundation for modern archival practice and theory. Arrangement and description are essential to ensure that the records so carefully and conscientiously brought into the archives are indeed comprehensible and accessible for reference purposes.
From the Back Cover
Following in the very big footsteps left by David B. Gracy II and Fredric Miller, Kathleen Roe has produced the definitive basic manual for the archival profession. There is nothing so fundamental to what we do as archivists as arranging and describing our holdings; everything else follows from that.
In this latest edition of Arranging and Describing Archives and Manuscripts, Kathleen has, in her inimitable way, reaffirmed, redefined, and rearticulated the bedrock principles from which all of our work proceeds. Beyond this, however, she has taken this work into the 21st century to integrate it with all of the Internet-based tools now at our disposal. This volume essentially takes you into Kathleen Roe's warm, comforting, and well-informed hands. You cannot go wrong following her advice."
—STEVEN L. HENSEN
Director, Planning and Project Development, Special Collections Library, Duke University, and author of Archives, Personal Papers, and Manuscripts
It's all here—from explication of core concepts to their implementation, from historical manuscript collections to modern organizational records, from maintaining original order to determining how to impose a coherent one, from 'blunt pointer' to detailed multilevel description. Firmly grounded in archival traditions and practices, Arranging and Describing Archives and Manuscripts brings up to date the history of the development of descriptive standards, articulates international differences in practice, and explains why description is (or should be) at the very core of every archivist's being. Little has happened in the descriptive standards arena in the last two decades without the benefit of Kathleen Roe's expertise and guidance. Her book is essential background for understanding and applying the rules in Describing Archives: A Content Standard."
—KRIS KIESLING
Associate Director for Technical and Digital Services, Harry Ransom Humanities Research Center, The University of Texas at Austin
THE SOCIETY OF AMERICAN ARCHIVISTS 
Chicago, IL 60607 USA 
ARCHIVAL FUNDAMENTALS SERIES II
Arranging & Describing Archives & Manuscripts
KATHLEEN D. ROE
TABLE Of CONTENTS
PREFACE TO THE ARCHIVAL FUNDAMENTALS SERIES II
ACKNOWLEDGMENTS
INTRODUCTION
1 OVERVIEW
The Nature of Archives and Manuscripts
Archival Repositories and Their Clientele
The Function of Arrangement and Description
The Relationship of Arrangement and Description to Other Archival Functions
2 CORE CONCEPTS AND PRINCIPLES OF ARRANGEMENT AND DESCRIPTION
Defining Basic Terms
Core Principles Guiding the Practice of Arrangement and Description
What "Entity" Should Be Described?
The Relationship of Archival Descriptive Practice to Libraries and Museums
When Are Archival Arrrangement and Description Practices Appropriate?
The Relationship of the Arrangement and Description Function to the Institutional Context and Users
3 THE CONTEXT OF ARRANGEMENT AND DESCRIPTION
Development of Archival Practice
The Movement Toward Standardizing Archival Arrangement and Description
4 THE PRACTICE OF ARRANGEMENT AND DESCRIPTION
Overview
Accessioning Archival Records
Establishing the Context in which Records Were Created
Arrangement of Archival Records
Physically Processing the Records
Description of Records
Developing Access Tools
Professional Standards for Archival Arrangement and Description
CONCLUSION, FUTURE DIRECTIONS, AND ISSUES
GLOSSARY
BIBLIOGRAPHY
APPENDICES
A: Describing Archives: A Content Standard Statement of Principles
B: Arrangement Scenarios
C: Examples of Arrangement Patterns
D: Finding Aids for Sample Records
E: Examples of Bibliographic Description
INDEX
Library of Congress Catalog Listing
| | |
| --- | --- |
| Personal name | |
| Main title | Arranging & describing archives & manuscripts / Kathleen D. Roe. |
| Published/Created | Chicago : Society of American Archivists, c2005. |
Description
ISBN
LC classification (full)
LC classification (partial)
Variant title
Arranging and describing archives and manuscripts
Subjects
Archives.
Cataloging of manuscripts.
Notes
Includes bibliographical references (p. [105]-110) and index.
Series
Archival fundamentals series. II
LCCN
Dewey class no.
Type of material