Build It Once: A Basic Primer For The Creation Of Online Exhibitions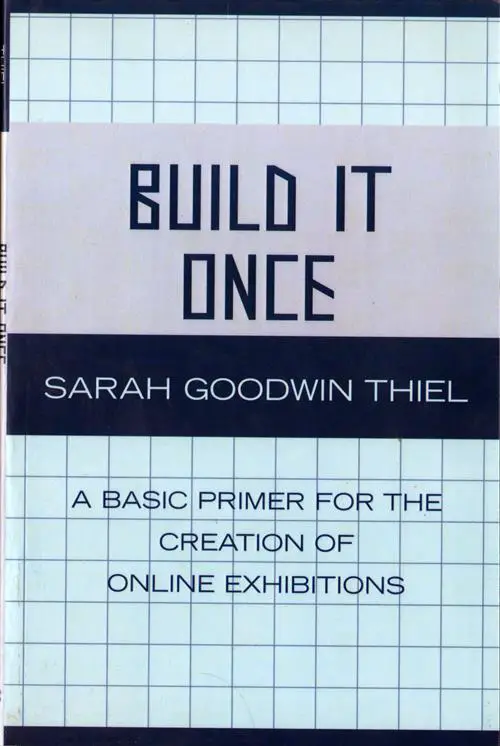 Web Design • Information Technology 2007
From The Back Cover
Although online exhibitions vary in complexity, basic tenets apply to the design of fluid, descriptive, and easy-to-navigate displays.
Build It Once: A Basic Primer for the Creation of Online Exhibitions explains these principles, as well as the basic structure for a flexible, user-friendly exhibition format.
Included are procedures for designing a simple format, creating image and text files for the presentation, and developing handcrafted Web pages that display each item with descriptive text or metadata. An overview of available technologies that can simplify and shorten the task is also provided.
Build It Once will help readers create a reliable and easily modified exhibition format that follows the best standards and practices. Designed for the staff member faced with the challenge of creating high-quality online exhibitions with limited exhibit experience, technical support, and resources, this book will enable even neophytes to create straightforward, well-designed, and potentially award-winning Web presentations.
About The Author
SARAH GOODWIN THIEL is the digital imaging librarian at the University of Kansas. She serves as the imaging specialist for a wide spectrum of digital projects at the university and produces instructional programs to assist faculty in the development of digital materials.
Published by: SCARECROW PRESS, INC., A wholly owned subsidiary of The Rowman & Littlefield Publishing Group, Inc., Lanham, Maryland
ISBN-13: 978-0-8108-5225-9 | ISBN-10: 0-8108-5225-X
Copyright © 2007 by Sarah Goodwin Thiel
Table of Contents
Acknowledgments
Foreword Liz Bishoff, University of Colorado at Boulder
Introduction
Chapter 1 Define the Exhibition
Will help readers gain a better understanding of the needs of the exhibition by determining the motivation for the creation of this tool, the audience it seeks to reach, the quantity and format of the selected materials, the resources available to the designer and, finally, the design concepts to be considered when creating an efficient, good-looking web presentation
Chapter 2 Select the Equipment
Looks at equipment needs and selection considerations of both hardware and software
Chapter 3 Design the Format
Discusses the hierarchy of the online exhibition, beginning with a description of the home page and its key role as the introductory page of the site, moving to the second level or narrative pages, and continuing to the third and fourth level pages or item-level pages that display the selected collection items and their associated metadata
Chapter 4 Create the Structure
Discusses structures necessary for an efficient and functional site. Basic accessibility concepts are reviewed and an introduction to cascading style sheets and page development concepts is given
Chapter 5 Identify the Table Components
Identifies the components necessary to all exhibitions such as title, institutional logos, navigation bars, return buttons, images and text
Chapter 6 Build the Web Pages
Gives instructions for building web pages for each level in the exhibition hierarchy and provides illustrations of sample pages
Chapter 7 Advanced Topics
Introduces a variety of more advanced topics, such as database development for use in creating dynamic web pages and using cascading style sheets as a page layout tool. Readers will also find a basic overview of HTML concepts such as frames, layers and templates
Chapter 8 Online Exhibition Tutorial
A short tutorial providing step-by-step instruction for building an exhibition format using Macromedia Dream-weaver MX web editing software. Cheat Sheet pages providing step-by-step instructions are included here
Appendix A Leab Exhibition Awards Evaluation Criteria
Guidelines created by the Rare Books and Manuscripts Exhibition Awards Committee for creating online exhibitions
Appendix B Digitization Glossary

Definitions for a wide range of common and not so common text and image digitization terms compiled by the Collaborative Digitization Program.
Appendix C Accessibility Guidelines

List of Quick Tips for creating accessible web sites from the W3C, Web Accessibility Initiative.
Bibliography
Index
About the Author
Library of Congress Catalog Listing
Personal name: Thiel, Sarah Goodwin, 1957-
Main title: Build it once : a basic primer for the creation of online exhibitions / Sarah Goodwin Thiel.
Published/Created: Lanham, Md. : Scarecrow Press, 2007.
Description: 100 p.; 23 cm.
ISBN: 9780810852259 (pbk. : alk. paper); 081085225X (pbk. : alk. paper)
LC classification: Z717 .T54 2007
Subjects: Library exhibits--Computer network resources; Museum exhibits--Computer network resources; Web sites--Design.
Notes: Includes bibliographical references (p. 97-98) and index.
LCCN: 2006035338
Dewey class no.: 021.70285
Type of material: Book